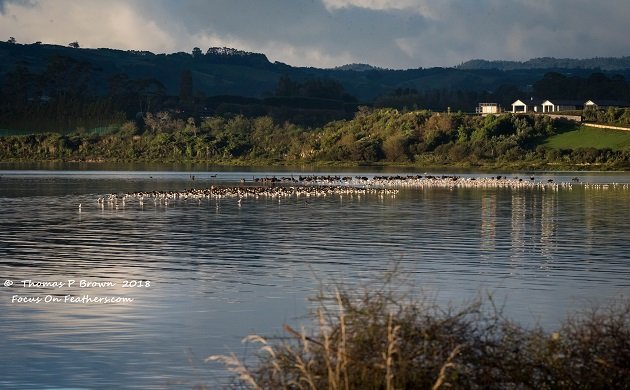 This weeks posting finds me north of the Whananaki area, which is north of Auckland, New Zealand. We are spending some time here on my wife's family property right on the water. What an incredible place, and as a bonus, it is loaded with birds. Unfortunately, there have been no new birds that I can check off my "Wish List" but if you have to hang out in a place, this is pretty awesome. This is my "office" for the next few days……tough isn't it?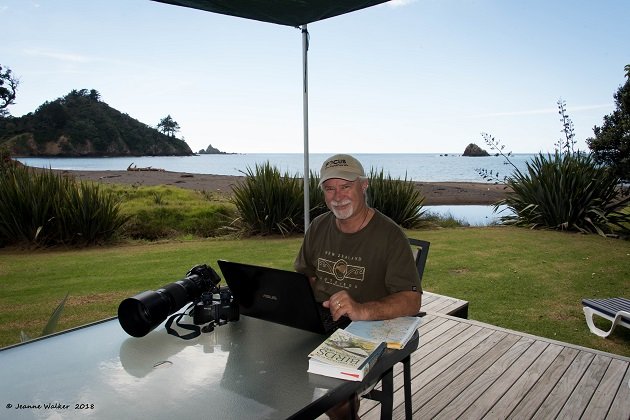 My Father-in-law had worked with the DOC here to establish a managed wetland here on the property, and it has been well received by the very rare Brown Teal. This morning there was 14 of these little birds sitting on the pond not 100 meters from our RV.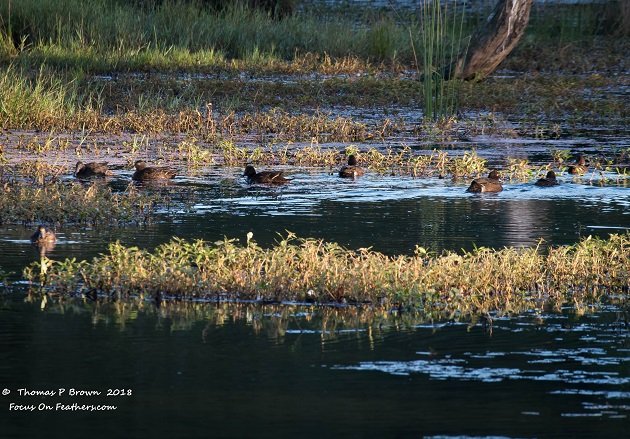 Here is a closer shot of the Brown Teal.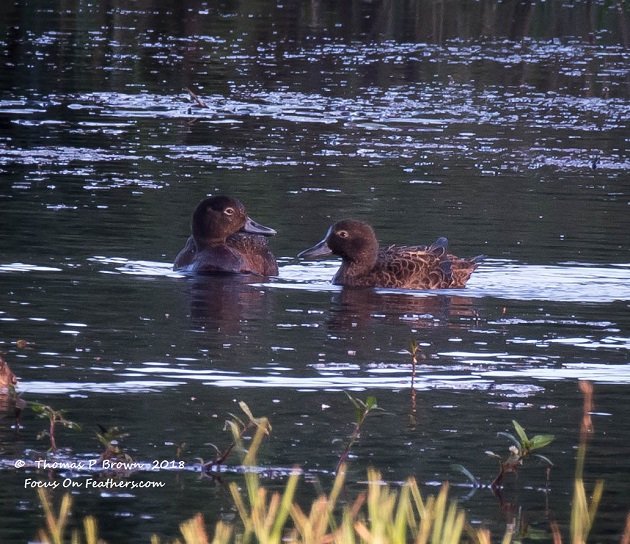 The bulk of this week's adventure has been all about finally finding some shorebirds here in New Zealand. The field guide I have been using touts 66 species of waders, including Sandpipers, Plovers, Oystercatchers, and Snipe. In reality, there are about ten that the average person will ever expect to find. The field guide lists every bird that has ever been seen, at any point in time, on any piece of land that is covered by the New Zealand territories! But I digress, since I finally did find shorebirds once I got to the north east coastal area. We had scheduled two full nights in Omokoroa, with their long tidal flat area, and well know bird reserve. The tide was very high when we arrived, but a few hours later, I was rewarded with some very large numbers of bird, even if there were just a few species. 250 Bar-tailed Godwits, 60 Red Knots, and 30 Banded Dotterel were all added to my year's list, along with 225 Black Swans, 185 South Island Oystercatchers, 85 Pied Stilt and 35 Caspian Terns. The Bar-tailed Godwits, as you might remember, are famous for their 7000-mile migration to and from Alaska and New Zealand. I had been told that every year a few stick around, and guess this was that group, since I have not seen a one before or since this beach. The bulk of these birds had all taken position of a sand bar, nearly 250 meters out in the middle of the bay, so my photo opportunities were a little limited.
Here at Omokoroa, the gold at the end of the rainbow turned out to be a very nice bunch of birds!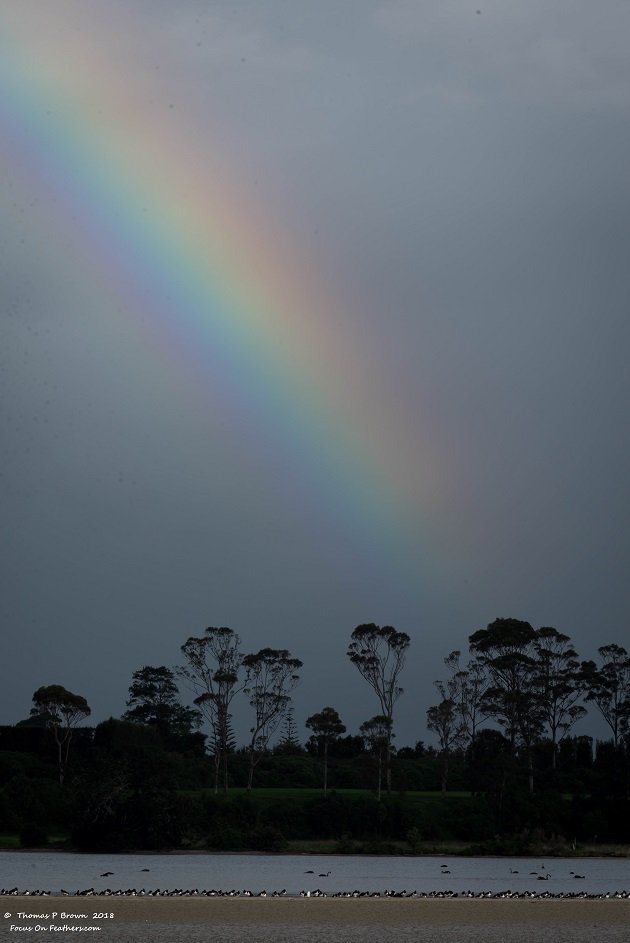 Here is a shot of some of the Bar-tailed Godwits.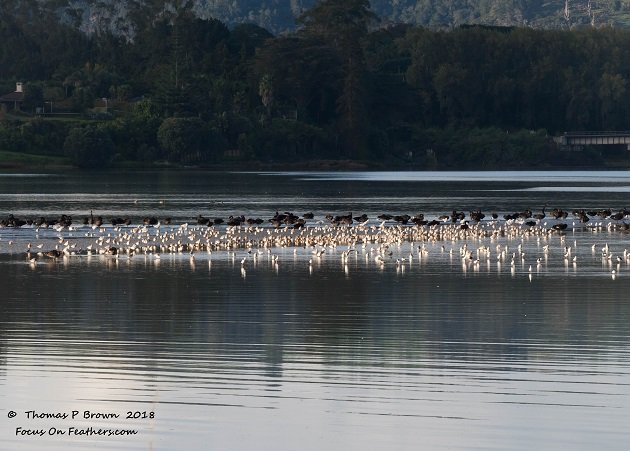 This picture shows a good sized group of mostly Bar-tailed Godwits flying just at sunset.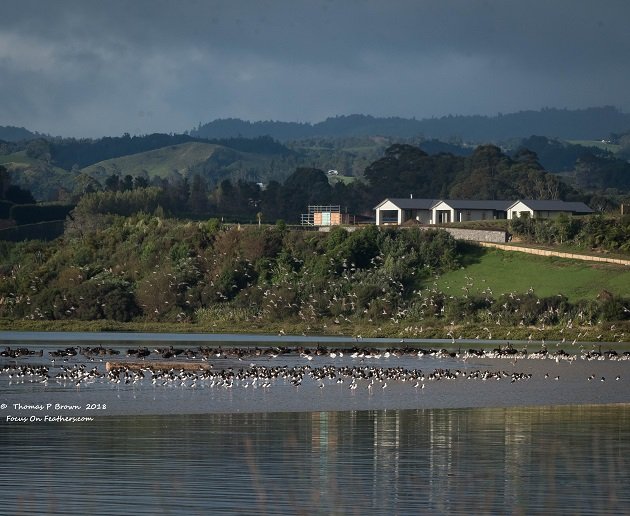 This photo shows a number of the Black Swans, Bar-tailed Godwits, Red Knots as well as some Pied Stilts.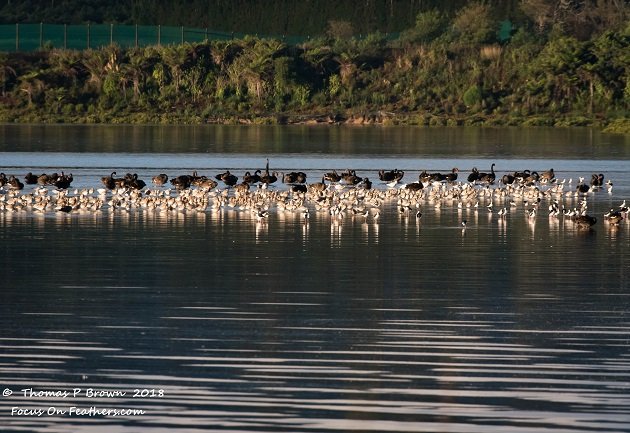 There was the largest number of mostly South Island Oystercatchers, as well as a few Variable Oystercatchers I think I have ever seen in one place.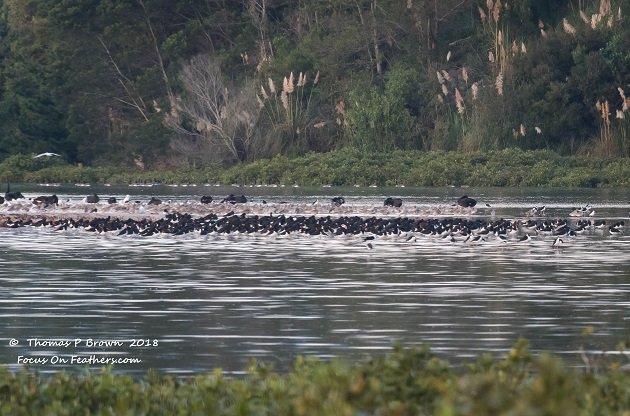 There was several large group of Pied Stilts around the bay, but this was the biggest of the groups.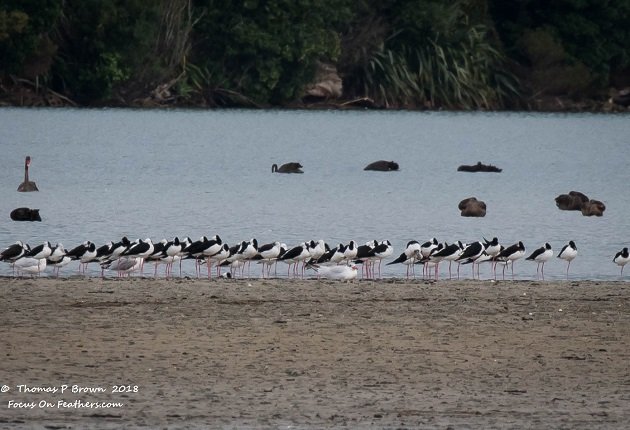 Omokoroa, also was my first spot to ever see the Banded Rail. Several very nice locals had stopped by to see what I was photographing, and they all said that I would appreciate their Banded Rail. that was often seen by an observation platform along the trail. On the morning of my third day, the Rail made a quick run thru an open area, fussed about in some tall grass, and then dashed back across the same area. Of course, no photo was obtained, but that is a very sneaky bird!
The next two days were scheduled for the Firth of Thames, and a very nice RV park right near the tidal flats. I am still hoping to find that Reef Heron that keeps being reported, but it seems to be a case of "You should have been here yesterday"! None the less, I keep walking the beaches. The beach was covered in Oystercatchers, and Pied Shags, and one lonely little New Zealand Dotterel Charadrius obscurus , who seemed to want to hang with a good sized flock of White-fronted Terns.
We are going to hang here, explore the rest of the North Island for the next 20 days, and then load our gear for Australia!
The Little Big Year count as of the 4th of April, is at 289, with 95 birds from New Zealand. Of those 95 species, 85 are new Lifers!
I am ending this post with a couple photos of the Pied Phase – Fantail. These lovely birds are so friendly, and inquisitive, that I have really enjoyed photographing them.