The early bird gets the worm and the early birder gets the birds. Once again awakening before dawn this morning, I met Zack in the parking lot of my apartment complex and after we loaded up my car with his gear we went and got Will and headed west. Our destination? The amazing marshes of the Montezuma National Wildlife Refuge. Our goals? To spot Sandhill Cranes and any shorebirds kind enough to cross our path and stay in sight long enough to be identified.
The ride out was long but it actually went by quickly (the foggy conditions kept me focused on the highway). Once we reached the legendary wetlands of Montezuma, which I somehow had never visited before, the fog had burned off and our appetites were whetted for whatever birds wanted to be watched. Astoundingly, within fifteen minutes of our arrival we ticked our primary target species when two Sandhill Cranes flew directly over the car while we were cruising along on Wildlife Drive.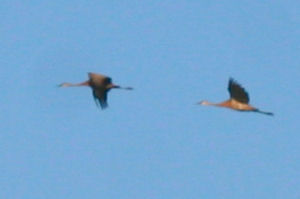 lousy shot of Sandhill Cranes
We continued along Wildlife Drive, hearing or seeing Red-winged Blackbirds, Common Grackles, Willow Flycatchers and other common birds. Unfortunately, there was virtually no good shorebird habitat along the drive as water had been drained to allow for some major projects to improve habitat over the long term. There was water somewhere though, as this Osprey certainly didn't pull the fish it was carrying out of thin air!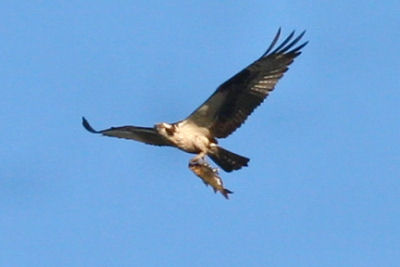 After being astounded by the ease with which we spotted the Sandhill Cranes we were sure we had used our luck up for the day. Were we ever wrong! Our next stop, the Tschache Pool, was loaded with shorebirds! Zack, an ace at all things shorebird, picked bird after bird out of the shallow water, including my first-of-the-year Long-billed Dowitchers and Pectoral Sandpipers. Semipalmated, Least, Spotted and Stilt Sandpipers, Greater and Lesser Yellowlegs, Killdeer, Semipalmated Plover and a single Short-billed Dowitcher rounded out our shorebird sightings. But the shorebirds weren't the only birds we watched. American Coots with cootlings (finally some coots in New York!), Common Moorhen, Pied-billed Grebes, Black and Caspian Terns, Great Blue Herons, a Bald Eagle, a Great Egret, and more all competed for our attention. And, of course, Canada Geese, as always, refused to be ignored.
We drove out to the Mucklands, northeast of Montezuma proper, not because we expected to find the waterfowl that will arrive in huge numbers in the fall, but because we had never been there and we wanted to get some idea of the place that we will be searching for rarities come autumn. We were delighted to see tens of thousands of swallows streaking over the cornfields. It was amazing to see so many Bank, Barn and Tree Swallows all eating on the wing. We almost felt sorry for the bugs that stood no chance at escaping the ravenous hordes.
After having no luck at a couple of more stops we got back on the Thruway and headed east to Delta Lake where a Whimbrel was reported recently. Did we find it? Come back soon to find out!