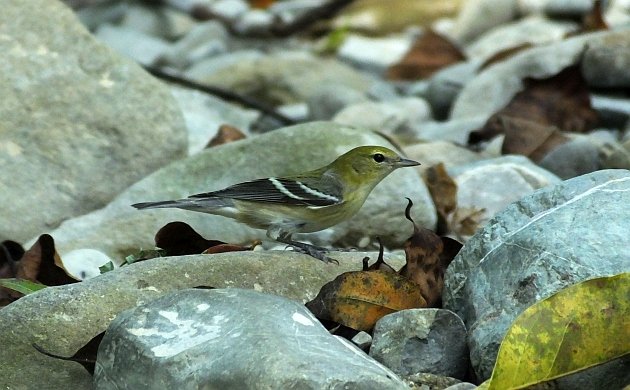 On the northern birding calendar, October is a time for sparrows, cool weather, and tired fall leaves.  It's when Orange-crowned Warblers share the Goldenrod with lisping and chirping sparrows, when hardy Yellow-rumped Warblers dominate the Parulid scene. In Costa Rica, the tenth month is when birds pass through in droves. No sparrows or migrant juncos nor hardly any Yellow-rumpeds and forget about Orange-crowned (a serious mega around here!) but there are other birds, many stopping to stay, many others moving to South America.
In Costa Rica, a lot of those birds fly right overhead. As with anywhere in migration, give a bird a good set of winds and it's going to ride it as far as it can go. If the last stop from the Yucatan happens to be Costa Rica, warblers, cuckoos, and thrushes come down to rest and with so much habitat available in such a small area, they can have their pick of cloud forest, rainforest and riparian zones. If the wind carries them on, maybe they will go to Panama, or even make it to Colombia. For a bird with resources and long wings, those destinations are just a bit further down the flyway.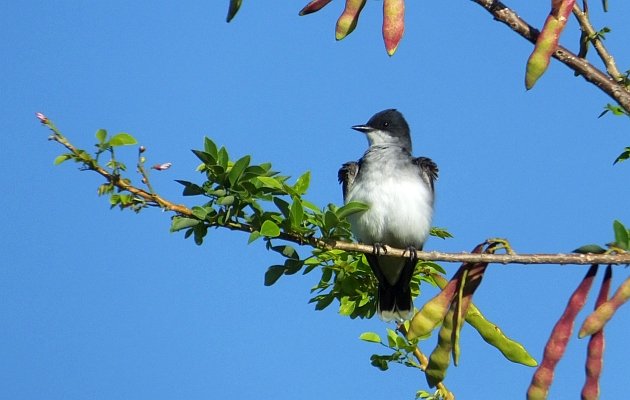 An Eastern Kingbird on its way to the Amazon.
Even while listening to nocturnal flight calls, it seems hard to assess what flies over Costa Rica. Part of the problem likely stems from the ambient sounds produced by people. Costa Rica being such a small place, one hardly ever seems out of earshot of roads with rumbling trucks and auditory attacking motorcycles, of dogs hell bent on barking into the night, of occasional music being played. Latin America tends to be loud and Costa Rica is no exception. That said, despite listening on many a quiet night, I rarely hear as many birds as I did on nights in the north. I know the birds are still flying over and so I wonder if they are just calling less, or if they are flying too high overhead? The lack of flight calls drifting down from the night might also be related to local atmospheric conditions although according to at least one study on the detection of wood-warbler nocturnal flight calls, it seems that distance from calling birds is the biggest factor.
This makes me wonder if the best places to assess nocturnal flight calls in Costa Rica are in the mountains. Listening for birds on Poas Volcano and other high mountain areas would require cool weather clothing but it would be much more quiet and peaceful and could also come with the side benefits of Dusky Nightjars, Bare-shanked Screech-Owls, and maybe even Unspotted Saw-whet Owl. At the moment, night excursions to Poas are limited by pandemic driving restrictions but I can still surmise about the species flying overhead. What is seen during the day can give us a fair hint about the birds that pass over Costa Rica on these October nights.
Cuckoos are up There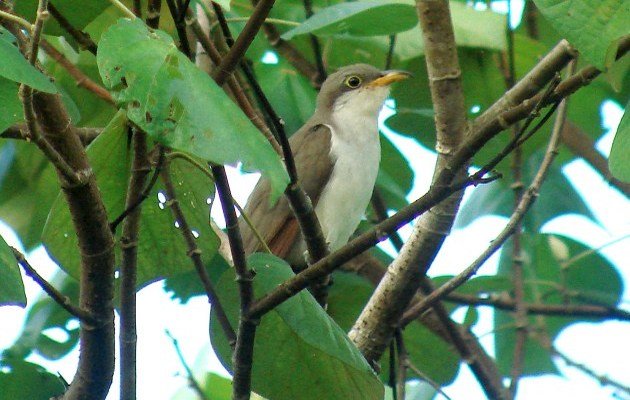 We don't see so many on the ground but with both Yellow and Black-billed hightailing it to South America, you know that their long wings are carrying these caterpillar gourmands far overhead and straight on to Colombia. Some do stop in Costa Rica but thanks to their sneaky inconspicuous ways, there are likely far more than we realize. At the same time, because of habitat destruction on their wintering grounds, it' worth mentioning the possibility of Yellow-billed Cuckoos being in or at the verge of serious decline. Several likely winter in the southern Amazon (where the forest and all of its incredible biodiversity is being steadily decimated and replaced with massive cattle farms) but according to migration data, even more may depend on the forests of the Gran Chaco in Paraguay and northern Argentina as well as related dry forest habitats in Bolivia. All of these habitats are increasingly threatened by deforestation and massive fires fueled by climate change. I dread to imagine what Yellow-billed Cuckoos from Illinois, Missouri, and elsewhere will find when they arrive on these wintering grounds in 2020.
Common Nighthawks
Droves of this nightjar of summer nights fly over Costa Rica. We can also see them during the day, especially on the Caribbean coast, but I'm sure that thousands also drift overhead in silence, even over my place.
Upland, Bairds, and Buff-breasted Sandpipers
All of these sandpipers are seen each year in Costa Rica but never in large numbers. I am sure that most pass over the country in a jiffy with several undetected as they stop here and there. If I put my ear to the pre-dawn sky, I usually hear Upland Sandpipers in the fall, always far more than myself or other birders see.
Pewees and Traill's Flycatchers
With the majority of Eastern and Western Wood-Pewees wintering in South America, you can bet that thousands, even millions fly over Costa Rica. At some points during fall migration, these are some of the most common birds. At the migration hotspot of the Caribbean coast, Eastern Wood-Pewees can be downright abundant. This fall, I have had the fortune of listening to both species calling at the same time from the back balcony. It's a bit like something from a birding dream to hear the sound of dry Ponderosa woodlands, of oak chaparral, blend with the auditory backdrop of humid summer woodlands in upstate New York. Toss in the chattering song of a Rufous-capped Warbler, the yells of Great Kiskadees, and a flock of Crimson-fronted Parakeets and you know you are in Costa Rica.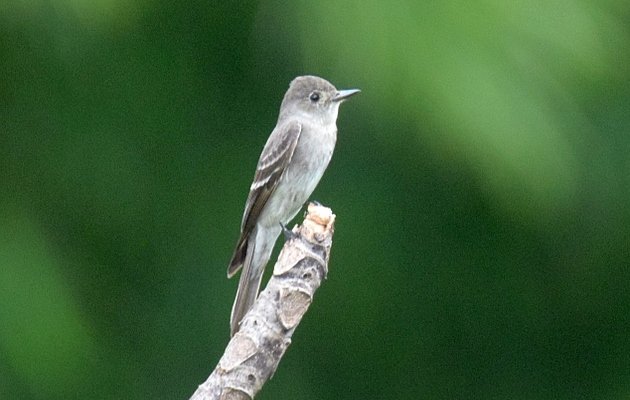 Willow and Alder Flycatchers are also zipping up there through the dark skies. I can't hear them nor see them but we sure do during the day. The Willow can be one of the more common birds in open lowland habitats, the Alder tends to be more in the highlands. Huge numbers must fly through these tropical skies. The same can be said about Olive-sided Flycatchers; fair numbers of this cool, bog-loving bird must also overfly Costa Rica as they move to the Andes.
Thrushes
Pretty soon, Swainsons' Thrush will be one of the most common birds in Costa Rica. This is one that we do hear at night, usually pre-dawn. Gray-cheekeds and some Veerys are also seen and heard in the night but their numbers are nothing compared to the thousands of Swainson's Thrushes. There are times when these buff-spectacled thrushes of the boreal zone seem to be everywhere.
Bay-breasted Warblers, Blackburnian Warblers, Canada Warblers, and Red-eyed Vireos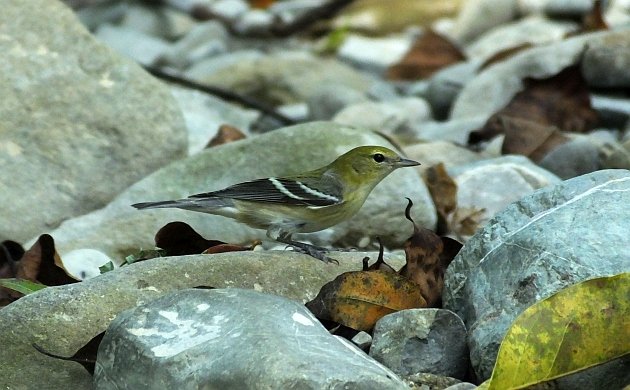 Of the warblers that fly over Costa Rica, Bay-breasteds, Blackburnians, and Canadas all move through in huge numbers. Many of the Blackburnians and Canadas have already flown over, pretty soon, we hope to be inundated with Bay-breasteds. All of these species winter in South America and based on the number of sightings and us being smack in the middle of their migration routes, they must move through our night skies by the millions. A couple of years ago, local birders had a week in October when Bay-breasteds were just about everywhere. Literally hundreds were foraging on the ground, in bushes, and in trees. At times, Red-eyed Vireos can be just as abundant.
Scarlet Tanagers
Last but far from least, this is another species heard on the rare occasions when you can catch flight calls from the night. We often see flocks of these mixed wood beauties during the day, how many must fly overhead after the sun goes down? I imagine flock after flock passing high overhead, moving through clouds, looking down at the lights that twist along mountains roads. They must see the massive forested volcanoes rising into the sky, it must remind them of the Andes that await them on their sojourn further south. If they come down to stop, I hope to see them. If I don't, I hope we can make sure they continue to have the habitat that they need. Us humans need that habitat too.