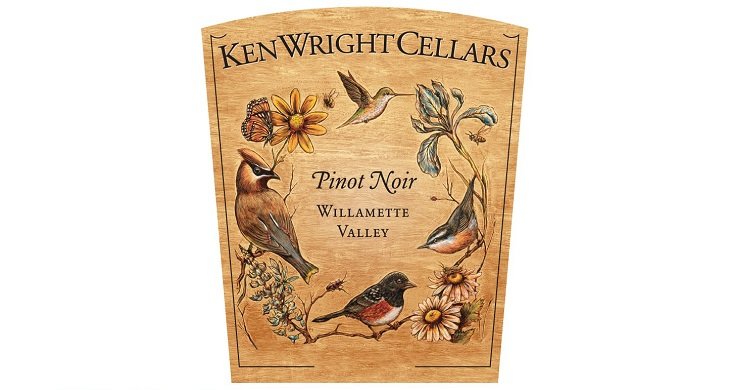 One of the highlights of autumn for many birders in eastern North America is the annual release of the Winter Finch Forecast. Every September, this report offers predictions on possible southward movements of nomadic finches of the boreal forest for the coming winter, as well as a handful of associated non-finch species. The Winter Finch Forecast attempts to make sense of the often erratic movements of these species by assessing the availability of various food crops across the northern forest at the end of summer. Any shortfalls in finch feed up north – mostly cones and berries provided by yellow birch, mountain ash, spruce, white pine, and several other Northwoods tree species – could signal a mass southerly migration of boreal finches, grosbeaks, siskins, redpolls, and crossbills. Some winters may see spectacular incursions of species that breed as far away as the high Arctic into the Lower 48. But, more often than not, the birds stay put if they can get away with it.
Coming out just a few weeks before fall migration peters out, the Winter Finch Forecasts is eagerly anticipated by birders hoping for anything to liven up birding in the dead of winter – well, besides Christmas Bird Counts. Could this this be the winter I finally add Pine Grosbeak (Pinicola enucleator) to my county list? Should I spring for the fifty-pound sack of thistle seed this year in hopes of a massive Pine Siskin (Spinus pinus) invasion? How many different Red Crossbill (Loxia curvirostra) calls can I record in my state in case there's a huge split in the future?
Even before this year's forecast came out last month, birders already knew it might shape up to be a good season for winter finches in the East. Purple Finches (Haemorhous purpureus) were already on the move for a few weeks by the time the report came out. But the most obvious sign that a big "winter finch" movement was underway came not from a finch at all, but from the Red-breasted Nuthatch (Sitta canadensis) – a species the Winter Finch Report terms an "irruptive passerine" whose movements are often linked with true winter finches. Anyway, as early as August, Red-breasted Nuthatches were pushing far south of their year-round range in the East (as they've done before), and as of early October, some have already reached the Gulf of Mexico.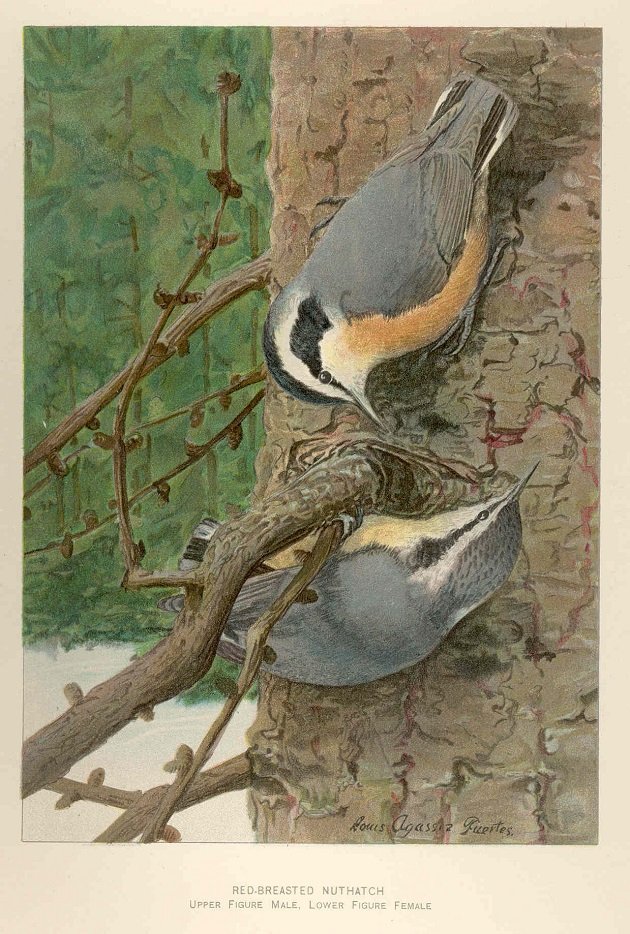 Two Red-breasted Nuthatches in an illustration by Louis Agassiz Fuertes (1874-1927) for the Eighth and Ninth Reports of the Forest, Fish and Game Commission of the State of New York, 1902-1903.
So, with the current nuthatch irruption taking place, I figured this would be a good time to uncork a bottle of a 2017 Pinot noir from Ken Wright Cellars I picked up over the summer. The colorful and appealing label art by David Berkvam depicts not only a Red-breasted Nuthatch, but a Spotted Towhee (Pipilo maculatus), a Cedar Waxwing (Bombycilla cedrorum), and a female hummingbird I think is supposed to be an Anna's Hummingbird (Calypte anna). Ken Wright Cellars is a leading light in the production of Pinot noir in Oregon, where the company produces single-vineyard wines from thirteen different locations in the Northern Willamette Valley (officially designated as an American Viticultural Area, thanks in great part to the efforts of founder Ken Wright).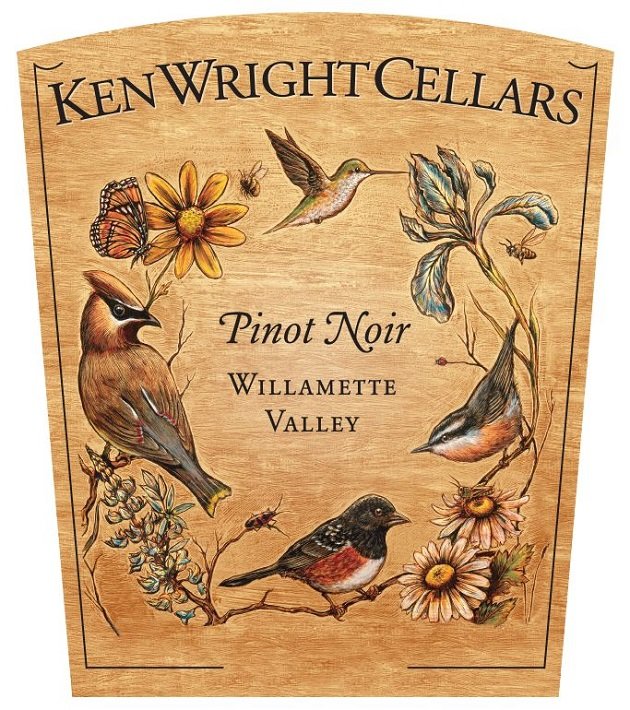 Oregon artist David Berkvam produces a distinctive label for each single-vineyard Pinot noir for Ken Wright Cellars, rendered first in beeswax, then painted.
I have to admit that I have no idea if birders in western North America get excited about winter finch irruptions. From what I can tell, many of the species birders back east get excited about seem to be found year-round out west (at least in parts of the north, and much further south than they're found in the East), thanks no doubt to the profusion of appropriate habitat in the Northern Rockies and other western ranges. But there's no doubt that Red-breasted Nuthatches do in fact inhabit the Willamette Valley, apparently year-round.
All Pinot noir produced by Ken Wright Cellars undergoes small-batch fermentation, before being aged in 100 percent French oak barrels for about a year. This 2017 vintage shows a bright, lively aroma with raspberry and cherry lozenge, with lovely accents of rose, cigar box, and an earthy honey sweetness. The palate is punchy and vibrant, light in body with good acidity and soft tannins framing tart cranberry and blackberry flavors, with a good measure of ripe plum to soften the blow and provide some depth. This Pinot noir ends with a finish that is lively, juicy, and refreshing.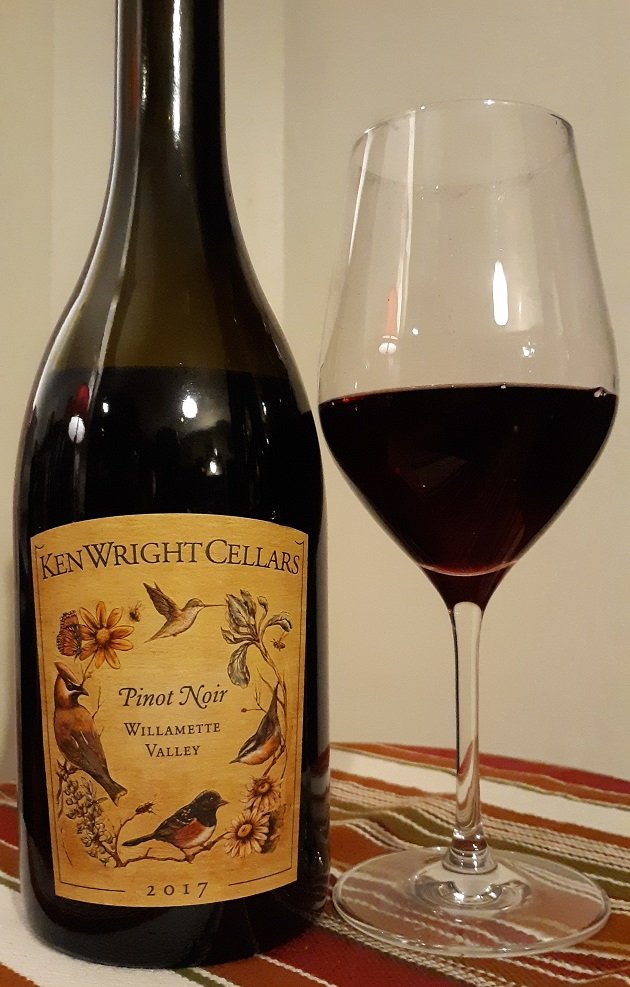 Thanksgiving holidays are coming up on the calendar for both North American nations that the Red-breasted Nuthatch calls home: on Monday, October 12th of this year in Canada, and then again in late November in the United States. Food-friendly Pinot noir is a perennial, all-purpose favorite to pair with the traditional fare at these autumnal feasts. I can't think of a more handsome bottle to bring to the table this fall.
Good birding and happy drinking!
---
Ken Wright Cellars: Pinot Noir – Willamette Valley (2017)





Four out of five stars (Excellent)