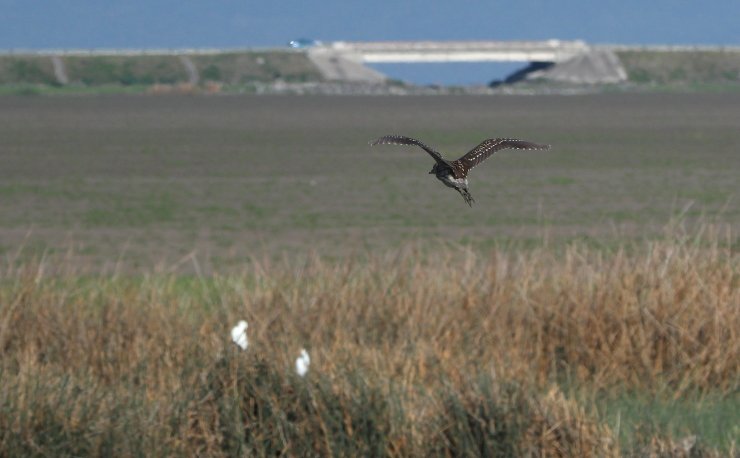 You know that feeling, when you get up early to go birding at your favorite lake, and when you get there, the lake is gone?
I hate it when that happens.
Lake Cuitzeo, some 30 km (19 miles) north of Morelia, is Mexico's second largest lake. It stretches from east to west for around 40 km (25 miles), although for the most part it is only 5 km (3 miles) wide from north to south. Unlike, say, Mexico's famous Cuatro Ciénegas lakes, Lake Cuitzeo is not technically an ephemeral lake, expected to dry up and then reappear each year. A strong summer rainy season may allow it to survive the October-May dry season with only mildly lowered water levels. (Note: the lake's average depth is only about one meter [3 feet], in spite of the wildly incorrect Wikipedia figure of 87 meters!) A very bad rainy season may completely dry up the western half of the lake, which is separated from the three rivers that feed it by two north-south causeways. Still, the lake's eastern half can usually be expected to maintain decent water levels.
I knew that Michoacan's rainfall during the 2019 summer rainy season had been quite poor. But when I last visited Cuitzeo in mid-April, just before total lockdown here, the lake still looked pretty good. Which left me completely unprepared for what I saw a week ago, on July 20th.
The lake's west side, from the easternmost of the two causeways on, was completely dry. I have seen this area turned into miles and miles of bone-dry mud, but our first summer rains have turned it into a good imitation of grasslands. The donkey seen below was feeding on grass growing on the "lake-bottom", and you can see those same grasslands stretching on to the next, more westerly, causeway behind an immature Black-crowned Night-Heron.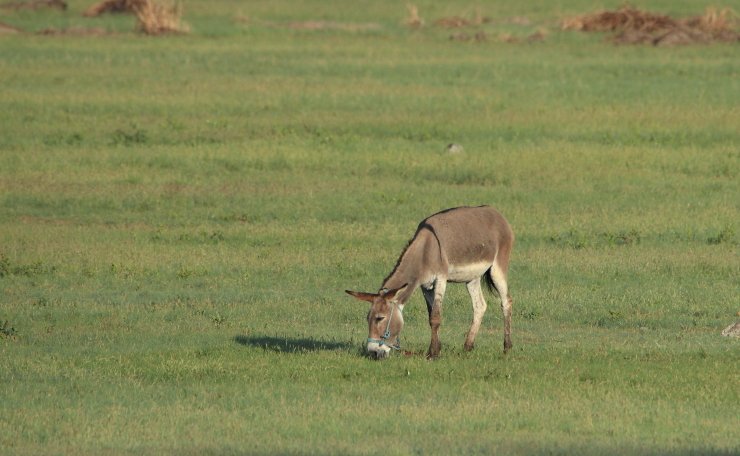 Oh, look. There's a donkey on your lakebed.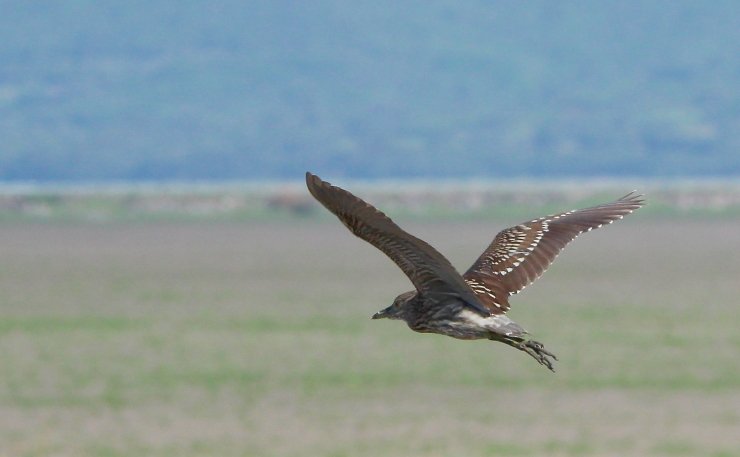 In the parallel photo at this post's start, you can see a bridge crossing… a pasture!
But it wasn't the western half of the lake that surprised me so much; I had seen that part dry before. I remember well my indignation in early 2017, when whoever controls the east-west flow of water had allowed the west side to dry up while maintaining the east side at full depth. (The normally-shallower west side attracts all sorts of ducks and shorebirds; the east side usually offers only American Coots and Clark's Grebes.) But this time, the east side, while not completely dry, showed amazingly low water levels. Check out the visible trail left in the "water", actually mud, by this White-faced Ibis: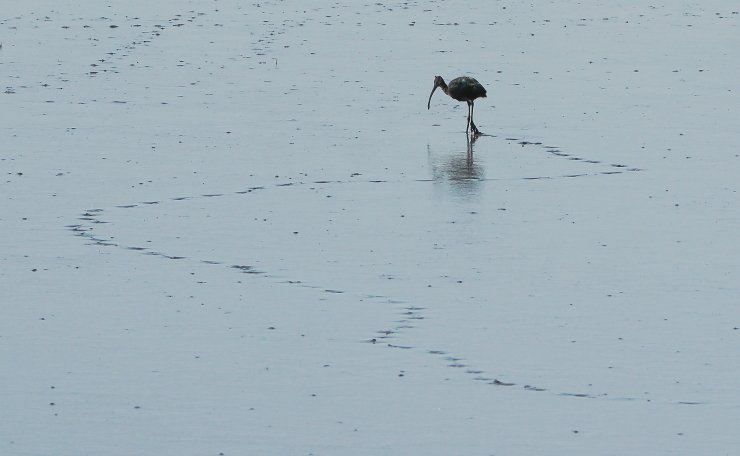 And this was not just a shoreline phenomenon. Look at the following photo; it's standing Egrets and Ibises, as far as the eye can see. Clearly, the entire east lake is only a few inches deep. This lake is "standing-room-only".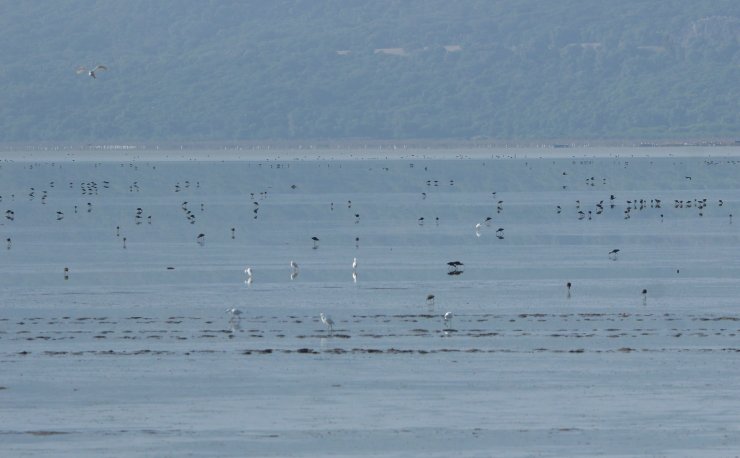 Nearer the shore, there were also a few Black-necked Stilts, Fulvous Whistling-Ducks, and Common Gallinules. I had hoped to see some Baird's Sandpipers, which are the first migrants to arrive at the lake (technically, these are transient migrants); but I had apparently visited the lake a couple of weeks too early. Being shorebirds, it certainly could not have been the lack of deep water that discouraged them from spending time there.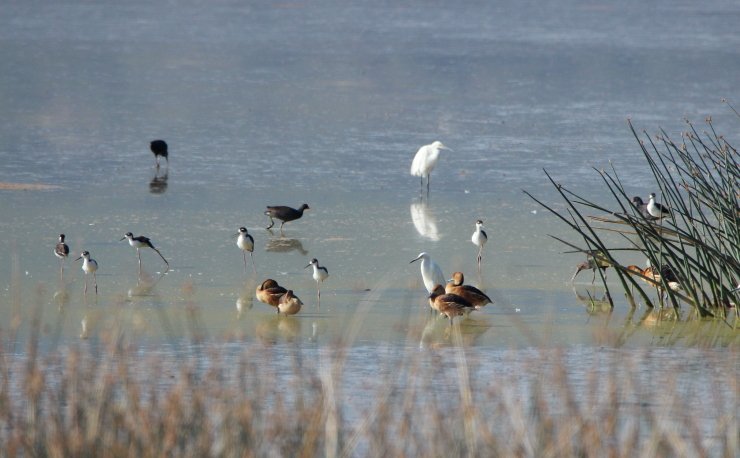 As you can imagine, my list for the day was shortened by the lack of deeper waters. Compared to normal years, I noted the absence of Cinnamon Teals, Mexican Ducks, and Ruddy Ducks, all Gulls, Terns, Jacanas, and Plovers, and Green, Tricolored and Little Blue Herons.  Where did all the Clark's Grebes and American Coots go to find deeper waters? I have no idea.
But habitat reduction can have its occasional advantages. Just within the past month, I had warned two birders to look for our hyper-endemic Black-polled Yellowthroat by Lake Pátzcuaro, not Lake Cuitzeo, as they are a reliable species for the former, but highly unreliable at the latter. But it seems the lake's low levels had pushed a lot of them to the Cuitzeo roadside, where they decided to do some serious singing. It was their "we too we too we too wheat" that alerted me to their presence; no Common Yellowthroat "witchity witchity" to it at all.
We are now a month into a rather late monsoon season, with a pattern of one downpour every two or three nights, rather than our usual daily afternoon showers. Will that be enough for the lake to come back for 2020-2021? I'll keep you posted.