I don't know about you but after a long week of work and rain, I'm ready to get out into the world for a little nature immersion therapy. The imminent end of July reminds us that summer itself shall not last forever. Thus, it behooves us all to live it to the hilt. So where are you watching birds this weekend? Comment below on the excitement you have planned!
Many of last week's SkyWatchers expressed interest in how Chicken Inferno 2008 played out. It was truly remarkable, thanks for asking. Here is a brief report which includes a link to a time-lapse movie of the chicken being built and burned that you have to see to believe!
As I'm finally spending a weekend at home, I have a number of domestic and social activities planned. Still, the wilds of Rochester beckon! Corey's birding this weekend includes watching a bunch of (St. Louis) cardinals at Shea Stadium, presumably getting trounced by the Mets. Charlie plans to spend the weekend at home digesting and then blogging the vast amount of info he just amassed visiting the RSPB and BirdLife International as part of an international shorebird delegation. I'm sure you're as eager to read those posts as I am!
As you prepare for your excellent weekend, be sure to celebrate Sky Watch Friday…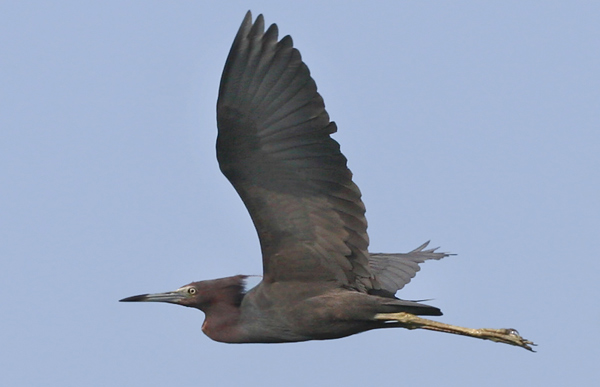 Watch the skies for wild waders, like this Little Blue Heron on the wing (photo by Corey)