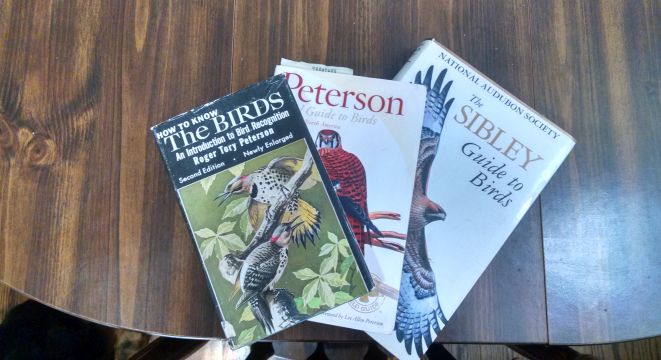 As my faithful readers know, I have a long-standing fascination with helping (and, at times, inadvertently confusing) interested non-birders – those who are entering the admittedly weird and wild world of birding for the first time. Lately this fascination has increased, not only because of my book project but because I've been invited by one group and another to speak to various audiences, from sixth-graders to adult learners, about getting started with birding.
One of the first questions I'm always asked is about field guides. While the plethora of guides on the market is great for birders, it's bewildering to beginners; I often find that newbies are paralyzed with the choice between Peterson, Sibley, Audubon, etc., etc… and once they have one, once again bewildered by where to even start looking for the bird in front of their face. As a wise man once noted, taxonomy does not make for intuitively laid-out field guides – why are the owls not up near the hawks, many a plaintive questioner has asked me – and many of the contextual clues that seem obvious to an old hand aren't exactly clear to a novice. This was brought home to me in one class when a young girl got stuck on the idea that the female Mallard we were looking at might be a nighthawk, since it was a brownish bird in a horizontal pose.
With all of these things in mind, I've been more and more apt to recommend apps – Merlin and the like. I've seen Merlin guide beginners through exactly the sort of process – thinking of habitat, of GISS, of probabilities – that becomes second nature to experienced birders. It's long been argued, after all, that the future of field guides is digital. But I'm not ready to write off paper guides even now – if only for reasons of accessibility and affordability.
What say you, blog readers? Have you found helpful techniques for explaining the stodgy old field guide and its weird hidden owls to the bird-curious in your life? Or are you encouraging everyone to get on board with the digital revolution?