…of birding.
Tomorrow, Saturday the 22nd, is the Superbowl of Birding, a twelve hour contest in the bitter New England winter, a race against the elements and time to score the highest possible score by seeing more and better birds than all the other teams.  The Bloggerhead Kingbirds, the crack bird-blogger squad that Christopher has thrown together, and that for some reason includes me, will have two ways for you to follow the action.  N8 of The Drinking Bird fame will be sending updates to his Twitter feed and Quintus will be moblogging on Owl Box Blog.  By the time you read this I'll be on the subway, a NJTransit train, or in Patrick's car as we head north and east to great birds and victory.  Or at least a close second.  Heck, I'll take seeing a Black Guillemot and not freezing to death (of course, Black Guillemot is the only lifer that I'm likely to get on this trip).
Oh, and the fine folks of birdorable have kindly made us a logo…go get it on a T-shirt or something and maybe the cool kids will let you ride in the back of the bus with them.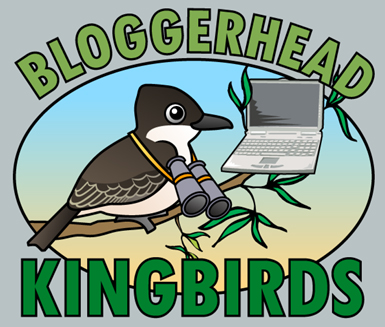 Of course, just thinking about the possibility of seeing Ivory Gull and Northern Hawk Owl and White-winged Crossbill and Bohemian Waxwing and Snowy Owl and King Eider and a host of other birds in one weekend is pretty enjoyable so I can't even imagine what it's going to be like to actually do it.  If you hear a loud popping sound coming from somewhere in the vicinity of New England on Saturday please look out for pieces of my exploded head flying through the air.
Wish us luck!