It is the twenty-sixth of March.  By the calendar, spring has been here for nearly a week.  Red-winged Blackbird hordes have gone through, and the female red-wings are even thick on the ground.  Forsythia is flowering and daffodils are blooming all over the place.  I've watched my first Mourning Cloak butterfly for the year flutter by.  Yesterday I saw a Northern Cardinal carrying nesting material.  In Central Park I've even seen some women sunbathing in bikinis (not that I was watching them, of course, but a robin was pulling worms out of the ground nearby).  So where the heck is my first Eastern Phoebe of the year?
Since I've been competent enough of a birder to know what a phoebe is and to look for them showing up in the spring the latest I've spotted one in New York State was in 2006, when it took me until, well, the twenty-sixth of March.  Last year it took me until the twenty-first, in 2008 the fifteenth, and in 2007, amazingly, I spotted one on the third!  And it's not as if they aren't around this year.  They've been seen by pretty much every regular birder in New York City and in pretty much every park with the right habitat.  Somehow though, Sayornis phoebe has avoided me and my binoculars in 2010.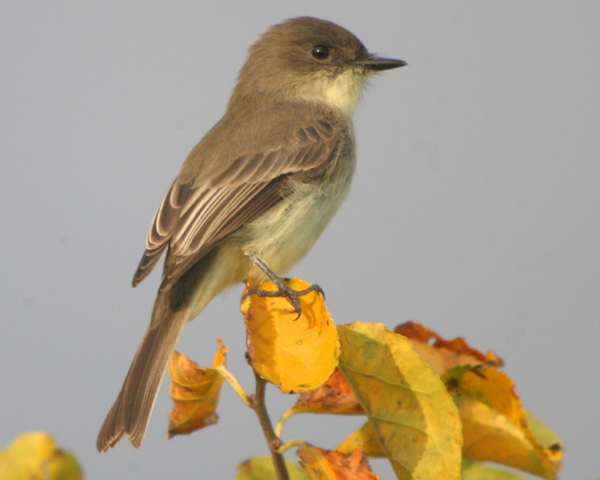 It is not that Eastern Phoebes are a particularly attractive bird; they are actually rather bland, with a lemon wash on the lower underparts being as bright as they ever get.  They do not have an especially attractive song; what they say in their hoarse voice is their own name, usually twice.  But they are, at the risk of anthropomorphizing, spunky.  They have a lust for life that somehow breaks them free of the bland flycatcher mode.  Perhaps it is their tail-pumping that makes them seem cheerful, or their tendency to build nests on human constructions, little add-ons that make any building or bridge better.  Whatever it is, I am not happy about not having seen my first Eastern Phoebe of the year, and it I don't track one down in Central Park on my lunch break I am going to be seriously upset.
If you are a person who lives in the range of Eastern Phoebes, when did you get your first phoebe of the year this year?  And is that better or worse than usual?