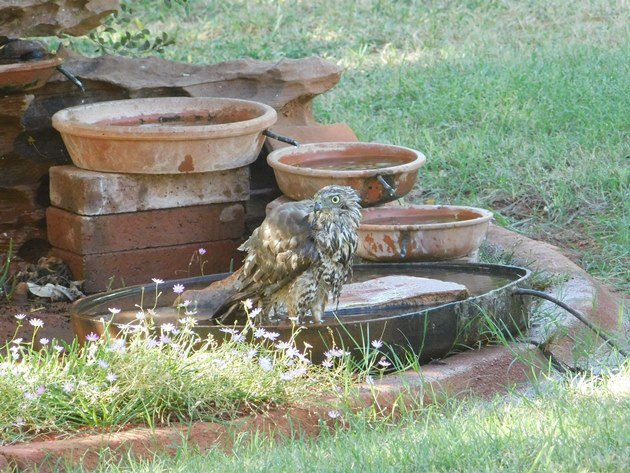 Following on from my post 14 days ago when Australia was closed to international visitors there has been a lot happen in the world since then. I went slightly off-topic last week for my 500th post and shared some Echidna photos, but this week I will return to birds. The migratory shorebirds continue to head to the Northern Hemisphere to breed. This year the Broome Bird Observatory are updating their website daily with the latest numbers of shorebirds that leave each evening.
Until Thursday I was able to go to the supermarket for essential items and I was able to exercise away from home. I avoided the supermarket, but continued to exercise away from home. Grant had been required to travel interstate with work and on his return to Western Australia he is required to do 14 days of self-isolation. So, I went shopping as if we were going camping for 14 days in the bush and we are now "camping" at home for 14 days. We are not permitted to leave our property for any reason at all.
We are extremely lucky. We have plenty that we can do in our garden or we can just watch the bird activities. We have bush out the back, so we can still view long distance. We have plenty of books that we can read and jigsaw puzzles to do. There are many people around the world in a much worse situation than ourselves and our thoughts are with you. We are feeling positive about enjoying our 14 days at home.
We always know if it is going to be a hotter day by the arrival of a Brown Goshawk in our garden. It comes to water only metres from our bedroom to drink and bathe. Our overnight temperatures are still over 30c/86f and day time temperatures are around 35c/95f. This sub-adult Brown Goshawk spent over thirty minutes enjoying our water.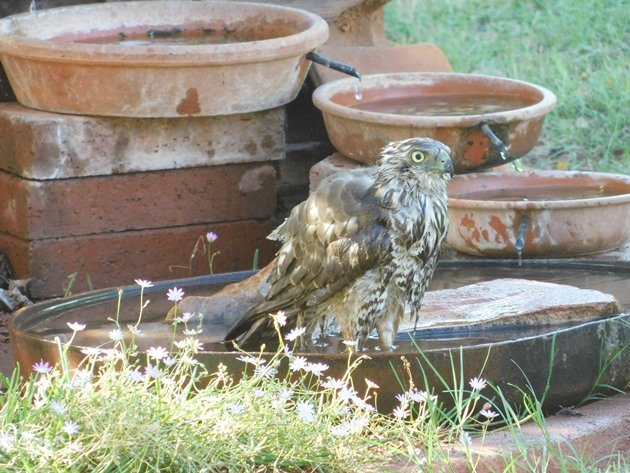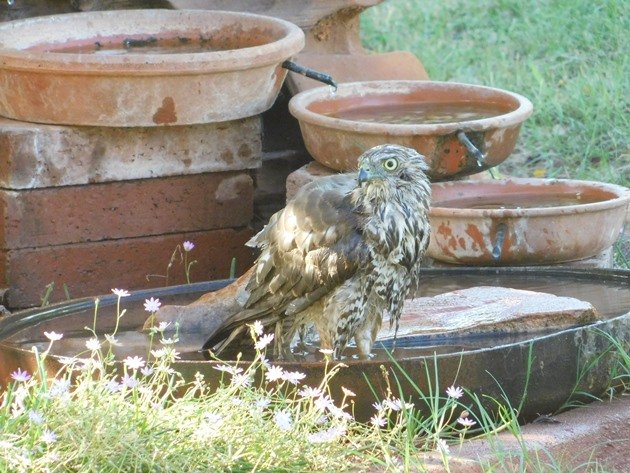 Brown Goshawk cooling off
All of our other bird visitors, which have now numbered over 130 species, are patient when the Brown Goshawk is in. The Bar-shouldered Doves either take on a statuesque pose or wait on our pretend power line. However, two Bar-shouldered Doves have hit our bedroom wall this week whilst being chased by a Brown Goshawk and not made it.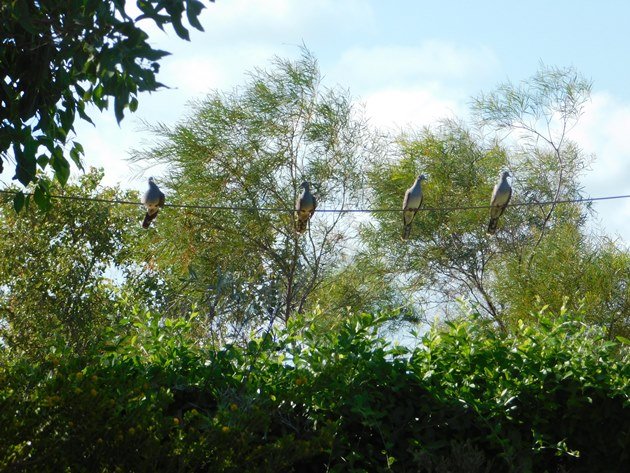 Four Bar-shouldered Doves waiting on the pretend power line
There's nothing like a good wash first thing if you are a Brown Goshawk! Water was going everywhere and I don't think you can get much wetter as a bird!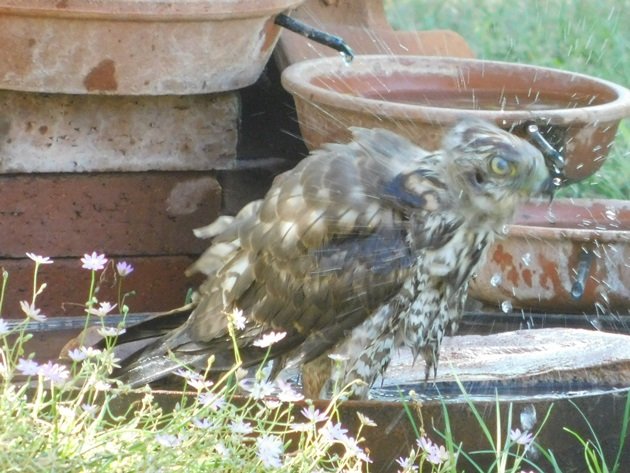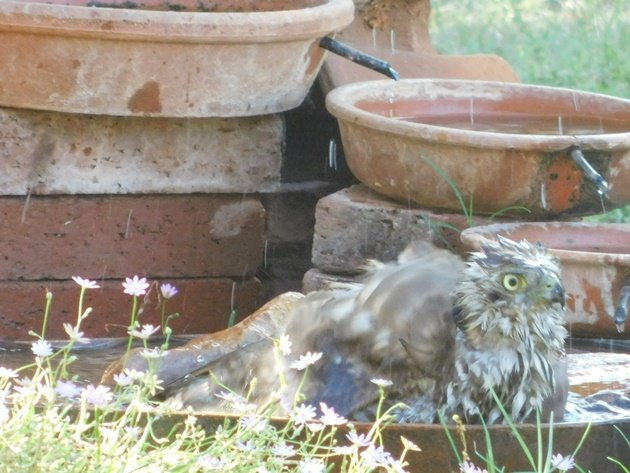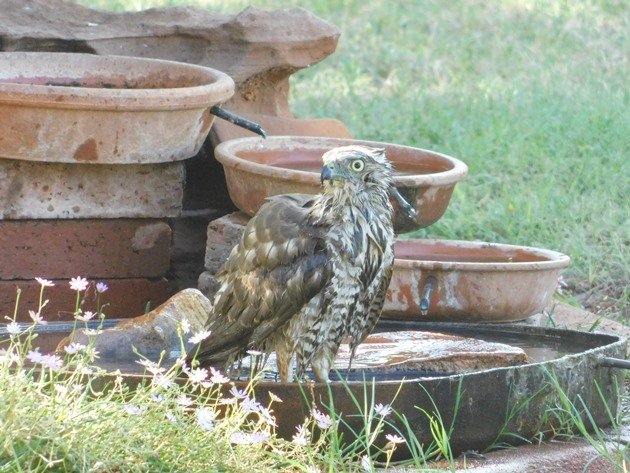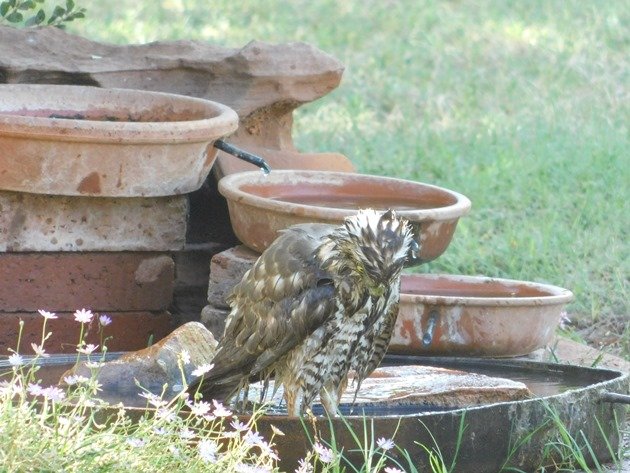 One wet Brown Goshawk!
Western Australia has changed the rules to stop all travel into the state now, so we are "an island" in an island continent. Furthermore you are no longer free to move around Western Australia. The whole state has been divided into regions and you must remain inside your region. The Kimberley has been divided into the four Shires and you can no longer travel between them. We are a huge State and this is a necessity to prevent the spread of the virus. Our local Shire is keeping us updated and so is the government.
Our Premier, Mark McGowan, is trying very hard to keep all Western Australians safe. However, he has signed an official document allowing the Easter Bunny to travel! That is good leadership! Chocolate is an "essential" item for so many children!
The message has always been to "Stay at home", but it is even more so now. In fact it is actually more worrying about what the world will be like after 14 days of self-isolation. We won't be rushing off to the supermarket, but it will be nice to exercise beyond our property if we will still be allowed to do that-alone of course……..
Stay safe everybody and enjoy your "patch" however big or small it is this week.