Our late autumn has been absurdly warm in the northeastern United States and though winter is only days away it seems no one has notified the weather.  That is, no one had notified the weather until this past Sunday, the day of the Queens County Christmas Bird Count. While it wasn't unreasonably cold it was the coldest day that we had experienced since February. I guess that is only fair – after all this is the Christmas Bird Count that we all do, not the 4th of July Bird Count!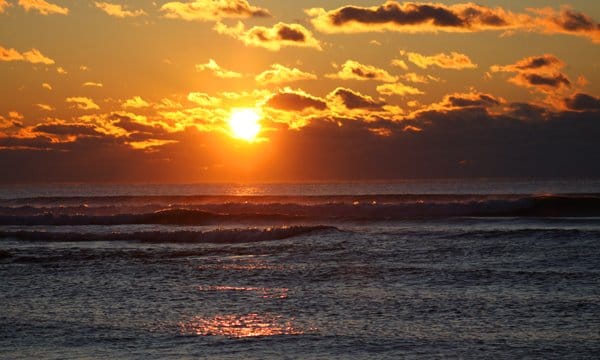 sunrise at Atlantic Beach
Like last year (and unlike the two previous years) I was pleased to be in the Atlantic Beach sector of the Queens count. It traditionally holds the most species of all of the sections in the Queens count and is the only shot the count has at quite a few birds. We started again by scoping the water at Atlantic Beach, the southwesternmost community in Nassau County, and were very impressed both by the flatness of the water and the willingness of hordes of Northern Gannets to come close to shore.  What was worrisome, though, was a lack of ducks. Sure, there were Red-throated Loons, Common Loons, and a few Common Eider but we needed scoters, all three species, and none were in evidence. Also lacking were any gulls but the expected three – Herring, Great Black-backed, and Ring-billed. There were no shorebirds either. We chalked up our poor start to the low tide and the strong winds out of the northwest and decided to walk to Rockaway Inlet and see what we could find over there.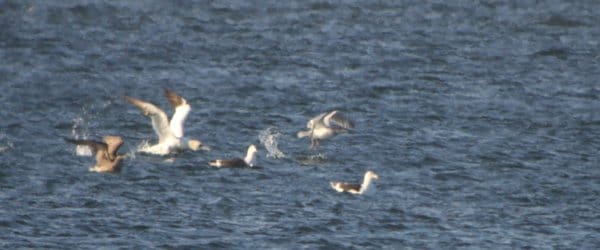 Northern Gannet taking off amid some gulls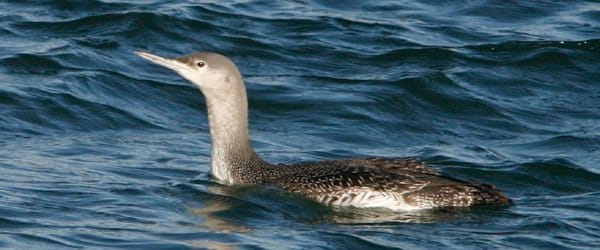 Red-throated Loon by Pete Shen
En route to the inlet we tracked down Sanderlings and Bonaparte's Gulls but scans of what little dune habitat that still exists there were fruitless.  From the inlet we finally got some scoters way out on the ocean but we only managed to identify a single male Surf Scoter, leaving us two scoters short of the trifecta. Eventually we found a couple of White-winged Scoters, small numbers of Long-tailed Ducks, and not much else. Time, always an issue on Christmas Bird Counts, was being wasted by pointlessly scoping a mostly empty ocean so we reluctantly gave up the game, knowing that our poor showing on the coast would mean that we would have to come back later in the day and scope some more.
A walk through the scrub habitat made us realize that we might have trouble with passerines as well, as nary a single Yellow-rumped Warbler or Dark-eyed Junco was around, though we did come across a small flock of American Tree Sparrows and a single Gray Catbird.
Next up was a drive over to Sutton Place Pond and a scan of the small body of water. The dabbling ducks disappointed too, with only Mallards, American Black Ducks, and a couple of Gadwall showing. Fortunately, there was a single female Hooded Merganser or it would have been a complete waste of a stop! Pete had to take his leave once we finished with the pond, but Seth and I were on to Bayswater State Park where we hoped to find lots of waterfowl on the bay and maybe some land birds in the park itself. The bay was devoid of many ducks, though we did get some Bufflehead, American Black Ducks, and, of course, a ton of Brant, and the park was lacking in much beyond Song Sparrows. But while scoping near the park we started to hear some croaking noises and eventually I asked Seth, "Do you hear a raven?"
And, sure enough, it was a raven! It's the first time one ever appeared on the coastal section of the Queens County Christmas Bird Count and we really relished watching it defend itself from some marauding crows, even though we were quite distant. We also enjoyed a fly-by Belted Kingfisher.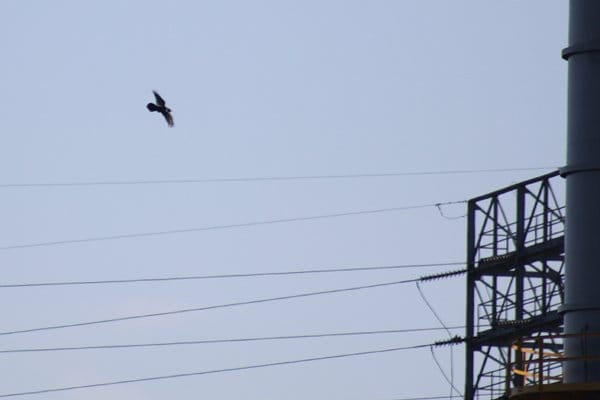 Common Raven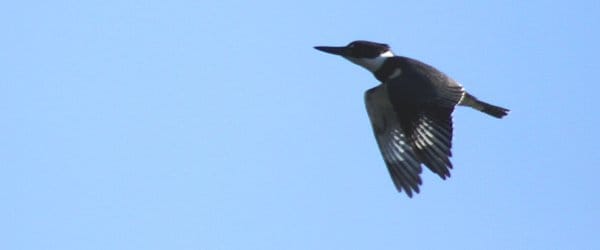 Belted Kingfisher
Another quick stop netted us some Mute Swans and then we arrived at Edgemere Landfill and met up with Bob Dieterich, who had been birding other areas in our count area during the morning hours. We found American Wigeon in the bay before entering the landfill proper, which was unfortunately mowed almost to putting green length back in November. The winds were still strong and none of our target birds were around except for a single American Kestrel and a single Savannah Sparrow. No snipe, no meadowlark, no pipit. It was pretty disappointing, especially considering how cold the wind was up there on the exposed landfill.
Then Seth and I split off from Bob and headed back to Atlantic Beach where we quickly finished the scoter trifecta by spotting first two male Black Scoters and then a female. Our beach birding was also rewarded when Seth found a Razorbill, a very good bird for the Queens count. We would have liked to watch it longer but we had to get moving to cover some other areas not normally covered by the coastal crew.  Bob had agreed to finish the coastal area while Seth and I headed to College Point to see if anything was around the long-abandoned Flushing Airport.
At the airport we walked the berm on the west edge which gives a nice view into the flooded runway, especially with the late afternoon sun behind us. We picked up Pied-billed Grebe, a host of Green-winged Teal, and a Greater Yellowlegs. We also finally found a nice flock of sparrows and added a couple of Swamp Sparrows to our day list, and got nice looks at American Tree Sparrows.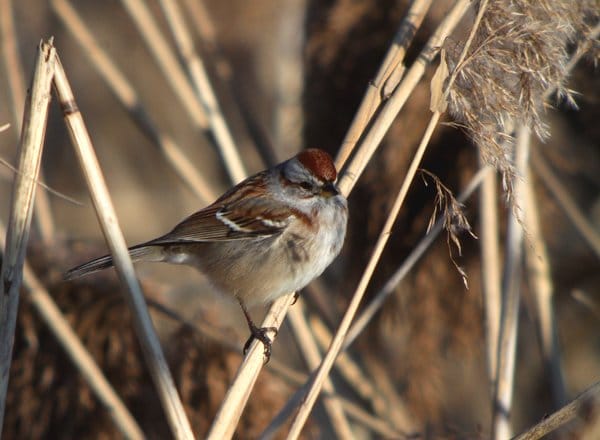 American Tree Sparrow
Our final stop for the day was the Maple Grove Cemetery where we were disappointed by empty bird feeders, no owls in the trees, and very few birds at all. We did finally get our first Dark-eyed Juncos of the day though…
The compilation dinner at the Palace Diner was nice and the total number of species for the entire count circle was 107, about average for the QCCBC, though numbers of each species seemed lower than usual.
How was your CBC?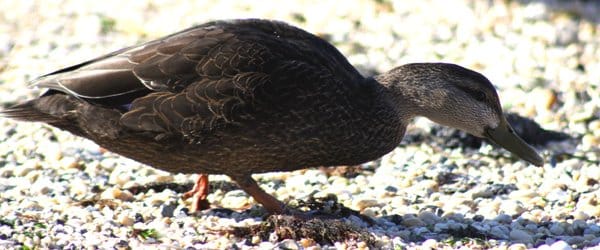 American Black Duck
…