When we left our three crazies, Heydi, Doug, and I, we had just finished our morning on the coast and were heading to Forest Park to start working on adding forest species like wood-warblers, vireos, and thrushes to the day list.  Doug had foolishly wisely turned driving duties over to me because of my familiarity with Queens streets that he, a Brooklyn boy born and raised, could not match.  We were all amazed at how quickly we arrived at Forest Park considering the rush hour traffic I had fought through, and once Doug came out of his Corey-driving-fear-coma we were off to the waterhole adding wood-warblers to the day list right, front, and center.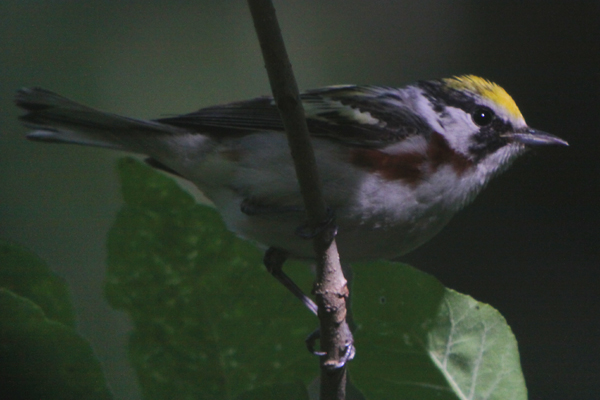 Chestnut-sided Warbler in Forest Park (photo taken a couple days after the big day)
Black-throated Green Warbler, Chestnut-sided Warbler, Blackburnian Warbler, Ovenbird, Magnolia Warbler, and Wilson's Warbler were all added quickly as we joined the birding crowd at the waterhole.  We gathered intelligence on what had been seen recently and, after a brief time at the waterhole, started making our way around the park, pausing briefly in our efforts to make sure Shane Blodgett, another Brooklyn birder, could find us and join us for a couple of stops on our big day marathon.
We made our way through the forest that gives Forest Park its name filling gaps in our list with astonishing regularity.  Scarlet Tanager?  There's one singing!  Check.  Worm-eating Warbler?  What's that trill?  Check.  We still need a chickadee!  There's one!  Check.  What about Veery?  Oh, right there.  Check.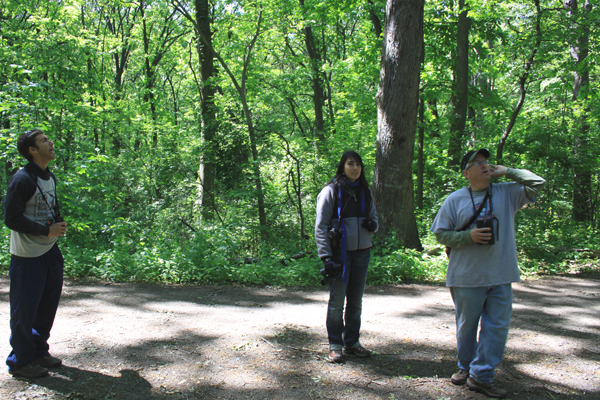 Doug, Heydi, and Shane in Forest Park listening for a Worm-eating Warbler
A couple of birds were real highlights and deserving of their own paragraphs, or at least their own portions of paragraphs.  One of them, which will forever be known as Heydi's Hairy Woodpecker, was spotted in the gully while we were spishing for warblers.  Heydi said something along the lines of "That's pretty big for a Downy Woodpecker" and just like that we had a Hairy Woodpecker, and, not only that, but it entered its nest cavity!
I go to Forest Park often (as you know) and had been unable to find a Hairy Woodpecker nest.  Heydi, on her first visit during a big day, finds one.  The birding gods were smiling upon us…
Another great bird that was completely unexpected was our brief look at a Bicknell's Thrush, which we only identified for sure because it sang.  The rare thrush, which is listed as vulnerable by BirdLife International, had never crossed my field of view in Queens before so I was very pleased with the unexpected addition to our day list.  The sad thing is, while we managed to get Veery, Swainson's Thrush, American Robin, Wood Thrush, and Bicknell's Thrush, we missed Gray-cheeked Thrush (and Hermit Thrush though by mid-May they have moved on).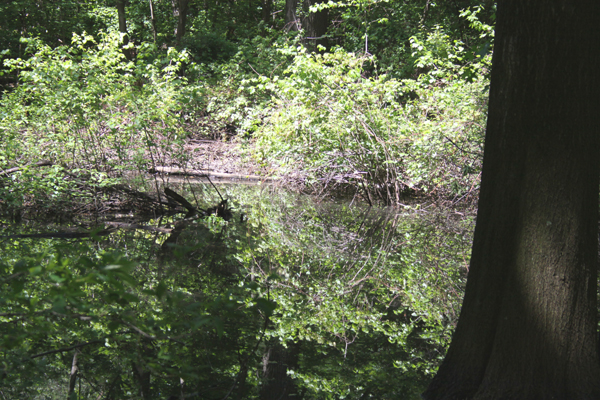 Forest Park's waterhole
Back at the waterhole we picked up a couple more difficult wood-warblers for the day list, the long-lingering Orange-crowned Warbler and a Tennessee Warbler, to say nothing of our only Ruby-throated Hummingbird of the day.  Then we packed up and headed over to the ravens' nest for a quick look and an easy check-mark before heading to Flushing Airport.
Being the only one of the four of us (Shane was still with us) who had ever been to Flushing Airport, it was my job to make sure we got the target birds (fortunately the other three are really good birders so, really, all I had to do was walk with them and they would do the finding).  But before we could get to that, and before we got out of the parking lot, Doug managed to get a bird that wasn't on the target list, a bird that wasn't even on our radar, in the form of a fly-by Merlin.
We got almost every single target bird at Flushing Airport.  Two Orchard Orioles chasing each other were first to be marked off the list, followed by Northern Rough-winged Swallows.  Both Solitary and Spotted Sandpipers were marked off, as well as our first (and only) Great Blue Heron of the day.  A calling Ring-necked Pheasant finished our additions at Flushing Airport.  We did not manage to find Wilson's Snipe or Pectoral Sandpiper, both birds that had been present in the previous week, but both were pretty unexpected species and would have been big bonuses if they were still around for the big day.
A very quick stop at Flushing Meadows Park finished our swallow list for the day when we added Cliff Swallow (the only other swallow we could have added for the day was Purple Martin, a bird I have still never seen in Queens) and a calling Northern Flicker, our last woodpecker pick-up for the day.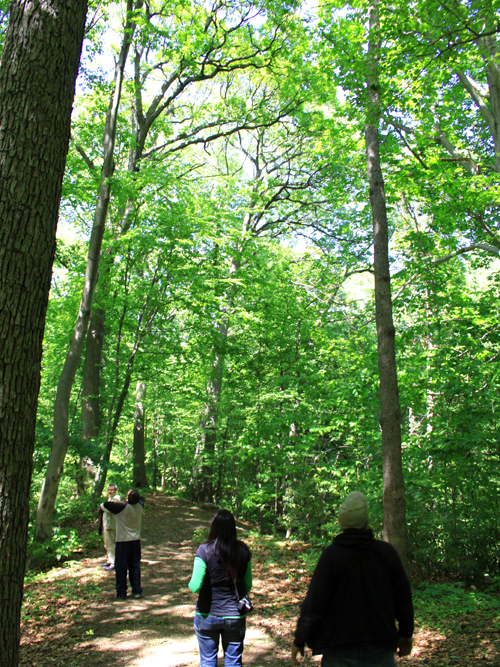 birding big day at Alley Pond Park
Alley Pond Park yielded her Great Horned Owls, her Chipping Sparrows, her Blue-gray Gnatcatchers, and her Yellow-throated Vireos, among, others, with the able assistance of ace Queens birder Eric Miller, who also guided us to Kissena Park where we burned over an hour while only adding Bobolink.  Kissena Park in the afternoon is simply too busy to offer many needed birds and if we do this again next year we will almost undoubtedly strike Kissena Park from the route.
We headed to the coast (again!) with 134 species on our day list and some big holes that we would be unable to fill on our sparrow and flycatcher lists.  We did still have several hours of daylight left and a ginormous flock of Common Terns to pick through on our horizon, but we also had rush hour traffic with which to contend.  Fortunately, we also had me behind the wheel of the car, and, after all legal options were explored and found wanting I made an incredibly illegal maneuver that left Doug catatonic again and Heydi rocking in the back seat repeating over and over "I will not do a big day again."
We did make it alive to to pick up Shane at the Silver Gull Club outside of Fort Tilden and that is where this tale of action and derring-do will pick up again shortly…so make sure to come back for more!