After spending all day birding exhaustion was setting in as we, that is, Doug, Heydi, and I, made our way to the coast in the hopes of getting some good coastal species somewhere out in the southwesternmost portion of Queens, the barrier beach peninsula, Breezy Point.  Doug had scouted the area the day before and found a few good birds that we hoped were still there, and, considering that to our south the Atlantic Ocean stretched for thousands of miles, we figured anything could show up for us to add to our burgeoning day list.
Shane awaited us at the fishermen's parking lot at the west edge of Fort Tilden and he hopped in Doug's car for the drive down to Breezy Point, where Doug had asked for and received a permit to park the day before.  The walk to the bay side was uneventful, and once at the shore we quickly added Piping Plover to our day list.  It didn't take long for us to get on the first of the birds Doug had found the day before, a surprising-for-May Glaucous Gull!  Both birds were, embarrassingly, county birds for me so I was particularly glad to get them.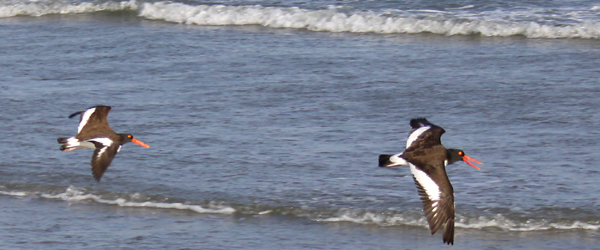 American Oystercatchers in flight at Breezy Point
The jetty at the tip of Breezy Point did not hold Purple Sandpipers and the roosting gull flock did not hold a Lesser Black-backed Gull, and we would end the day without either species.  The ocean did hold a pair of White-winged Scoters that only Heydi and Shane spotted (though later we would all see what was either the same or another pair).  Most importantly, we could see a HUGE flock of Common Terns between us and Fort Tilden and we all made the rather insane decision to walk all the way to Shane's car and then drive back to Doug's car so we would have the chance to scope through the huge aggregation of terns.  It was a risky decision, because if we took too long and didn't come up with a a pile of good birds we would be sacrificing most of our remaining daylight for nothing, and with several big gaps on our list that we felt we could fill at Jamaica Bay.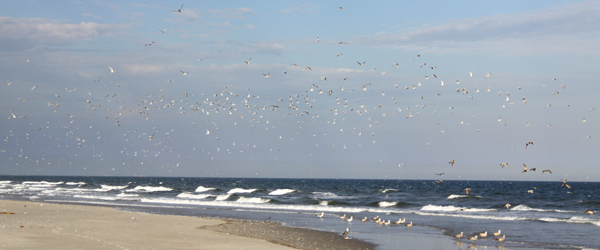 So, was the walk worth it?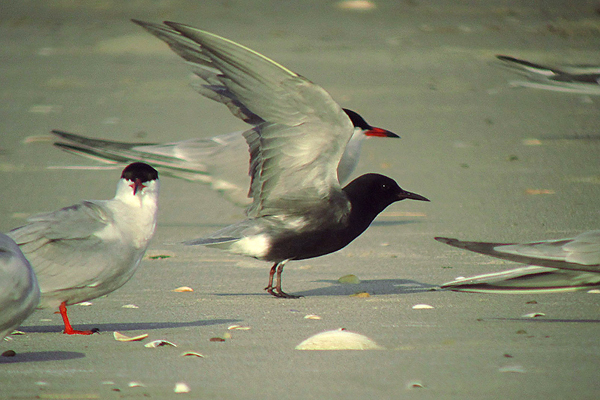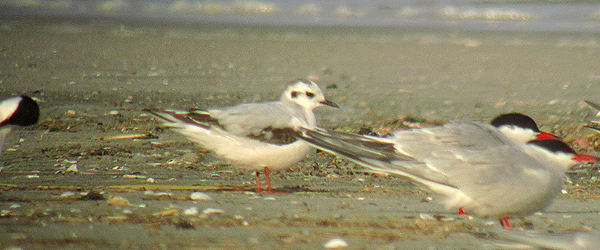 Seeing as the three birds above are a Roseate Tern, a Black Tern, and a Little Gull, all new birds for Queens for me and all great birds for a Queens Big Day, and the Little Gull was only the second one I had ever seen, and I didn't even include pictures of a Gull-billed Tern or the several Bonaparte's Gulls we spotted, well, yes, the walk was worth it!  By the way, all of the shots above were taken by Doug, and if you want to see more of his bird pics you should really check out his flickr page.
It was an incredible walk, and, though we were tired when we reached Fort Tilden and Shane's car, it was totally worth it.  Our next stop would be Jamaica Bay where we had a few big misses to rectify and a few species we hoped might show up…would we get the birds we were looking for and finish strong?  Or would our big day fizzle out?  Come back soon to find out!