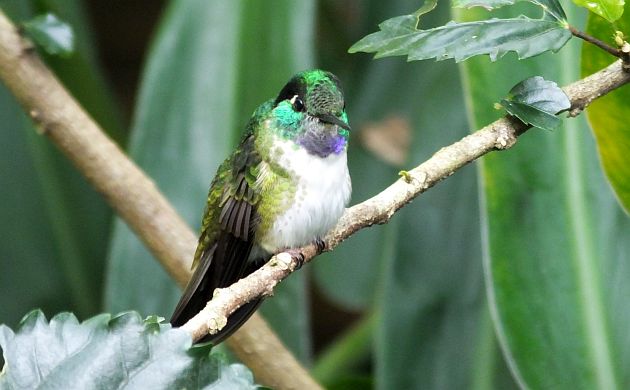 When the birding slows down, someone usually lets out the excuse that our hobby wouldn't be as fun if there was no challenge. There's everything right about positive thinking but if I was forced to choose between easy looks at lots of stunning birds in an hour or a few sub-standard glimpses at birds over the course of an entire day, I'm hanging with the stunners. Don't get me wrong, I love a chase and get satisfaction from creeping around the rainforest, but when pressed for time, I'll be happy to settle for easy looks at balcony birds.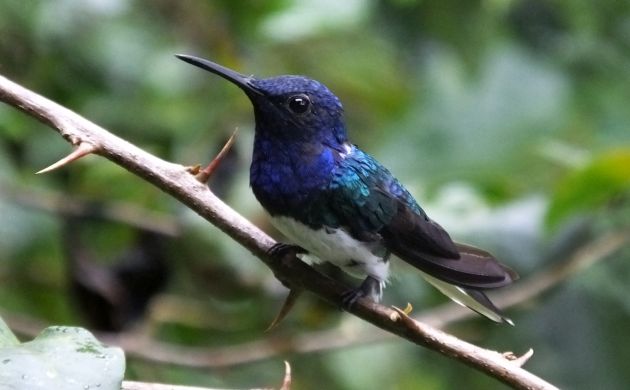 The White-necked Jacobin is a balcony bird at Rancho Naturalista.
In Costa Rica, thankfully, we have some sweet, quick and easy opportunities at beautiful birds that are just an hour's drive from the airport. This comes in handy if you have an extra day to burn or even a chance to use optics during an extra morning or afternoon. While you could spend that time looking for saltators in the hotel garden, I suggest heading into the mountains for hella chances at a whole new bunch of birds, some of which are endemics and mind blowing hummingbirds. The following are twelve such species of hummingbirds easily seen after an hour or so drive from the San Jose area:
Rufous-tailed Hummingbird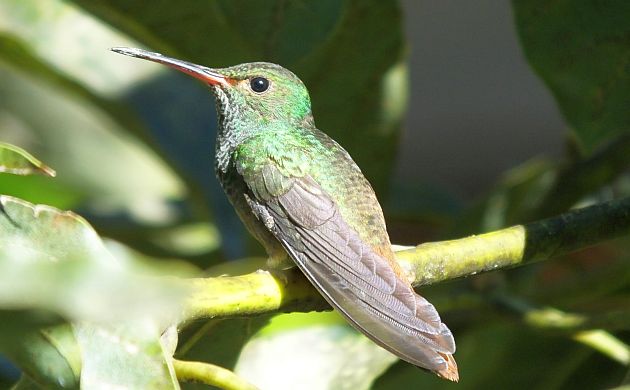 Yeah, it's an abundant garden bird but it's still a beauty and always fun to watch. Tick this one at the hotel and expect to see it a lot more while watching less common species. It's also a good one to learn so you can pick out Cinnamon, Steely-vented, and Stripe-tailed Hummingbirds.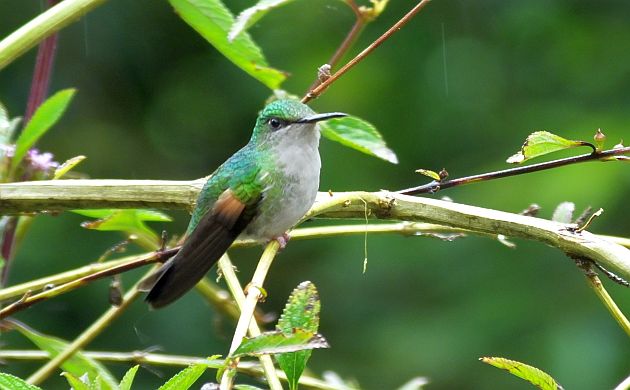 The female Stripe-tailed isn't exactly stunning but every new bird is cool.
White-bellied Mountain-gem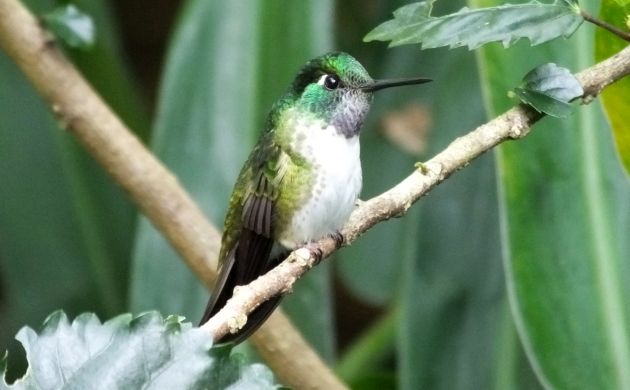 It already looks nice from the side but when seen head on…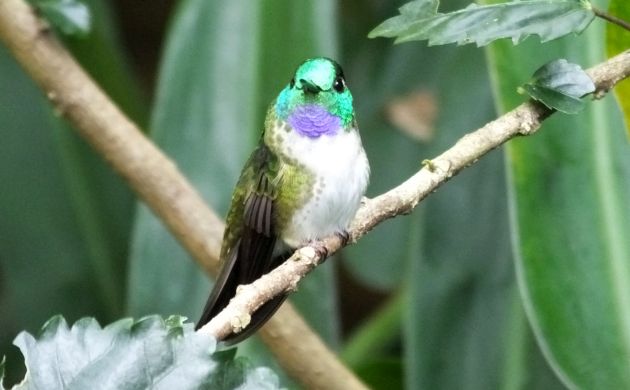 Speaking of less common species, this local beauty only occurs in middle-elevation forests of Costa Rica and western Panama and even then, is accessible at rather few sites. One of those choice sites is the Colibri Cafe on route 126, an excellent roadside stop where a birder can enjoy delicious coffee and home-cooked country cuisine in the company of the mountain-gem along with several other species of hummingbirds, barbets, and Northern Emerald Toucanet.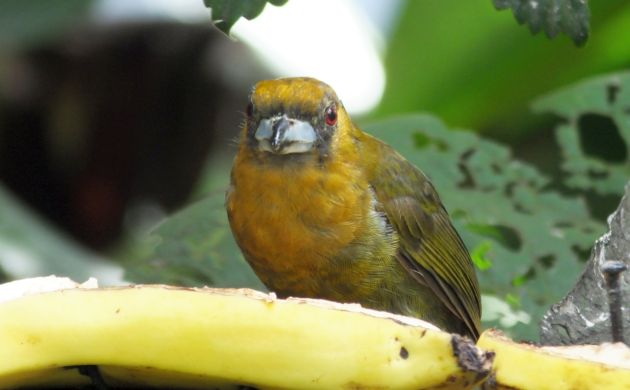 Did someone say, "barbet"?
Purple-throated Mountain-gem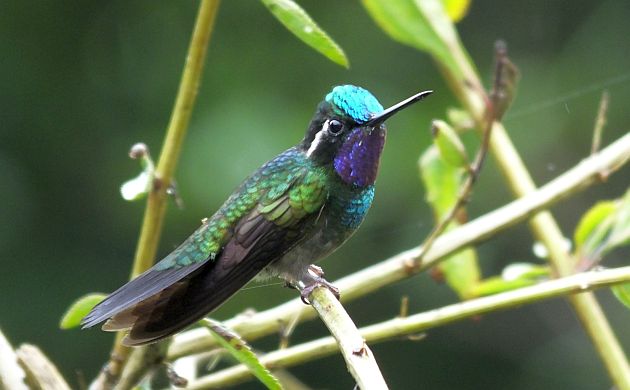 The female looks pretty nice too…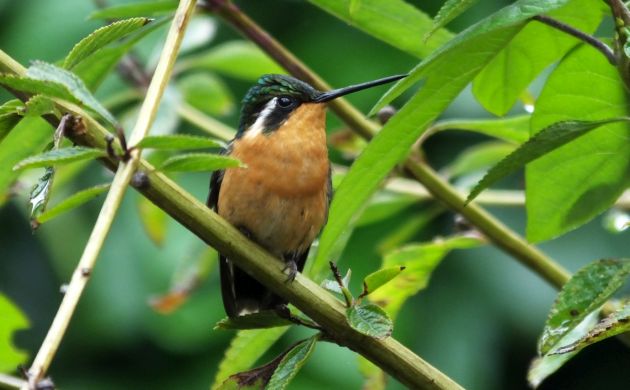 This near endemic can also be found with the White-bellied Mountain-gem but it's more common a bit higher up in true cloud forest. It's also easy to see at the feeders of the Volcan Restaurant, another local establishment worthy of support on account of their support for birds and birders. The delicious country Costa Rican fare is a bonus, look for this restaurant in a forested riparian zone the road to Poas.
Violet Sabrewing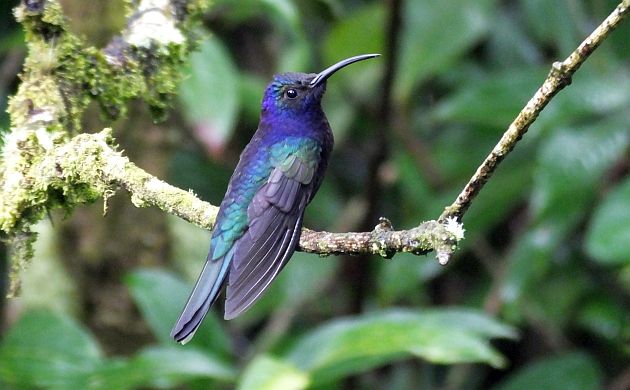 Not an endemic but this wow-inducing bird makes up for it by merit of its large size, and stunning purple, green, and white plumage. Watch it at both the Colibri Cafe and the Volcan Restaurant.
Talamanca Hummingbird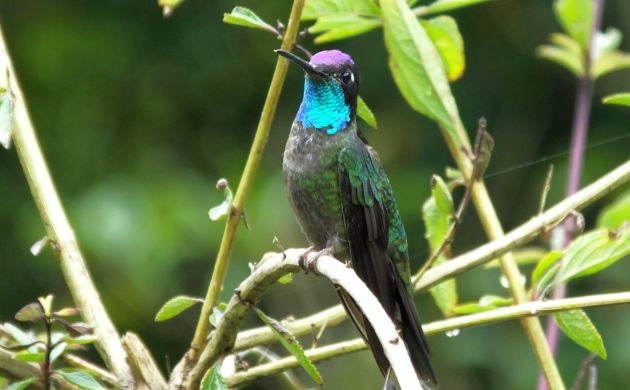 The female…not so colorful.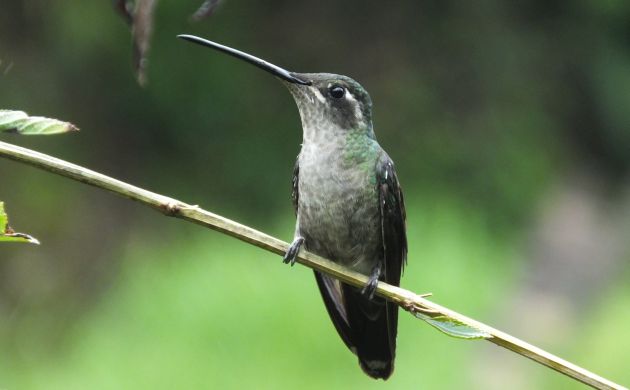 The regional endemic formerly known as Magnificent Hummingbird is common at high elevations in much of Costa Rica. Take a ride up to the Volcan Restaurant for easy admiration of this one.
Lesser Violetear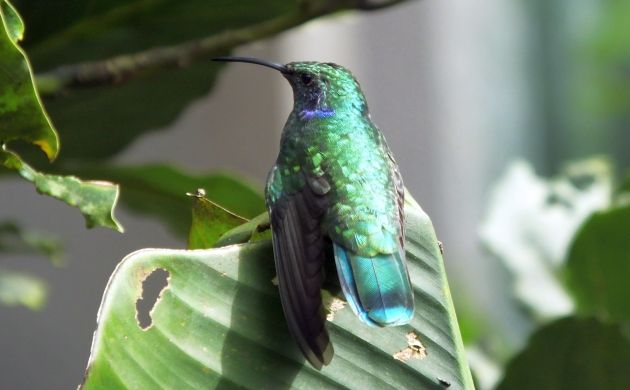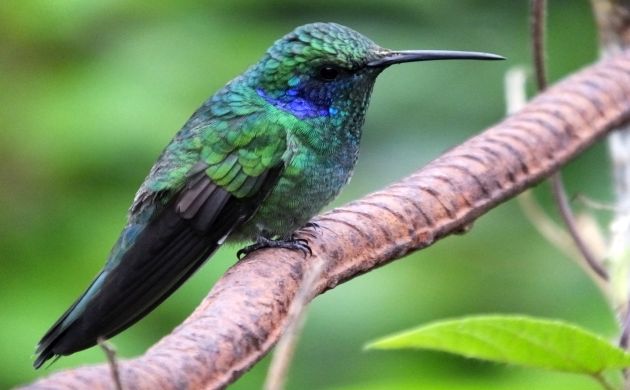 There's nothing "lesser" about the shining green and purple plumage of this bird. It more or less replaces the Rufous-tailed Hummingbird at higher elevations and is a common, easy bird to watch and take pictures of at the Volcan Restaurant and and other site in the hills above San Jose.
Coppery-headed Emerald
You gotta head back down to the Cafe Colibri (or the La Paz Waterfall Gardens) but seeing this pugnacious endemic is always worth the hour and a bit trip. Yeah, I know, most hummingbirds are pugnacious but the Honey-Badgerish permanent upstart antics of this sputtering little bird might take the cake. For example, recently, I saw one sort of perching on the head of a Brown Violetear until the larger, just as aggressive hummingbird relinquished its feeder spot.
Green-crowned Brilliant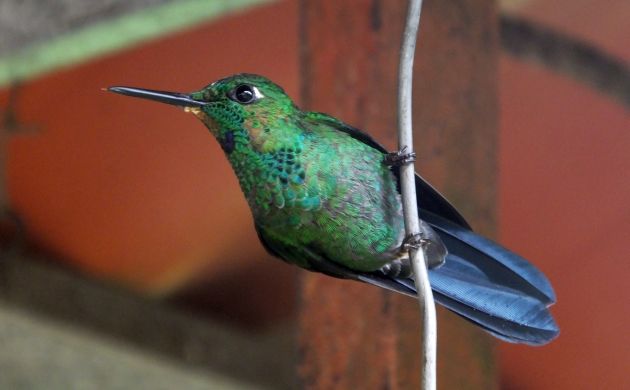 Expect to see plenty of this glittering feeder hog at just about any middle-elevation site in Costa Rica.
Volcano Hummingbird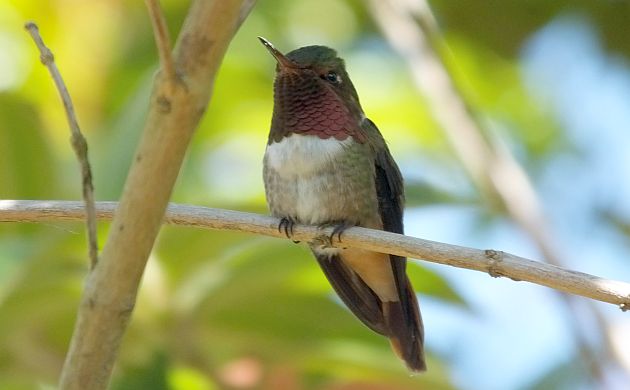 Tiny and restricted to elevations higher than 2,000 meters, this miniscule beauty comes to the feeders at the Volcan Restaurant and can also be seen near there in the Freddo Fresas gardens.
Violet-headed Hummingbird
We need to travel a bit lower in elevation for this little beauty but it's still quite accessible with an hour or so drive from San Jose. A trip to El Tapir, Quebrada Gonzalez, or other nearby foothill sites usually results in chances to inspect the glowing violet colors on this little bird.
Green Thorntail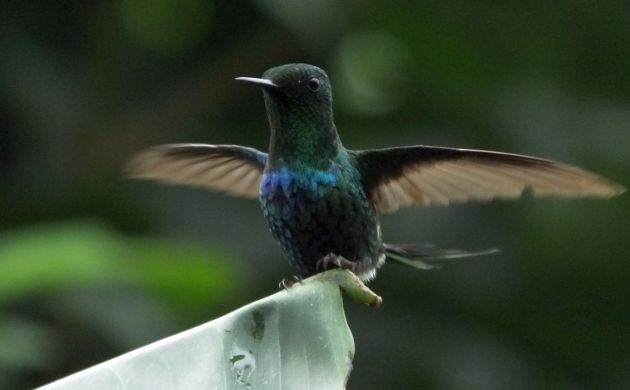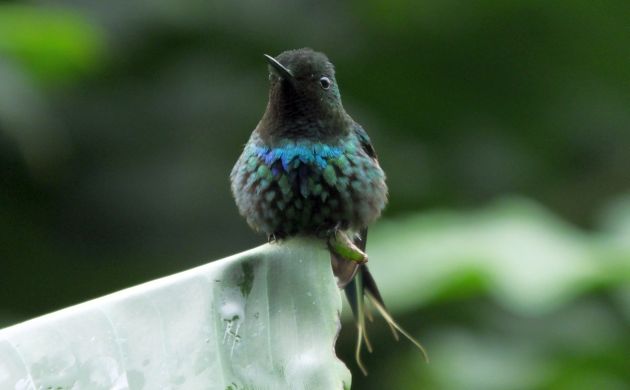 While it doesn't really have bright colors, this exquisite bird compensates by resembling a feathered green wasp or some other strange tropical bug. They often show at the Cafe Colibri and foothill sites with the following species.
Snowcap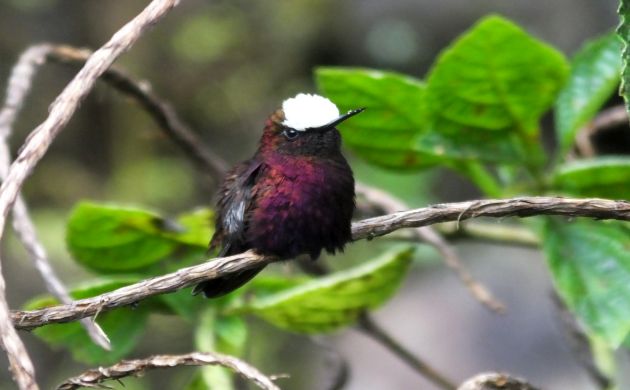 Saving the most wanted target for last, this small hummingbird is simply surreal. The female will remind you of other plain female hummingbirds from Arizona but the male is another story. Personally, its dark burgundy hues and ultra-white crown makes me think of nonpareil chocolates, a lovely glass of wine, and something from a birding dream. Check out El Tapir for this one, probably the most accessible place in the world to see it. The other most accessible spot would be Costa Rica's first birding lodge, Rancho Naturalista, only edged out by El Tapir because it's further from the airport.
As always, I hope to see you in Costa Rica while enjoying these and a few hundred other fine birds, some challenging, but many of them quick and easy.