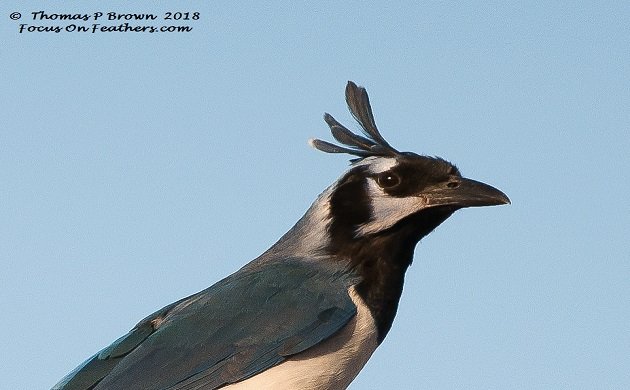 Walking up the ramp, from the docks here at Marina Palmira, on my way to the adjacent sidewalk that border the marina, I was literally blasted with an amazing flash of blue! Please understand, my eyes are always trained in a downward angle, not only to assure that I stay on the dry portion of the dock, nearly but all of the birds to be seen, are in close approximation to the water. This amazing spectacle of color came from just above my head, and I truly had no idea what it was. My first thought was somebody's parrot had escaped. Maybe a pet macaw or similar bird….but none the less I went on a dead run for my camera, and binoculars in the hopes to get a picture of whatever it was. Just a couple of minutes later, I was back and prowling the area, looking for this amazing blue bird. Back and forth I walked, looking up and down the marina fence, up in the palm trees and in all of the surrounding vegetation. Then, suddenly, I got a funny squawk from behind me, and there, right behind me, on the white marina border fence stood one of the most magnificent birds I have ever seen! I was only able to get a couple of shots off before it disappeared into the trees and flew away. But what was it? With a huge blue tail, white breast, with black, white and blue facial markings, and a truly outstanding set of black crest feathers. From the top of this beautiful crest to the end of its tail, this bird is almost 3 feet long, and like nothing I have ever seen.
It did not take long to figure out, my amazing new find was a Black-throated Magpie Jay. I had run across it in my guides, but they just do not do this bird justice! When it flew right over my head, all I saw was a huge flash of bright blue, not noticing the rest of the amazing details on this bird.
Since then, my research tells me this most likely was a captured bird that had escaped. While it is not impossible for this to be a wild bird, especially given the strong north winds we have been having, this bird is commonly found in the somewhat unregulated bird trade in Mexico. There is a small resident population established directly north of us, in the San Diego county area, as well as in and around the Tijuana, Mexico area. There was no band, or any other marks that would indicate that this bird had spent any amount of time in a cage. Its wings were not clipped, and the tail, which usually show the most amount of wear from being in a cage, especially one this long, seemed to be in great shape.
For those of you that watch American TV, you might remember an episode (Season 5, episode #9) of "The Big Bang Theory" where Sheldon was send into an "Ornithophobic" frenzy when this exact species showed up at his window. Probably the most famous Black-throated Magpie Jay in the world, even if the producers identified the bird as a Blue Jay. Fans of the show can find the link here.