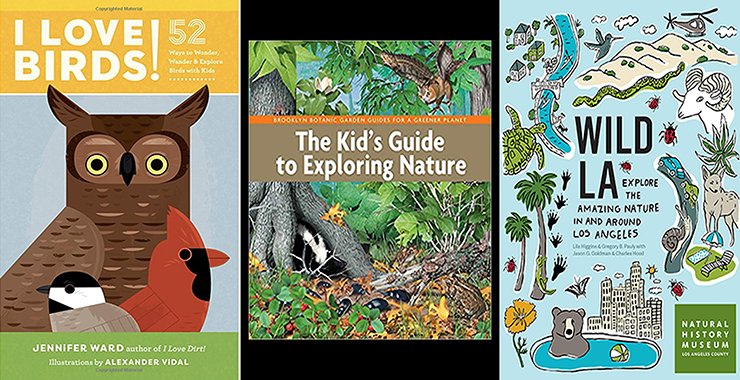 "A stick! A stick!" With the pure energy of an almost two-year-old freed from weeks of isolation, my granddaughter was running across an empty field, proudly holding a newly discovered stick. It is one of my most 'liked' videos on social media (though, sadly, not taken by me) because–a stick! Who has not delighted in a stick? And, once you find a stick, it's a short hop, skip and jump to following a dragonfly, hearing a crow, picking up pinecones, smelling White Sage. Most parents these days are concerned about school, and that's understandable. I think more about kids' new opportunities for being outside and learning about nature. Which leads to a topic I've wanted to write about for a while–books that guide us in an exploration of nature. Here are three recent titles, one for the parents of very young children, one for primary school children and their parents, and one for residents of a specific geographic area–Los Angeles County. I think each represents a template of a specific way of approaching this subject. I'm really interested in knowing what else is out there, so please add nature guides (not field-guide nature guides, more skills and activity-oriented guides) you like in the comments.
I Love Birds!: 52 Ways to Wonder, Wander, and Explore Birds with Kids.
I think author Jennifer Ward must be a birder. Her children's books–which include the charming Mama Build a Little Nest, other picture books, and chapter books–evince an easy familiarity with birds, their science and birding ethics. She's written a series of nature activity books, and I Love Birds!: 52 Ways to Wonder, Wander, and Explore Birds with Kids the latest. Targeted for children 4 to 8 years old, the book offers a variety of activities aimed at encouraging children to observe, document, and learn about birds, their habitats and their behavior.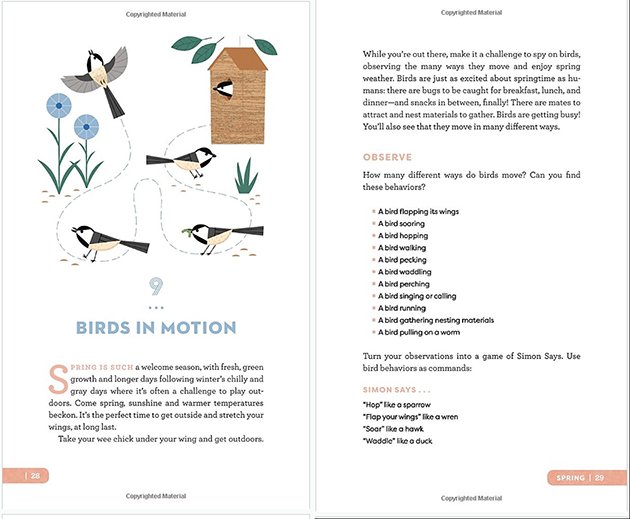 © 2019 Jennifer Ward, © 2019 Alexander Vidal
There are, of course, 52 activities, each with its own chapter, organized by season of the year. Some of these activities are simple: Go outside. Listen. Look. How many birds do you see? Each activity builds on these basics–observation, documentation and action–introducing concepts like migration, nesting, and conservation, and also teaching specific ways bird behavior may be different for different species. Each activity notes whether you will Observe, Take Note, or Take Action in bold goldenrod letters, making it easy for the adult to select a project that will fit the child and the day. Each  chapter also notes the learning goal of the activity ("stimulates curiosity and wonder," "facilitates outdoor exercise," promotes scientific knowledge") and offers a knowledge nugget in the form of a brief question-and-answer.
I was drawn to this book by Alexander Vidal's simple geometric illustrations, redolent of Charley Harper, and the complementary book design (which is not credited). Vidal's drawings embrace a diversity of birds (east and west North American species) and of people, depicted children and parents of different backgrounds.  The book design utilizes color blocking, bullet lists, and fonts of different colors and styles to communicate activity steps, activity goals, scientific facts, and seasonal sections. It sounds like a lot, but it's all well organized and easy to read and use.
Many of the activities rely on writing observations down, so younger children will likely need help. Other activities involve drawing and crafts (draw a bird, decorate a bird house, use dried leaves to create your own bird feathers) and working with the adult in the house to create bird-friendly features in the back yard (a water feature, native plants, placing bird treats on a snowman). These are fairly simple activities, no scavenger hunts or bird identification exercises, and it occurred to me that some are activities I thought up on my own in past years, to work through with my nephews. The nice thing about the book is that the learning framework gives substance to the simple acts of observation and documentation, it makes looking at nature exciting.
I Love Birds!: 52 Ways to Wonder, Wander, and Explore Birds with Kids does assume that its readers live in suburban neighborhood, have backyards for feeders, and safe places to go at night. And, a lot of hummingbirds nearby (3 out of 52 activities specifically address hummingbirds!). It can be used for city kids who live in apartments, but some flexibility and imagination would be required.
The Kid's Guide to Exploring Nature (BBG Guides for a Greener Planet)
I found out about this lushly colorful guide from a very serious colleague who lives and parents in Brooklyn. It's part of a series of guides published by the educators at Brooklyn Botanic Garden, and was written by its cadre of nature educators, chiefly Marilyn Smith, Ashley Gamell, and Sara Epstein, with children's book artist Laszlo Veres doing the illustrations. Like I Love Birds!, it's organized by season and approaches nature as an exciting game of observation and documentation, with scavenger hunts thrown in for good measure. Its scope is broader–the ecosystems of the natural world–and more urban, designed specifically for young people, 8 to 12 years old, who live in urban areas of northeastern North America.
© 2014, 2019, Brooklyn botanic Garden, Inc.
There are 24 'adventures,' and each focuses on a specific habitat (woods, meadow, beach, city, lake) and a particular aspect of nature. Spring and summer have the most adventures, but the authors have come up with intriguing explorations for fall and winter too. Children are encouraged to look for baby animals (birds and insects), observe pigeon behavior on city streets, and identify migrating shorebirds on the beach in spring; name common street trees, become familiar with the aquatic life of a pond, and look for bee species in summer; hunt for mushrooms and document color changes of leaves in autumn; identify animal tracks in the snow and compare tree barks in winter. Each chapter starts with the scientific background for the adventure–the need for shorebirds to migrate and the importance of the horseshoe crab; the ecosystem of a pond, how waterlilies, dragonflies, and pond snails co-exist; why some creatures hibernate through the winter and others actively survive. Each chapter also offers a field guide page that illustrates and describes three to six of the plants or creatures highlighted in the chapter, and a journal or nature activity.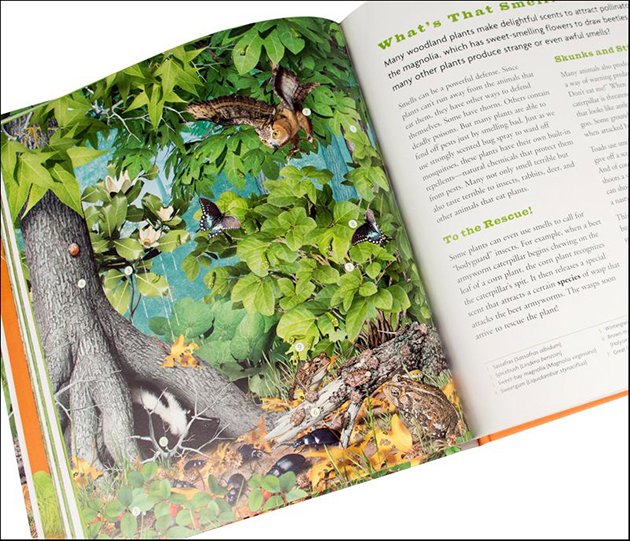 © 2014, 2019, Brooklyn botanic Garden, Inc.
The illustrations by Laszlo Veres are scrumptious, as I hope you can see in the above picture. These full-page portraits of habitat at a certain time of year are part of the 'adventure,' one for each chapter. Birds, insects, lizards, plants, trees, etc. are numbered and identified on the opposite page (though, for some reason a bird is occasionally left out; I like to think this is to encourage readers to figure out the identify on their own).
Each section also includes a chapter on a nature-oriented career–nature educator, taxonomist, horticulturist, botanical illustrator–describing what that professional does (though not the educational qualifications). I think this is a great idea; it gives purpose and shape to the idea of being a 'nature explorer' and introduces children to occupations they probably never heard of before. The book also includes a Glossary and "Tips for Adult Caregivers." I was surprised there isn't a Resources section of websites and field guides; hopefully this will be added if they do a new addition.
Wild LA: Explore the Amazing Nature in and Around Los Angeles
Wild L.A. was created by the good people of the Natural History Museums of Los Angeles County: Lila M. Higgins, museum educator, and Gregory B. Pauly, curator of herpetology, with writers Jason G. Goldman and Charles Hood (Hood also wrote A Californian's Guide to the Birds among Us). If you've birded Los Angeles County, then you know it encompasses an incredible variety of habitats, from beaches to mountains, from conserved wetlands to rapidly populating desert. And, if you have family and friends in Los Angeles County who aren't birders, then you know that many of them have no idea what riches surround them, except maybe P-22, the well-known urban mountain lion. The book's goal is to change all that. It's an excellent resource for family and child-learning adventures. Cleverly illustrated with photographs, maps, and drawings, it focuses on easily found birds, animals, reptiles, insects, and plants and encourages nature-supported activities as both outings and a way of life.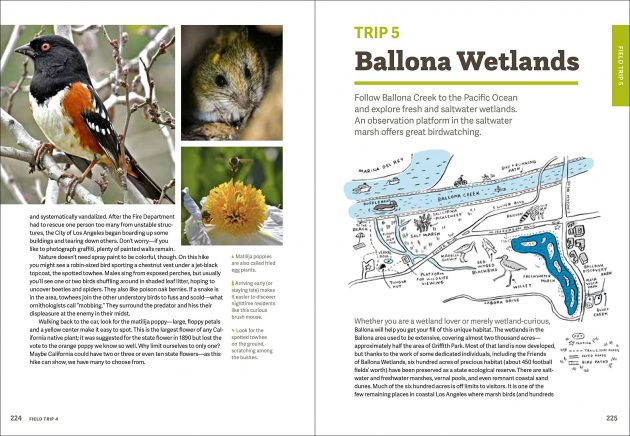 © Natural History Museums of Los Angeles County
Wild L.A. is divided into three sections: (1) "Wild Los Angeles," which gives an overview and natural history of Los Angeles County, including chapters devoted to two elements that have widely shaped it–fire and water; (2) "101 LA Species to Know," a kind of field guide to mostly easily seen species and some not so easily seen–birds (22 species); insects and spiders; mammals, reptiles and amphibians; snails and slugs; mushrooms, slime mold, and lichen; and plants; (3) "Field Trips" to 25 locations in Los Angeles County (and bits of Ventura and Orange Counties).
The sections complement each other. The chapters on native and exotic species, migration, L.A. after dark in the natural world, and backyards as critical habitats set the scene for, give context to the creatures and plants in the second section. And, species descriptions in the second section are annotated with the trip numbers of the third section. So, if reading about Hooded Oriole gives you a hankering to see the bird, or show the bird to your grandchildren, you know you might be able to see it on Trips 4, 8, 11, 12 and 21 in March and April or July through September.
The species accounts are expansive, giving much more than identification points. Sometimes, attention is paid to behavior, like the way Desert Bighorn Sheep butt heads for dominance, and sometimes the focus is on the unique role the living thing plays in California's ecosystem, like the Southern California Black Walnut. It is understandable that the editors restricted the number of species in this section to 101. But, again, there is no reference to additional resources like field guides. I don't understand it.
The field trips are to parks, canyons, rivers, watersheds, and gardens throughout southern and central Los Angeles County; for some reason they don't extend to the northwest area or to the desert of Antelope Valley. I've birded several of these places and I'm interested in exploring others, maybe with my granddaughter (and her parents). Information is given on location, parking, facilities, best time to go; the authors discuss creatures and plants to look for and best hikes, and fun maps indicate trails and illustrate nature specialties. As with the earlier sections of the book, photographs illustrate every page, making every location seem brilliantly sunny and ecologically special. (The photographic credits are given at the back of the book; many are by Charles Hood, one of the co-authors.)
Conclusion
I want to add a fourth book to the list: The Beginner's Guide to Birding: The Easiest Way for Anyone to Explore the Incredible World of Birds by Nate Swick. I reviewed Nate's book several years ago under its original title, Birding For the Curious. Though ostensibly written for adults, this book would also be a wonderful guide for older kids. The first activity (yes, it includes activities, that's why it's a good guide) even starts off in a very similar way to I Love Birds!–"Head outside and start listening for something, anything, that sounds "birdy," and track it down" (p. 14).
So, now we have four guides to nature for children and families. They all combine overviews of natural processes with species information and activities. They are all beautifully illustrated. One is for very young children, one is for primary through middle school children, one for older kids, high school through college, one is for families. One is for a specific geographic area, and I'm hoping that we'll have more guides like this in the future.
It's easy (well, it should be easy) to take a child to a park and give her the freedom to find a stick. It's a bit more of a challenge to get a child to look, to learn, to care about nature, to become involved, to become birders and environmental stewards. We think that if we read books about birds to our kids, if we point out hawks on the utility pole as we drive, if we take them on twitches, then they will become birders. It doesn't always work that way. We can, as parents, grandparents, aunts, uncles, neighbors, teachers, friends, caretakers, provide a knowledgeable framework that allows our children to learn about nature at their own pace and chosen level of engagement. I think these books are helpful for that mission.
---
I Love Birds! I Love Birds!: 52 Ways to Wonder, Wander, and Explore Birds with Kids 
by Jennifer Ward  (Author), Alexander Vidal (Illustrator)
Roost Books, 2019, 192 p., 5 x 0.6 x 8.2 inches
ISBN-10: 1611804159; ISBN-13: 978-1611804157
Paperback, $15.95
The Kid's Guide to Exploring Nature (BBG Guides for a Greener Planet) 
by Brooklyn Botanic Garden Educators (Author), László Veres (Illustrator)
Authors: Marilyn Smith, Ashley Gamell, and Sara Epstein with Patrica Hulse, Saara Nafici, David William Daly, Becky Beer Laboy, and Niall Dunne, with Sarah Schmidt, editor.
BBG Guides for a Greener Planet series
Brooklyn Botanic Garden, 2014, 2019, 120 p., 8 x 0.5 x 8.8 inches
ISBN-10: 1889538892; ISBN-13: 978-1889538891
Paperback $12.95; hardcover $16.95 (the BBG bookstore is currently closed, but the book can be ordered from Amazon)
Wild LA: Explore the Amazing Nature in and Around Los Angeles 
by Natural History Museum of Los Angeles County: Lila M. Higgins & Gregory B. Pauly, with Jason G. Goldman & Charles Hood, and Kiristin Friedrich, managing editor.
Timber Press, 2019, 288 p., 6.5 x 9 inches
ISBN-10: 1604697105; ISBN-13: 978-1604697100
Paperback, $24.95
and….
The Beginner's Guide to Birding: The Easiest Way for Anyone to Explore the Incredible World of Birds by Nate Swick
Page Street Publishing, 2018 (formerly Birding for the Curious, 2015), 176 p., 5.8 x 0.6 x 7.8 inches
ISBN-10: 1624144764; ISBN-13: 978-1624144769
Paperback, $14.95