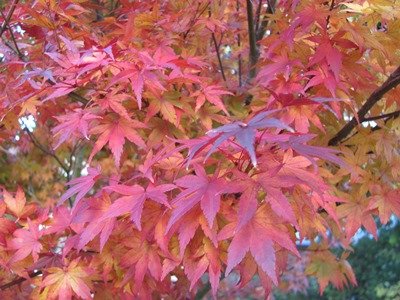 Our trip to the Blue Mountains in New South Wales in autumn was planned at short notice and we had not actually anticipated seeing a Rock Warbler. We had known it would be cold, especially compared to our home town of Broome and we knew we would have the opportunity to experience the changing leaves and hopefully some good waterfalls. Of course we were also interested in new birds, but we had not gone looking for anything in particular. We were fortunate that whilst Sydney was getting drenched we experienced a lot less rain and continued to go out birding and hiking each day knowing that we had a warm cabin to return to. One of the major attractions of birding somewhere in the "off-season" is that you won't be interrupted by groups of noisy people and the birds are more likely to be able to be observed close to the tracks. This was definitely the case on the majority of the tracks that we did and although different birds would be observed at different times of year we found this time of year enjoyable. We crossed the park in Blackheath each day before we went birding and there were several Satin Bowerbirds present and also numerous Australian Wood Ducks. The Sulphur-crested Cockatoos were busy destroying the grass as they ripped at it each morning and evening, but no doubt it will recover.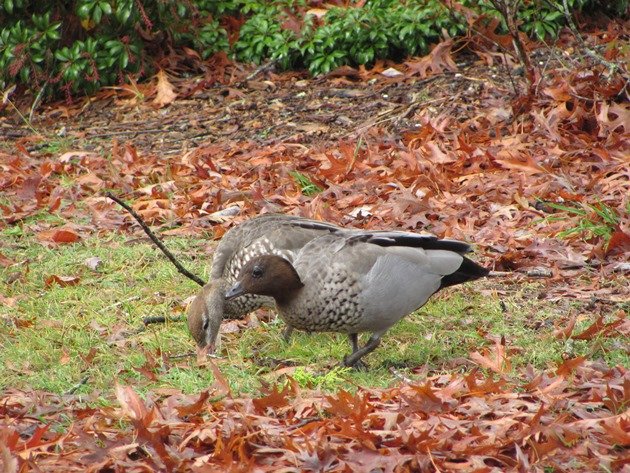 Australian Wood Ducks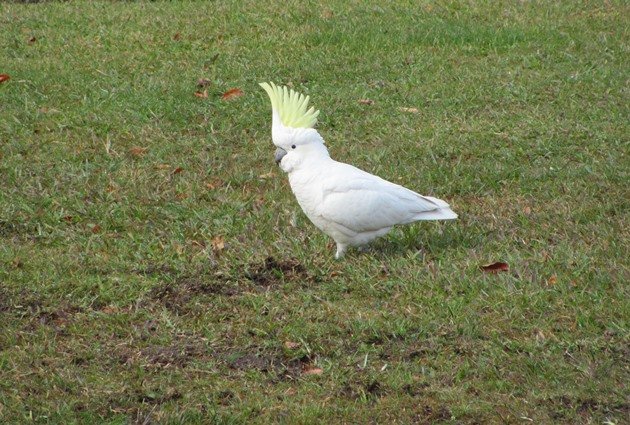 Sulphur-crested Cockatoo
There are a variety of walk tracks in the Blue Mountains and they offer views from a variety of levels. All of the walks are graded and well-marked and there are also some short walks suitable for families with strollers or requiring wheel-chair access. Obviously some walks may not be suitable for those with fears of heights or an adversity to climbing steps, but there really is something for everyone. At Blackheath you can look down across the Grose Valley from Govetts Leap and there is a short paved walk-Fairfax Heritage Track-suitable for those not keen on rough trails and requiring wheel-chair access. This offers great views and there is still birdlife along the trail.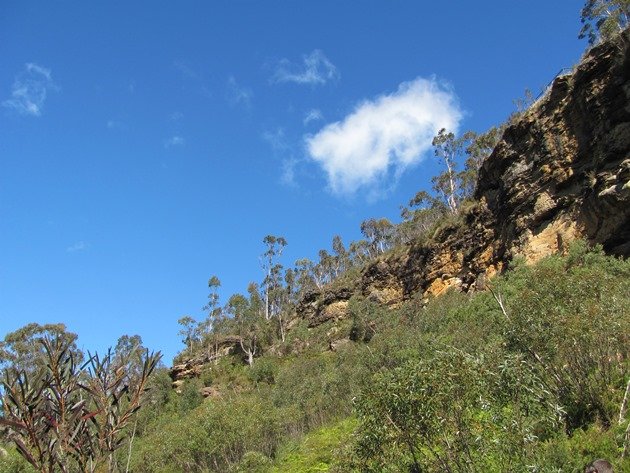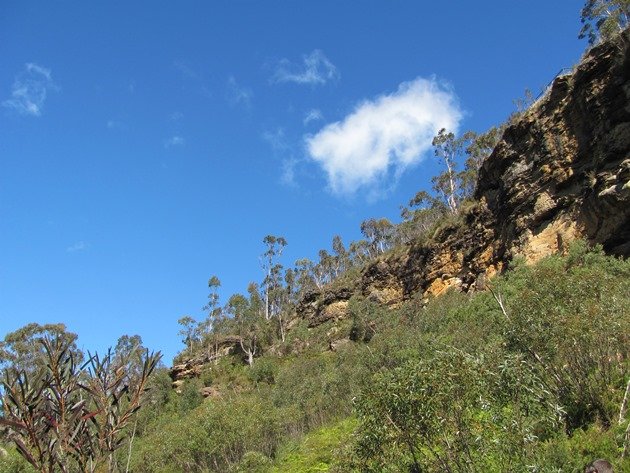 Climbing up towards Govetts Leap Lookout
We soon learnt that if we heard birds we needed to look at the flowering Banksia bushes first, as they were the most likely place to find the birds. They would be feeding on the nectar and the various honeyeaters were often seen flitting from one Banksia to the next through the forest.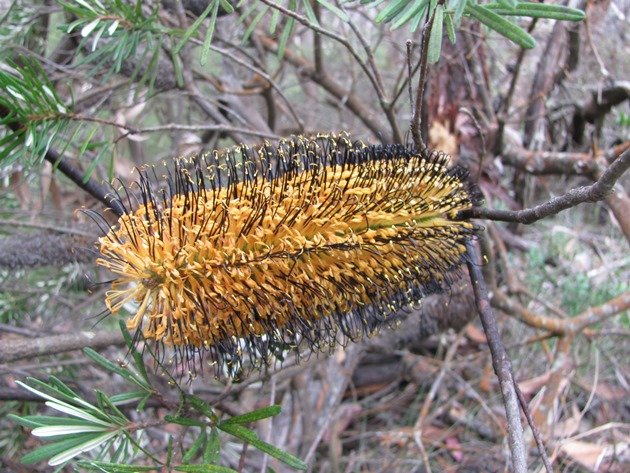 Banksia flowers- a honeyeater favourite
The White-naped Honeyeaters were the most prolific honeyeaters during our week in the Blue Mountains and often seen in huge flocks, but they were also the hardest to photograph. I had almost given up on photographing honeyeaters in dense bush, but finally had a New Hollands Honeyeater that was rather more cooperative than other birds had been.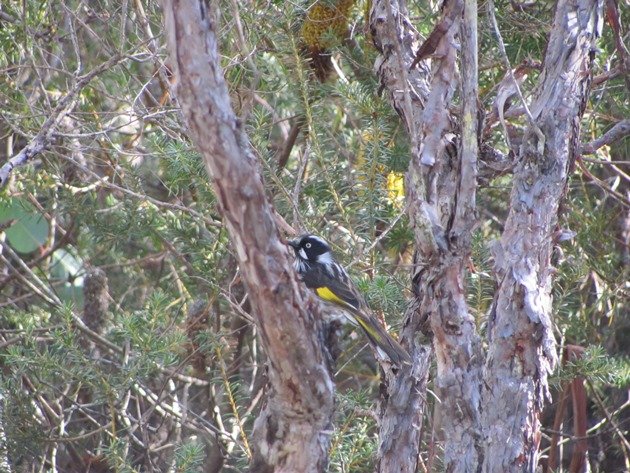 New Hollands Honeyeater
Sulphur-crested Cockatoos were often observed right down in the valleys as tiny white spots in trees and Yellow-tailed Black Cockatoos were often vocal, but not always seen. Whilst walking along the National Pass in the Blue Mountains we encountered a group of Sulphur-crested Cockatoos drinking from a waterfall on the edge of the cliff and they then moved to a tall tree and watched us go by. The National Pass hiking track was built between 1906 and 1907 and is a pleasure to do, but be aware there is a lot of climbing down and a lot of climbing up! Thankfully there is also a long length of the track that is flat and offers spectacular views.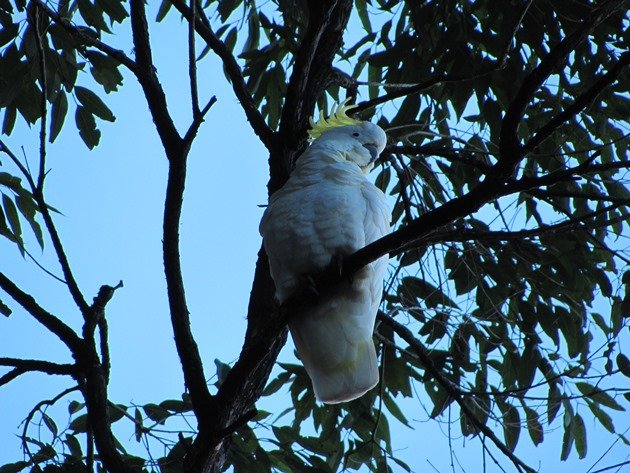 Sulphur-crested Cockatoo above the track
One of the most brightly coloured birds that we encountered during our stay in the Blue Mountains was the Crimson Rosella. Often they were too busy feeding to even make a sound other than the crunching of seeds. Their colour soon brought your attention to them as you hiked along and they did not move far if there was food around. King Parrots were also present, but so far up in the trees that I was not able to successfully photograph them.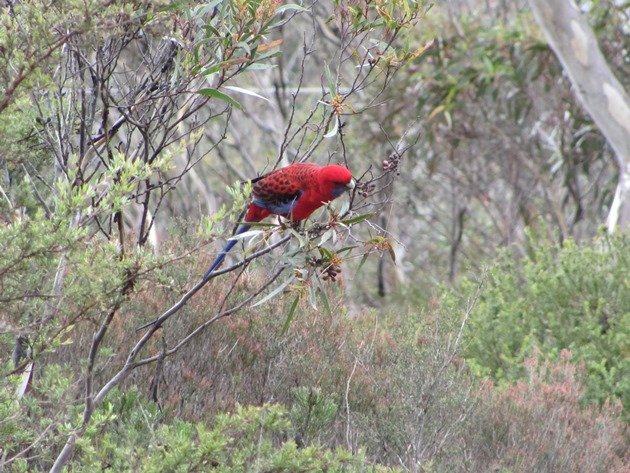 Crimson Rosella
The tracks we did varied from narrow tracks through dense scrub to lengths of stone steps either up or down. There's no point in running up these steps….you are going to miss something! Besides, we don't have steps or hills at home in Broome and we may as well take up the challenge on holiday of a climb or two!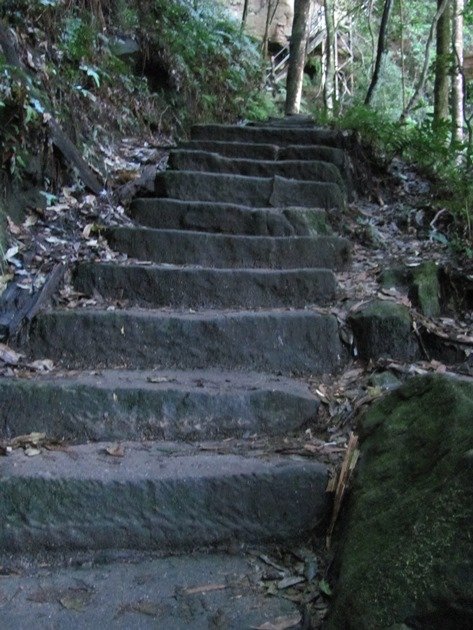 Stone steps in the Blue Mountains
It was on one of these long lengths of steps that we had our Rock Warbler encounter near Blackheath and then near Empress Falls we were focussing on climbing and had another "small brown bird" experience. We approached a waterfall and there was a little bit of movement in amongst the water…….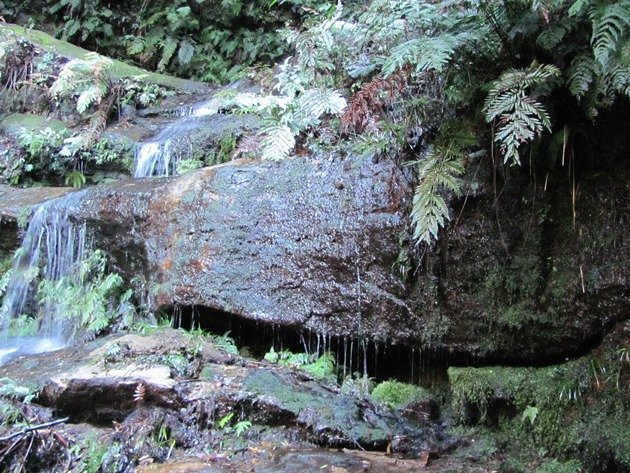 "Small brown bird" in the waterfall!
On closer inspection we had a White-browed Scrubwren busy feeding on the edge of the waterfall and it continued to feed as we walked by. We had seen them on various tracks, but usually just to the edge flicking leaves over and this was our first experience of one on a waterfall.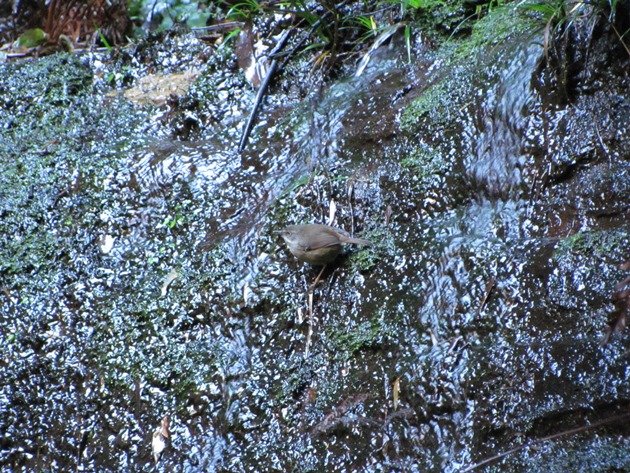 White-browed Scrubwren
I can't even remember how many waterfalls we saw, because there were so many! Some were well-known and named and no doubt some had just developed as a result of recent rains. We hiked under them, over them, around them and viewed them from all angles. Some were too big for a complete photograph and others were a mere trickle. They were all beautiful in their own way and this is a great place for hiking if you enjoy birding as well as waterfalls.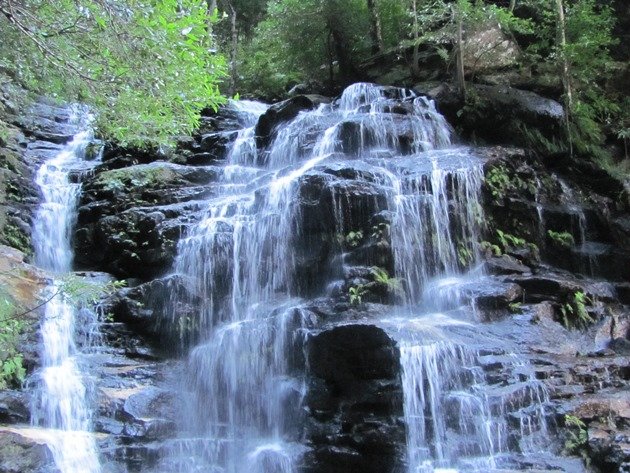 One of many waterfalls in the Blue Mountains
No doubt this area is beautiful any time of year, but we thoroughly enjoyed our recent visit in autumn and the tranquillity that can come with cooler weather. There is plenty of information on the National Parks website for you to plan your trip and some people do just make a day-trip from Sydney. We much prefer to spend a bit more time exploring an area and a week was ideal to get a sample of what is on offer.