It is January and the deep freeze has locked New England in the clutches of snow and ice.  Half-hearties are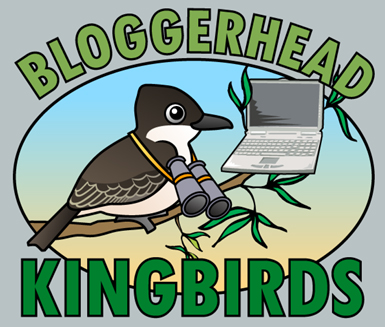 perishing, winter finches are flocking, and alcids await just offshore.  Yes, it is time.  Time for that most marvelous and mad of birding events, the Superbowl of Birding.
Once again, just like in 2009 and 2010, the Bloggerhead Kingbirds, a team of brave bird bloggers, will face the elements and seek out various and sundry species for a full day with the hope of winning the whole enchilada.  This year it will be this coming Saturday, 29 January, when the insanity happens.  We've been studying eBird sightings, preparing our route, and intimidating other teams in preparation for the big day.  I've also procured a supply of New York Jets bumper stickers to apply to the opposition's cars, an apropos stratagem when dealing with a Superbowl of Birding in the home turf of the recently defeated New England Patriots.
Unlike previous years, this year the Bloggerhead Kingbirds discussed in advance how to introduce our team.  Each of us will be introducing one of our teammates in posts simultaneous with this one.  By clicking from blog to blog you can make your way through our entire team and see just how stellar a lineup we have in 2011.
It is my great pleasure to introduce you to John Beetham of A DC Birding Blog fame.  John knows the Superbowl of Birding well, having competed with the Bloggerhead Kingbirds last year, when we won the Essex County Excels award for seeing the most species in Essex County, Massachusetts.  Though his blog is named for the nation's political capital he actually now lives in the nation's capital of odd odors, New Jersey.  We will be traveling to Massachusetts together and I hope I manage to survive the ride: holding my breath for that long will likely be dangerous.  Though John might come from the odor capital of the nation his birding ability certainly doesn't stink and if it weren't for him we likely would have missed Turkey Vultures last year. Perhaps they were attracted to the stench?  I kid, I kid, New Jersey is a fine state, and, as home to both John and the aforementioned and also geographically challenged "New York" Jets it managed to inflict two plagues upon New England this year, which, so far as I am concerned, is hilarious.  Take that New England!  A football team that loses in the playoffs and an odd odor left behind by a visiting New Jerseyan…Paul Revere might need to ride again shouting, "The Bloggerhead Kingbirds are coming!  The Bloggerhead Kingbirds are coming!"
Make sure to click through to A DC Birding Blog to see who else is on the team!
Go Bloggerhead Kingbirds!
…