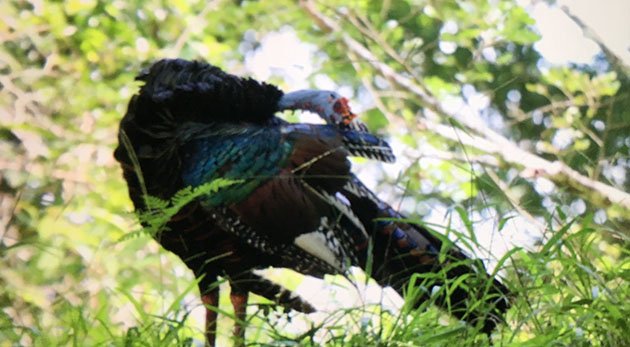 The first week of August marks that point in the year where most people I know start to bemoan the impending end of summer. If your circle of friends reside closer to the South Pole, you probably hear fond thoughts of the approach of spring. Be warned though: we have plenty of the current season left!
I was so crippled with envy over Corey's current Neotropical sojourn (with a few family commitments thrown in) that I could barely bring myself to look at birds at all. However, I did spot a curious assemblage of House Sparrows perched in a row along the roofline of one specific house. The attraction of that particular vantage remains unknown. Corey's Best Bird of the Weekend was the coolest turkey he's ever seen, the Ocellated Turkey of Central America, seen in a wonderful place: Tikal in Guatemala!
How about you? What was your best bird of the weekend? Tell us in the comments section about the rarest, loveliest, or most fascinating bird you observed. If you've blogged about your weekend experience, you should include a link in your comment.