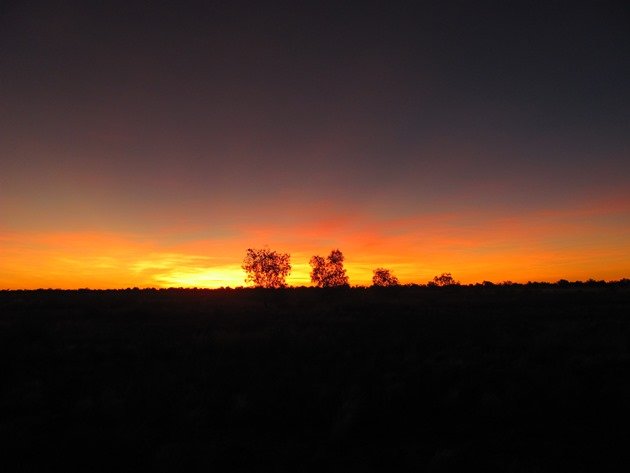 In Australia it is winter in July, but the weather is as perfect as you could hope for in the north of the country with daytime temperatures around 30c/86f and the night-time temperatures being around 20c/68f and rarely a cloud in the sky. These temperatures make for perfect birding/camping weather and because that is one of our favourite pastimes we decided it was time to go and explore a bit more of northern Australia during July. It can also be a very busy time of year on the road with large numbers of retired Australians also heading north to soak up the sun, but they are mostly towing caravans and restricted to where they can go. With only a four-wheel drive and a tent we are able to explore a bit further afield and with birds on our mind we headed off north towards Kununurra. Over several weeks we travelled on towards Katherine in the Northern Territory, south to Daly Waters and along the Savannah Way to Borroloola and visited Caranbirini Conservation Reserve. It was then a journey along the Tablelands Highway south back to the Barkly Highway and east to Queensland. On entering Queensland we concentrated on visiting areas we had never visited before and this included passing through the towns of Camooweal, Mt Isa, Cloncurry and north to Normanton and Karumba on the coast in the Gulf of Carpentaria. I say "passing through towns" due to the fact that they are refuelling stops for us and we always camp in the bush with the birds and away from civilisation. We returned from Karumba on the same route until we got to Camooweal and then headed directly west to Tennant Creek before heading north to Katherine and then back to Broome via Kununurra. The total distance of the trip was 8048kms/5001 miles and we often drove for hours without seeing a single vehicle. On other occasions we would encounter numerous caravans being towed or large trucks up to 54 metres long transporting fuel or cattle and we would wisely leave the bitumen if it was not a full width road and let the larger vehicles pass. It was an incredible time on the road and one which I will expand on over coming weeks. I understand camping for weeks on end is not everybody's idea of fun, but for us it is enjoyable and we soon adapt to waking with the birds and retiring at the same time as them and any time zones are irrelevant! This means that while we were camping in northern Western Australia the birds woke us at 05:30am, but by the time we were in western Queensland we were not woken by the birds until about 7am! Sunsets got later and we enjoyed many a beautiful evening in the bush as you can see in the above photo.
At this time of year all of the grasses that grew so tall in the summer months in the north of Australia are dry, but perfect camouflage for Australian Bustards and they were particularly prolific along the Tablelands Highway first thing in the morning. Flock Bronzewings were in the hundreds through this area and Nankeen Kestrels hunted small prey through the grass.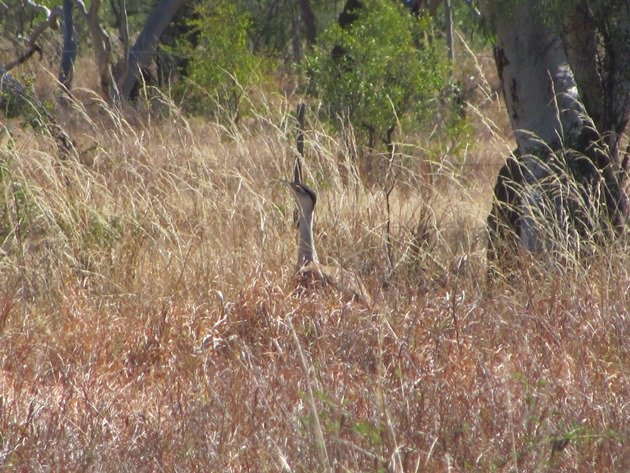 Australian Bustard
The land is very dry at this time of year, but you could clearly see that there would be travel restrictions during the summer months when the rains fell. The land is incredibly flat and would easily flood and signs warning you of the distances that may be flooded are not uncommon!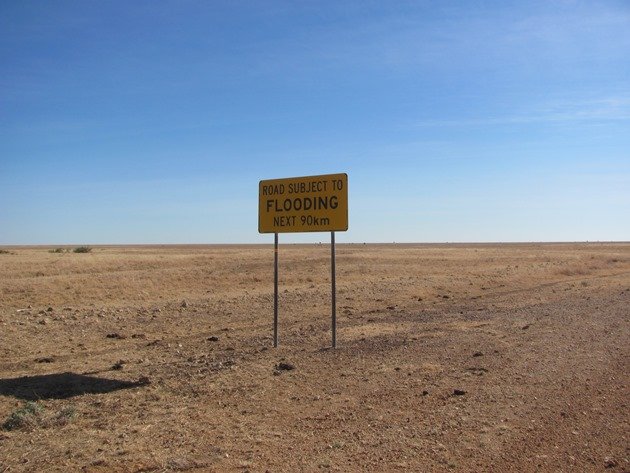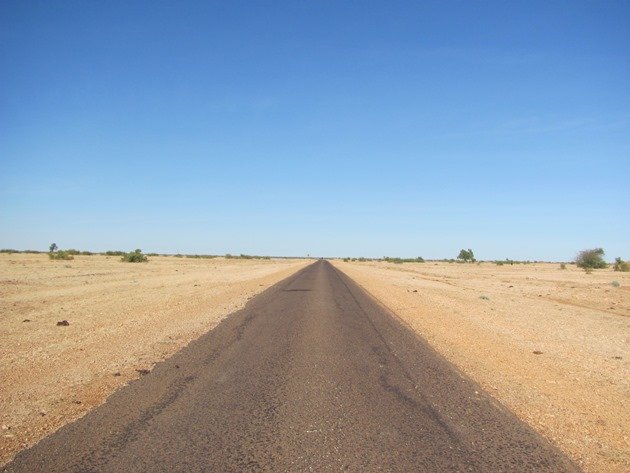 An area of highway that floods
Red Kangaroos often stood in the middle of the single lane bitumen across the north of Australia and were in no rush to move on. You can see the condition of the edge of the highway is not great, so due care needs to be taken when moving off and onto it to let larger vehicles pass.
Red Kangaroos
Another constant problem to be aware of when you are travelling these highways with constant distractions like Wedge-tailed Eagles standing on carcasses are the stray cattle. Some cattle are quite happy to stand around the sign warning you as you can see below, but in Queensland they have installed solar powered signs to warn you of the cattle that appear to be able to consume vehicles there!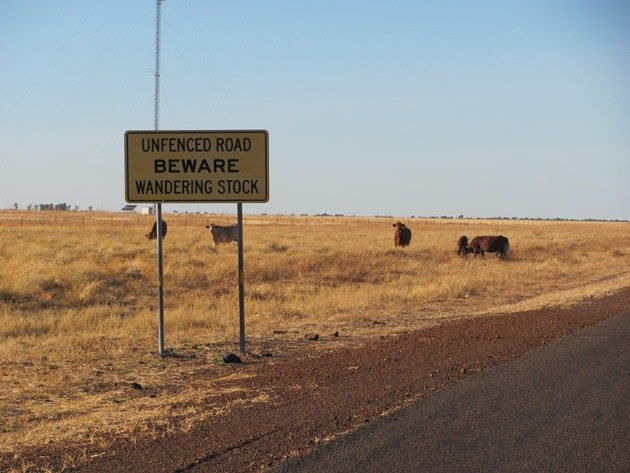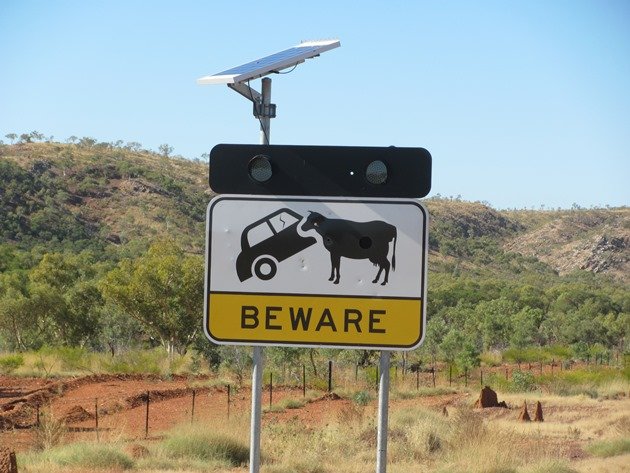 Cattle can be anywhere!
Of course another danger is the presence of snakes and crocodiles! We saw three snakes in two days and one was a very large Black-headed Python moving across the highway as we were unable to slow down sufficiently to photograph it. The other two snakes we observed were moving faster than ourselves and subsequently also did not get photographed! Crocodiles are easier to photograph as they lie on the mud absorbing the warmth on a July day and this freshwater crocodile below was near Normanton in Queensland.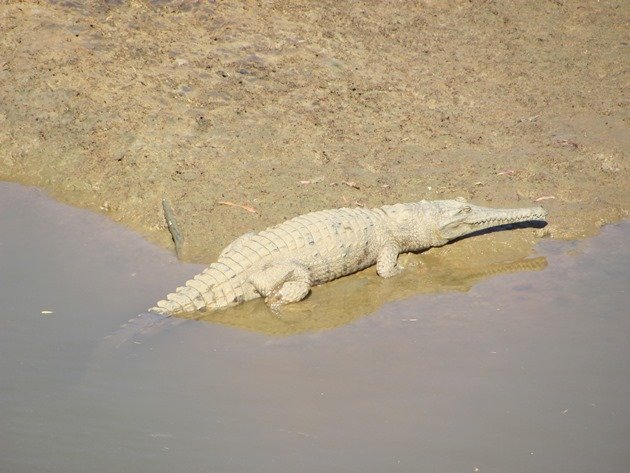 Freshwater crocodile
At Karumba on the Gulf of Carpentaria there are several warnings about the saltwater crocodiles present and the warning is also specifically in German and Japanese!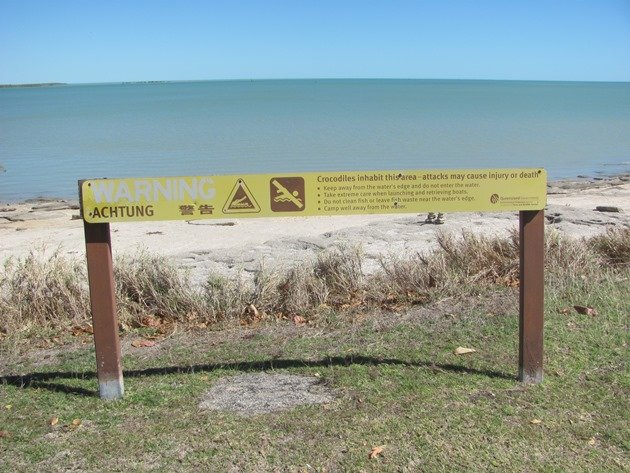 Looking out at the Gulf of Carpentaria
Thankfully it was not just large reptiles that we saw, but some beautiful Ring-tailed Dragons warming themselves on rocky outcrops. We also encountered water monitors and a variety of other smaller reptiles. Many of the native plants were flowering, which also aided in the search for pollen eating birds! Masked Woodswallows and White-browed Woodswallows were very common on the Tablelands Highway.
Ring-tailed Dragon
Fuel stops were very important! There are long stretches of road without fuel and careful consideration needs to be given to the fact that you may need to backtrack due to bush fires and there is no mobile phone coverage in northern Australia unless you are in a town.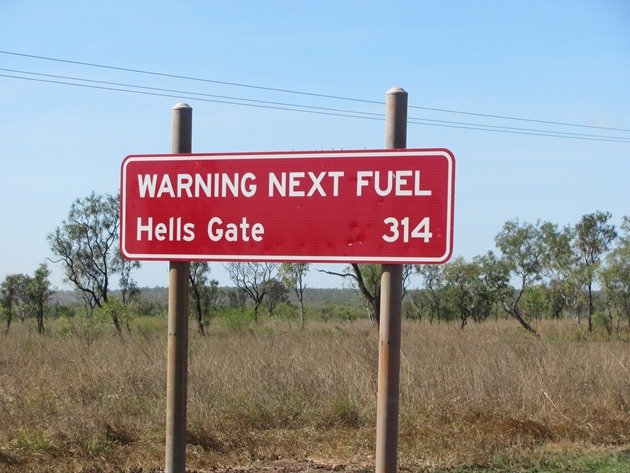 Fuel sign at Borroloola
Without any expectations of what we may see on our trip and without a fixed itinerary we were able to enjoy many bird species that we had hoped for, some unexpected and some you only dream about! Some were photographed like the Sarus Crane, but others avoided the camera like the Kalkadoon Grasswrens! My 2017 Year List was increased from 256 to 311 and I will let you know a lot more about the birds across this region of northern Australia in weeks to come! It is the perfect time of year to travel the north of Australia and no doubt there are many others birders out there right now enjoying all that the north has to offer!