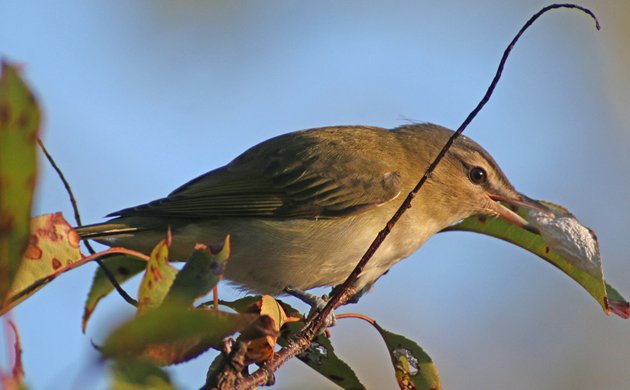 October oversees a general cooling of the Northern Hemisphere, but the birding tends to heat up in the beginning of the month. Plus, when else can you chase migrants while guzzling pumpkin spice lattes?
I enjoyed neither birding nor guzzling lattes during this work-encumbered weekend. At least a few American Goldfinches visited me long enough to pick over the denuded coneflowers in my yard. Corey enjoyed some decent fall birding both Saturday and Sunday morning. The bird that most interested him, though, was a Red-eyed Vireo that seemed to be trying to eat a leaf. Corey never figured out exactly what the bird was trying to eat (Some kind of egg sac? A cocoon?) but the mystery made the vireo his Best Bird of the Weekend.
How about you? What was your best bird of the weekend? Tell us in the comments section about the rarest, loveliest, or most fascinating bird you observed. If you've blogged about your weekend experience, you should include a link in your comment.