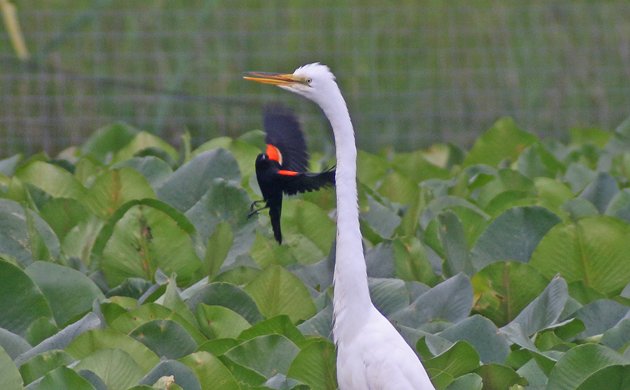 Mid-June means many things to many people, but much of its allure involves perfect weather. Unfortunately, without sunshine and high temps, this time of year becomes a bit of a bore. Hopefully, you enjoyed a gorgeous weekend or found a way to enjoy an ungorgeous one.
I fell into the latter camp, with cold rain dashing my family's Father's Day hike and any interest I had in leaving the house. Luckily, I can always scrounge up a Gray Catbird when I tire of looking at robins, cardinals, and the rest of the usual suspects. Corey spent most of the morning on Father's Day out and about in Queens looking for interesting birds. He didn't find anything out of the ordinary and instead spent his time watching ordinary birds go about their lives. It being Father's Day, he was particularly taken with the Red-winged Blackbird that drove a Great Egret from his territory. Now that's a bird that is worthy of being Corey's Best Bird of the Weekend!
How about you? What was your best bird of the weekend? Tell us in the comments section about the rarest, loveliest, or most fascinating bird you observed. If you've blogged about your weekend experience, you should include a link in your comment.