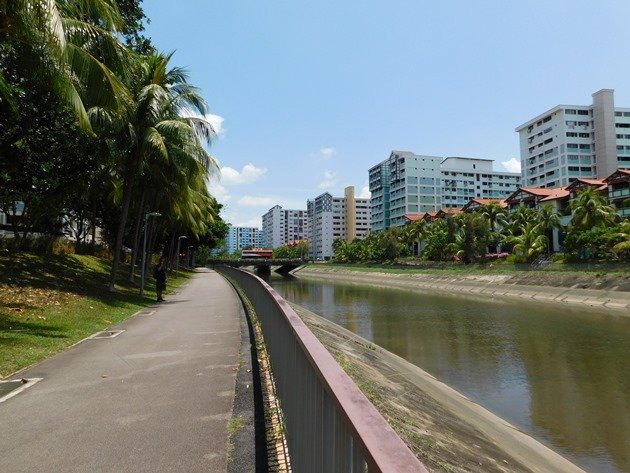 Our first destination for observing birds in Singapore during our three week visit in March was Pasir Ris Park. We chose this location due to it being a large area that offered parks and views across the sea towards the island of Pulau Ubin. It was also easily accessible on the MRT and was the end of the East West line. It would be a great location to visit if you only had a few hours in Singapore and wanted to go beyond the airport to go bird watching.
We started our Singapore bird list at Pasir Ris and leaving the train station we were delighted to see several Cattle Egrets on the grass and several photographers.  The grass was in the process of being cut and the birds moved ahead before we managed to photograph them. We were soon in Pasir Ris Town Park and observing a huge variety of birds. Zebra Doves, Tree Sparrows, Pacific Swallows, Pink-necked Pigeons, Yellow-vented Bulbuls, Asian Koel, Spotted Dove, Rock Dove, Red Junglefowl, Oriental White Eyes and Black-naped Orioles were soon on our list. On one occasion we saw a pair of Red Turtle Doves beside the fishing lake.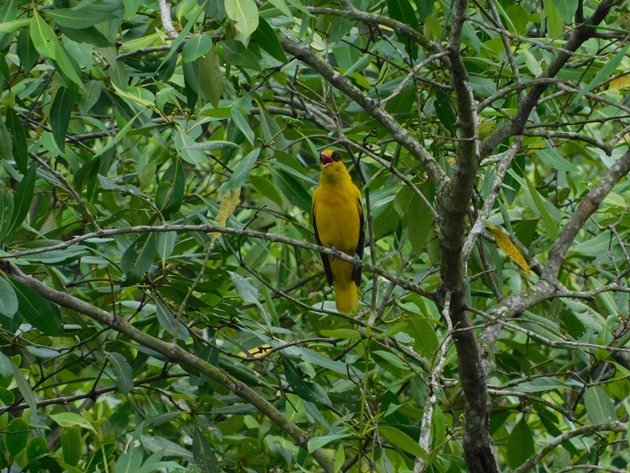 Black-naped Oriole
Walking beside the Pasir Ris Park Connector we watched otters playing in the water. The Park Connectors are designed for walking between parks around Singapore and are well constructed as you can see in the header photo. The edges of the drain were occupied by Grey Herons and Little Egrets. We also discovered a heronry closer to the coast line and you can sit and watch them fly back and forth to Pulau Ubin. There are ample benches throughout the seventy hectares of park that stretches over three kilometres along the coast line where you can sit in the shade and watch the world go by. There are also toilet facilities and drinking water fountains throughout the park. Camping is permitted in some areas, but only to residents of Singapore.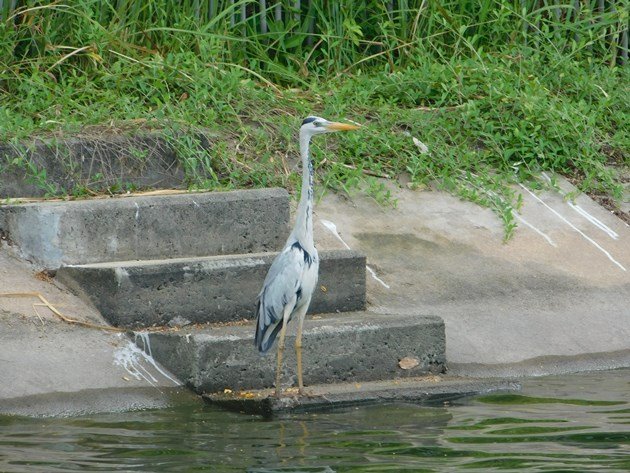 Grey Heron
Where the water enters the drain is a good place to look for birds too. We found a Common Sandpiper feeding among the rubbish, which sadly is a problem in Singapore just like the rest of the world.
Common Sandpiper
There is a massive nest at the top of a tower beside the Sports Centre and a family of Monk Parakeets have taken up residence. There are White-bellied Sea Eagles in the area and it is likely their nest.
Monk Parakeet
Once you cross Pasir Ris Drive 3 you are in among different vegetation. This area was good during our visits over the three weeks for Laced Woodpeckers and Common Flamebacks. We also discovered Glossy Starlings, Oriental Dollarbirds, Blue-tailed Bee-eaters and Blue-throated Bee-eaters.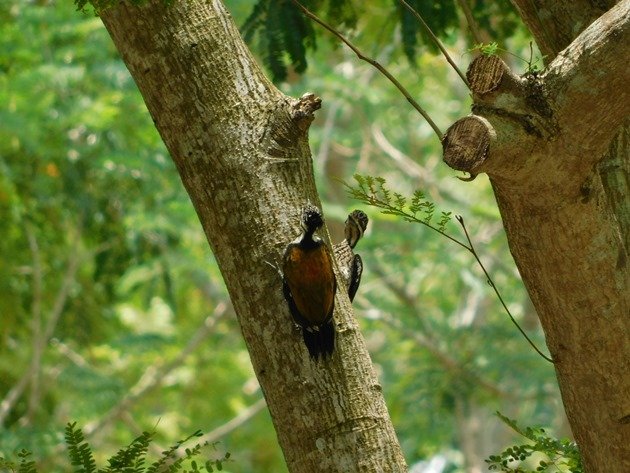 Two Common Flamebacks facing off
Asian Brown Flycatchers, Ashy Tailorbirds and Common Kingfishers were observed on each of three visits. The noisiest of the birds was the Collared Kingfisher, whilst the Stork-billed Kingfisher always remained silent.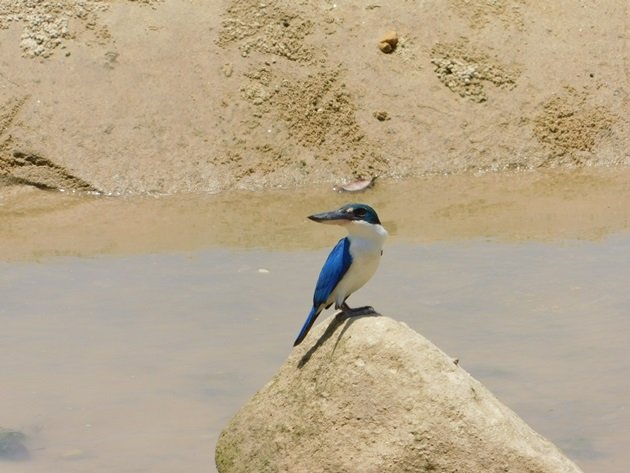 Collared Kingfisher
Pasir Ris Park is one of the best places we found in Singapore to reliably find Oriental Pied Hornbills. We were able to observe birds nesting as well as a variety of age groups among the trees. There were over a dozen Oriental Pied Hornbills in the park, but for such a large bird they appear to be able to disappear into the foliage rather well!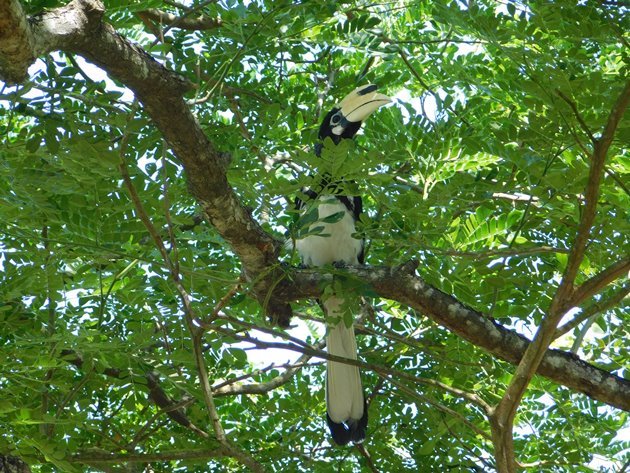 Oriental Pied Hornbill
The boardwalk area of Pasir Ris Park is always worth a look. We encountered several bird species there including a Yellow-rumped Flycatcher and a nesting Red-breasted Parakeet.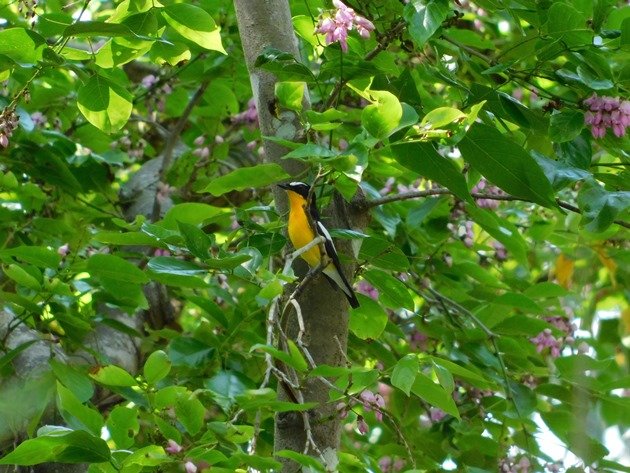 Yellow-rumped Flycatcher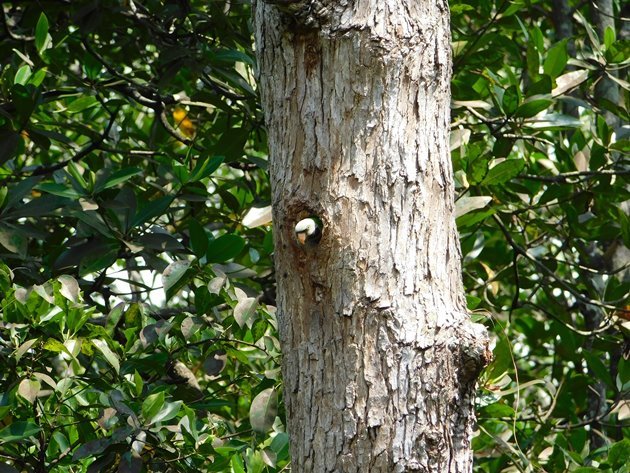 Red-breasted Parakeet in a nest hole
We were very lucky to find the Sunda Scops Owl on our last visit the day we left Singapore. It is the smallest owl that we have ever seen and it is tiny, especially when you compare it to the Powerful Owl in Australia.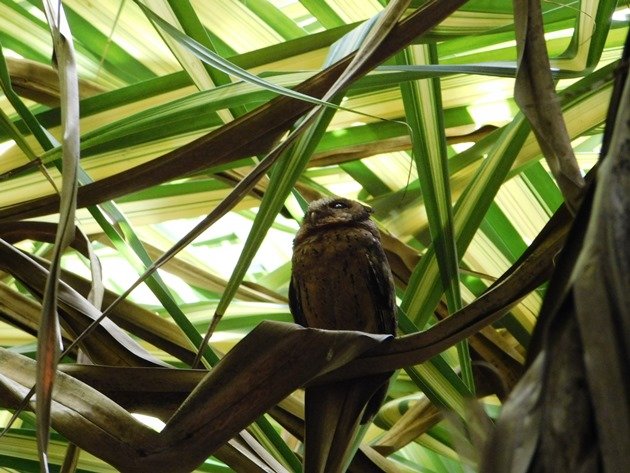 Sunda Scops Owl
Some of the other birds that we encountered at Pasir Ris Park were White-breasted Waterhen, Striated Heron, Oriental Magpie-Robin, Common Tailorbird, Common Myna, Pied Triller, Ashy Minivet, Olive-backed Sunbird, Brahminy Kite, Paddyfield Pipit, Sunda Pygmy Woodpecker, Common Iora and Yellow Crested Cockatoo. It is also a good location for observing otters, squirrels and monitors.
Whether you have a few hours, days or weeks in Singapore you should take the time to explore Pasir Ris Park. The White Sands Shopping Mall is located at the train station, so you can get groceries from the supermarket in the basement or dine there should you find yourself hungry while you are in the area. There is also a Hawkers Market very close by for cheaper meals although it can get very busy at meal times.