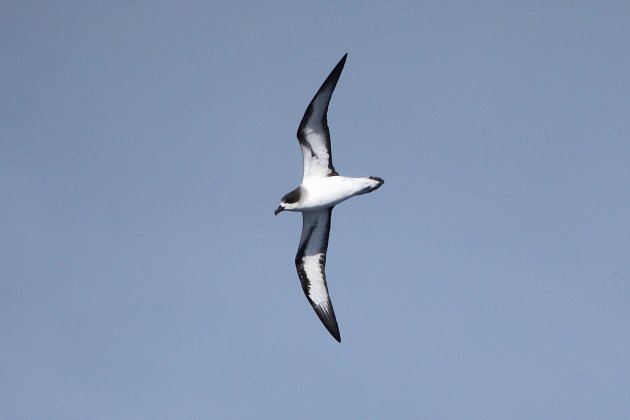 The end of the year is nigh and birders the world over are looking over their checklists and reminiscing about their amazing sightings and devastating dips. As 2013 draws to a close we here at 10,000 Birds thought that it would be a great idea if we, like we did in 2010, 2011, and 2012, shared our Best Birds of the Year. Each Beat Writer was offered the opportunity to include what they thought was the most excellent avian to cross their path this year and the variety that they came up with is absolutely amazing.
But we don't want to stop with just the Beat Writers. We also want to know what YOUR Best Bird of the Year was. To that end please follow the directions below.
If you don't have a blog either give a 100-word description of your Best Bird of the Year in the comments below or email a description to corey AT 10000birds DOT com by 31 December (you can include an image if you want – just make it a maximum of 630 pixels across).  If you have a blog please write as long a description of your Best Bird of the Year as you want on your blog and provide a link in the comments or via email by 31 December.  Shortly after the new year I will publish another post with links to all the blog posts and the descriptions emailed to me or left in the comments and we can all revel in each others' Best Birds of the Year!
Sound good? Great! Now on to the Best Birds of the Year for those who write on 10,000 Birds!
Clare M. loved her Rock Warbler encounter!
My BBOTY has to be the encounter with a Rock Warbler on the coldest and wettest day we experienced in the Blue Mountains in May. We wrapped up, covered our backpacks with their waterproof covers, filled a thermos and we were rewarded for our efforts! The Rock Warbler is a bird that is endemic to New South Wales and we had not seen one before this trip. It just goes to show that you should never be put off by the weather because birds will always be out there! You can read more about our day in the Blue Mountains and our encounter with a Rock Warbler here.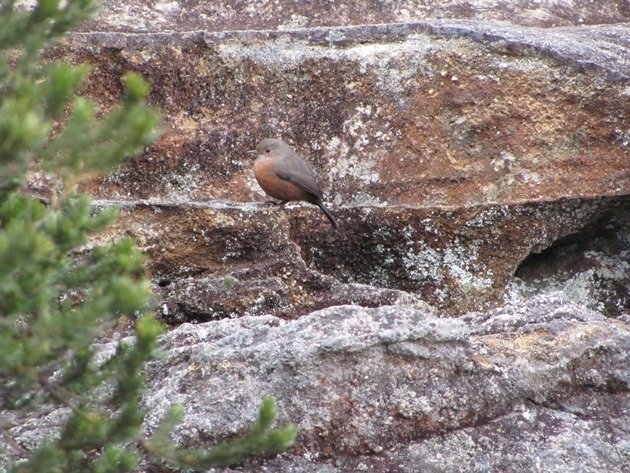 Rock Warbler by Clare Morton
Redgannet picked a real stunner. Do you feel the jealousy?
My best bird of the year is based on the sighting rather than the species. Hornbills are spectacular under any circumstances, but when a pair lands in a bush beside you at eye-level and begin mutual preening, it makes for a spectacular experience.

Oriental Pied Hornbills are common enough and probably the most likely hornbill to be seen in many parts of SE Asia, but seeing them at such close quarters and seemingly so relaxed is unusual.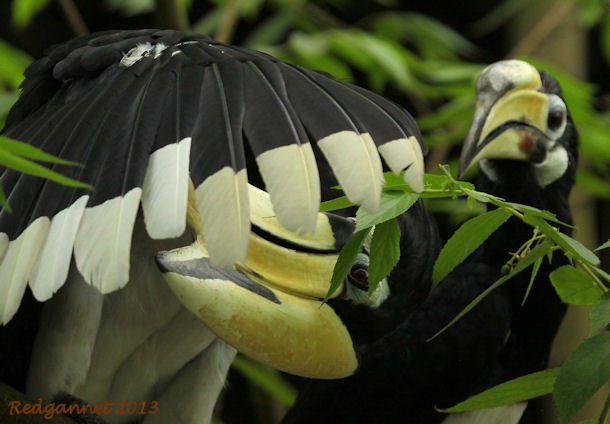 Oriental Pied Hornbills by Redgannet
Though Clare K. no longer regularly blogs here on 10,000 Birds he shared his Best Bird of the Year anyway!
My Best Bird of the Year is one that I already wrote about, a bird with some bling and somewhat unusual provenance. A ringed (banded) islandica  subspecies of Red Knot.  It occurs to me that I never delivered on my promised update once I received the detailed ring information. Red Knot XS41059 was banded as a 1st year bird on September 11, 2011 near the town of Tain in the Scottish Highlands on the south shore of Dornoch Firth. Making it just under two years old when it came back to the High Arctic to continue the cycle.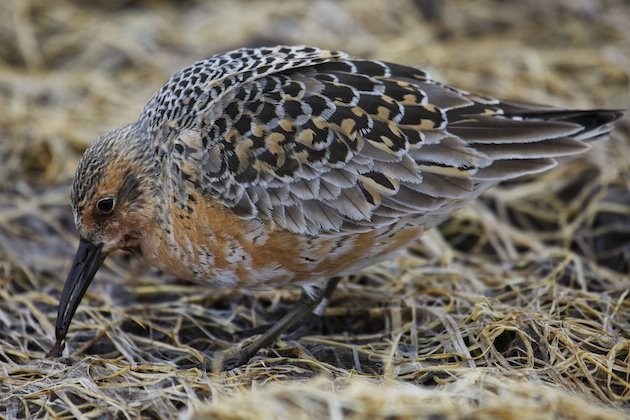 Red Knot by Clare Kines
Carrie's Best Bird of the Year was her best in multiple ways.
My best bird of the year was without a doubt the Montana Baikal Teal, a bird that combined rarity, beauty, and the good grace to stick around long enough for me to actually see it. This ABA Code 4 bird was found hanging out with some Wood Ducks in Missoula, conveniently enough, by Radd Icenoggle. I not only got good looks at it on two separate occasions but had the pleasure of showing it to some non-birding friends who learned about it when it got written up in the local paper.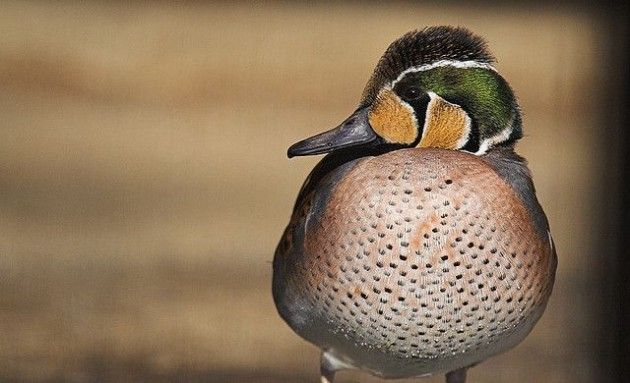 Montana's Baikal Teal by suneko
Felonious Jive also went with a mega rarity.
I've seen more birds this year than any other…but it is a bird that I got to meet at the close of 2013 that has captured my heart and mind.

As a Californian, I am lucky to see vagrants of many flavors…eastern, southwestern, northern, Central American. But there is a special place in my heart for Siberians, and when a particularly rare "Sibe" graces our fine state, that's the bird everyone is talking about. In 2012 it was the Common Cuckoo, but this year it is unquestionably the heartwarming Little Bunting that I am especially fond of. This is a bird I thought I might never see on the continent, let alone an especially cooperative one in Humboldt County…things may never be the same.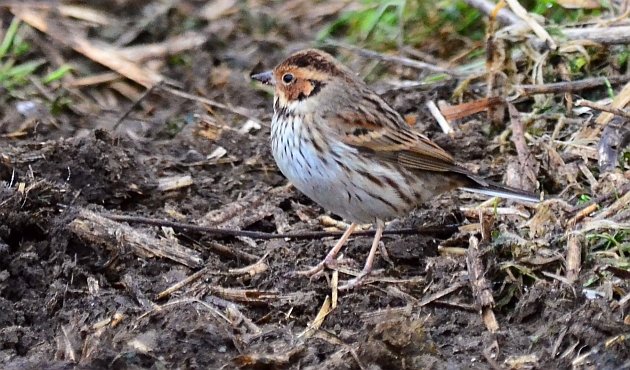 Little Bunting in California by Felonious Jive
Duncan decided to delight in picking a bird that I would love to see…
This year it really isn't fair. The deadline for this article is the day I start a three week trip in Borneo. Obviously my best bird of the year is going to come during this trip, what with several species of endemic pitta and broadbill possible, not to mention 8 species of hornbill and numerous babblers, storks, kingfishers, trogons and even the endemic Bornean Bristlehead. So yeah, not fair…on you, since you won't be doing this trip.

Since I still have some space left I'll just take a stab at what my best bird I saw so far was. I was thinking of nominating the amazing Oriental Stork I saw in Hong Kong (all the better for having an Eurasian Bittern in the same bin view!) but I really feel I should nominate an albatross, if only because I love taunting Corey about them. Only trouble is, which of the seven species I saw this year do I pick? I'll go for the Black-browed Albatross, in celebration of the fact that conservation efforts have resulted in this species being downgraded from endangered to near threatened this year.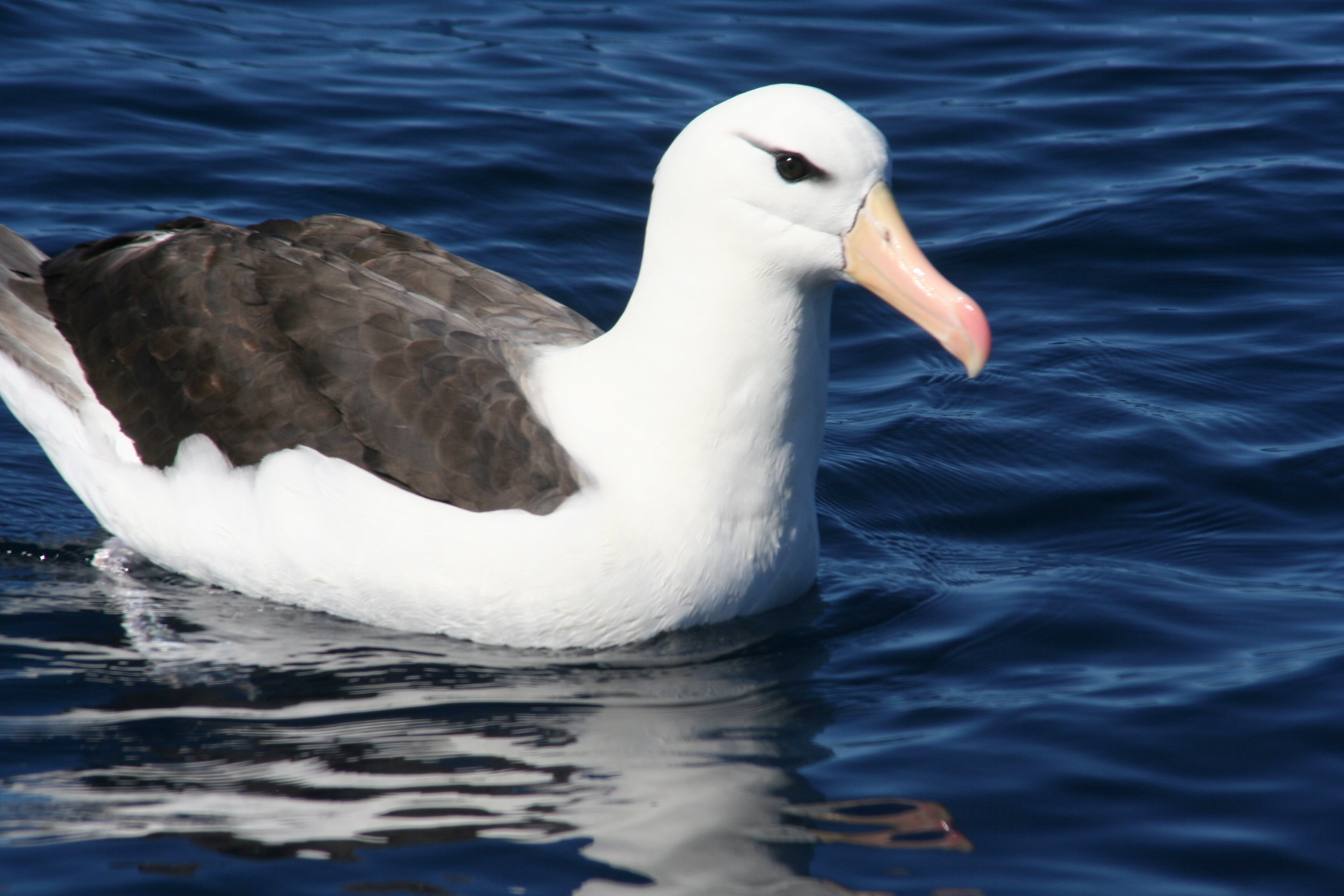 Black-browed Albatross by Duncan Wright (Click it to make it big.)
Dragan had a real stunner for his Best Bird of the Year! He wrote about it in more detail here.
This bird is so rare that I traveled 6,000 kilometers to search tropical dry deciduous forests of the Satpura range just to look for the endemic and critically endangered Forest Owlet (Heteroglaux blewitti). This species was discovered in the 19th century, only to be lost through the entire 20th century and considered possibly extinct until it was rediscovered 113 years later by an American ornithologist Pamela Rasmussen. This bird is known from only a dozen localities, with only a handful of individuals and a very fragmented habitat, hence the critically endangered status in the Red Book (one of 198 such species – also my fifth).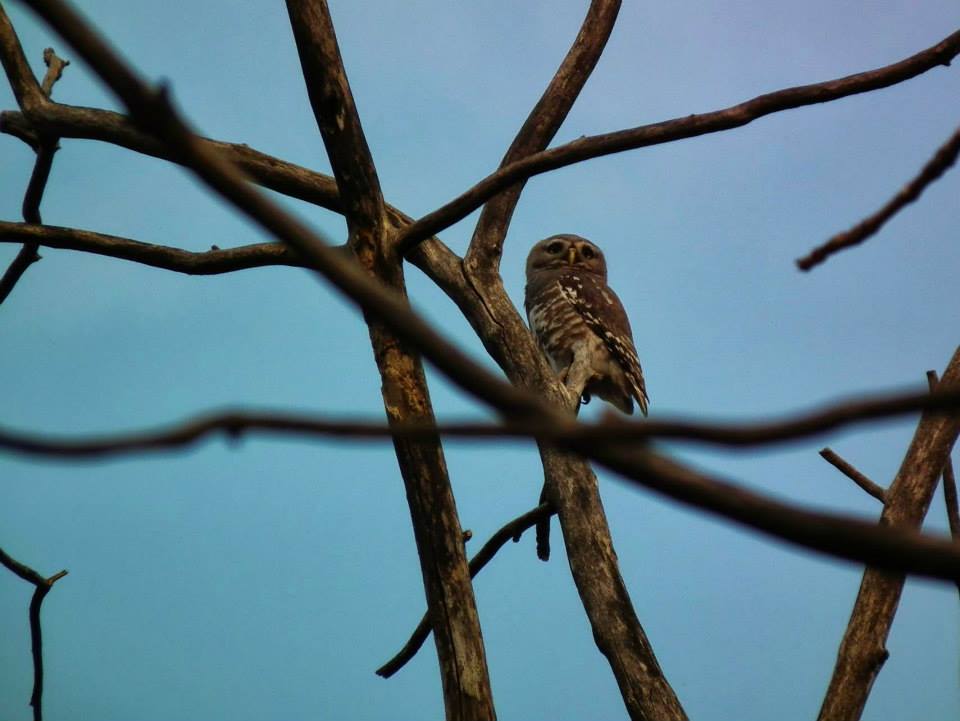 Forest Owlet by Dragan Simic
Nate's best was also a rarity in India. What are the odds?
For me? Sociable Lapwing. For starters, there's the rarity factor. Sociable Lapwing is one of the world's rarest birds, though recent discoveries of wintering flocks in central Asia have suggested that they aren't quite at the brink that was thought. It's still a Red List species which makes for a pretty exciting find once you put glass on them.

Second, I was in India, which, had you told me even one month prior that I'd be going to India, I would have said you were crazy. I was attending the 3rd Global Bird-watching Conference in Gujarat and suddenly surrounded not just be species that were completely new, but entire families of birds. Despite the long flight, and the lost luggage, and the 11.5 hour time difference, I was got to bird with people from all over the world in this amazing place. I saw a great number of incredible birds there, almost too many to count, but the Sociable Lapwing is definitely a highlight among many memorable moments.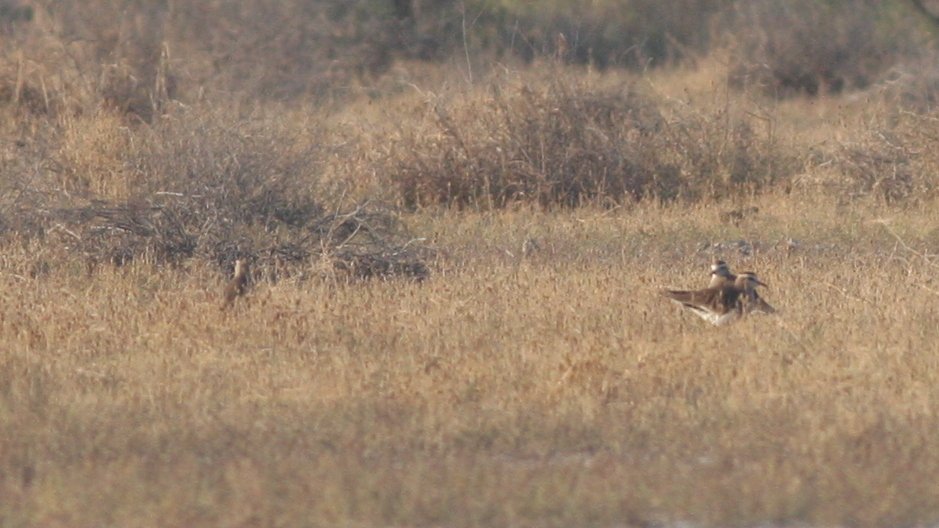 Sociable Lapwings by Nate Swick
Meredith enjoyed her first sighting of an awesome migration spectacle. She blogged about it here.
I was fortunate to rack up a number of lifers in 2013, both at home and abroad (

Varied Thrush

 in Washington, 

Brewer's Blackbirds

 in California, 

Burrowing Owl

 in the Nevada desert).  But by far the best was witnessing the autumn migration of 

Sandhill Cranes

.  My fiance and I drove nearly two hours to the 

Jasper-Pulaski Fish and Wildlife Area

 in rural Indiana to watch them come in for the evening.  As we followed winding country roads near the site, dozens-long chains of the birds, unmistakable for their size, streaked across the sky, giving us an instant thrill. (It was kinda hard to keep my eyes on the road!)

Finally we got to the site, a huge meadow with a viewing platform at one end.  From every direction, throngs of sandhills came in to land, trilling constantly and loudly.  The sun began to set as literally thousands of the birds gathered to rest, feed, and socialize.  It was easily one of the best birding experiences I've ever had, even impressing my nonbirder fiance.

As the sky darkened and a chill set in, large groups of birds took off in the opposite direction for the interior of the preserve, where they would safely roost for the night.  We followed suit but still, as we headed for the highway, streams of slacker cranes kept flying in, calling almost as if to say, "Wait up, guys!"  It was only an hour, and only one species of bird, but this was a big check off of my bucket list, and a once-in-a-lifetime experience that vividly reminded me why I love birding.
Alfredo had to work for his Best Bird of the Year!
I saw my best bird of the year during the World Birding Rally Challenge in South East Peru.  This time, the Birding Rally's participants were birding tour companies.  This Andean Flicker (Colptes rupicola) was located by our team at about 3,450 m above sea level on a day my team was working hard to maintain the lead we had for the three previous days of the rally.  The Andean Flicker was the last bird we counted that day and came as a surprise at an area where Andean Flicker are known to be scarce.  The posture of the bird when seen, the lighting, and competitive circumstances made this my favorite bird of the year.  By the way, we kept the lead that day, but ended second in the rally with a difference of two species behind the eventual winner.
Andean Flicker by Alfredo Begazo
Larry adds our second owl species to this list of stellar birds. You can read more about his experience here.
This was a tough one for me. It was a race between the Snowy Plover and the Spotted Owl. I chose the owl. Here's my "why."

I am choosing the Northern Spotted Owl (Strix occidentalis caurina) as my best bird of the year for a multitude of reasons. Number one is that it is a bird that literally changed my life by allowing me to change careers in the early 1990's. Second, it is a controversial and threatened species and third, it is a raptor that I have been wanting to see for over twenty years and finally not only got to view it close up, but photograph it as well. A very much appreciated life bird!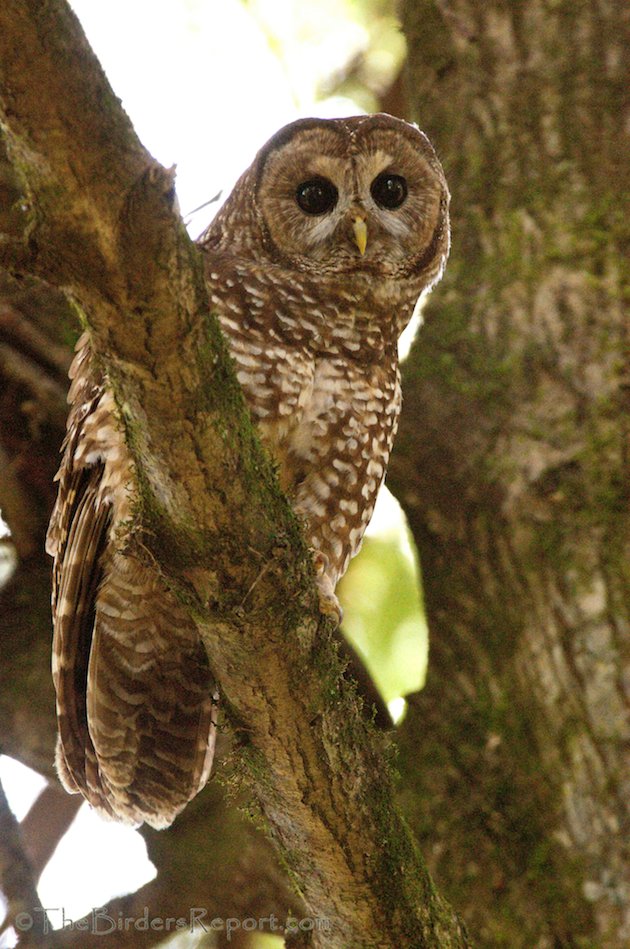 Northern Spotted Owl by Larry Jordan
Jochen chose a very cool bird – Giant Swiftlets!
The avian highlight of my birding year was seeing a flock of six Giant Swiftlets in the skies over Java's Gunung Gede Pangrango National Park. I failed to take pictures, focusing entirely on the birds' identification, but took a picture minutes later of the empty sky where the birds had been before. You can therefore visualize the observation by looking at the picture and thinking of tiny, tiny swiftlets that are really huge.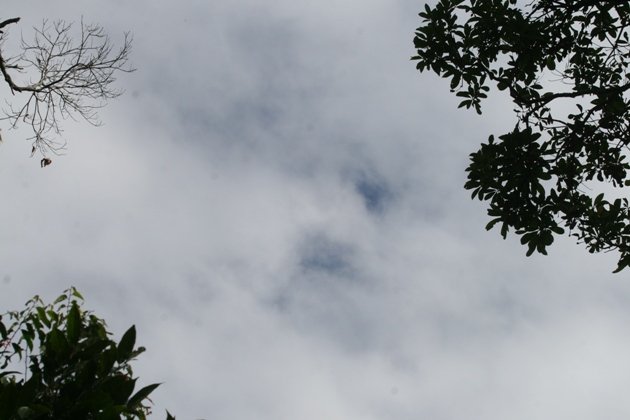 We'll just have to take Jochen's word that there had been swiftlets in this sky…
Donna sure had a good time on her visit to Texas in November!
I always like to go for the heart when selecting Best Bird of the Year. So, I'm passing over the Amazon Kingfisher I saw in the Rio Grande Valley in November, and going for the Rose-throated Becard I saw a few days later at Santa Ana NWR. There's something about a Rose-throated Becard that makes my heart go pit-a-pat. I think it's because it brings me back to my first big birding trip, to southeast Arizona, where we had tantalizing views of leaves rustling where the becards had nested but nested no more. I never saw the bird. Well, maybe a bit of a wing.

Since that trip, I've seen

Rose-throated Becard

in Costa Rica, but not with the rosy throat. And, seeing a bird in Costa Rica is not the same as seeing it in the U.S. So, when my friend Saul stopped me as I was heading out of the Santa Ana parking lot to tell me that he had just seen a

Rose-throated Becard

a few feet away, I immediately did a u-turn. Alas, the bird had flown. It was my last day in Texas, still many birds and butterflies to see. What's a birder to do? For me, if it's a

Rose-throated Becard

, you search and take a break and search and talk to other birders till one of them finds it high up in a tree, in a position almost impossible to photograph. The pit-a-patting of my heart was so loud, I think every birder heard it. I write about this and more of my Texas birding experiences in my blog, 

Queensgirl

.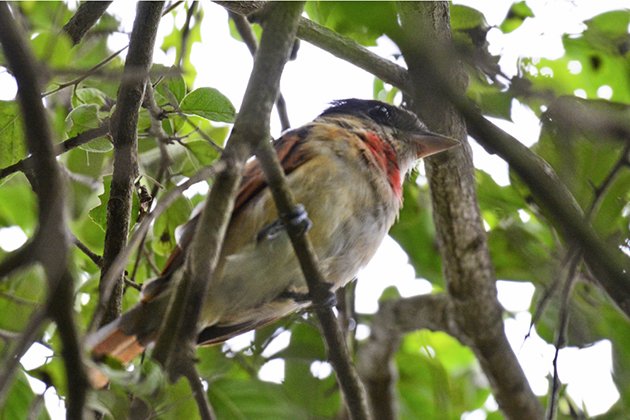 Rose-throated Becard by Donna Schulmann
Adam had an amazing seabird for his Best Bird of the Year!
This year produced the lowest lifer count since I started birding (just cracking 50 lifers compared to average of 500+ a year for the past 10 years) mostly due to the arrival of my son, William Falcon in April. Hence my birding travel (and blogging) has been curtail (but life much enriched!) The bulk of my lifers were on a trip to India in October/November but all the birds were surpassed by watching and photographing a Snow Leopard hunting and killing a Blue Sheep, so none of them are real contenders for BBOTY.

However I was invited to take a last minute space on a pelagic birding trip off Durban, South Africa (near to my home town) in late November and not being a great sailor, I reluctantly accepted. Not only did I survive unscathed but the trip also produced my undisputed BBOTY – and a lifer to boot, almost in my own backyard!!! The bird in question is one of the world's most beautiful, rarest and least known seabirds, Barau's Petrel. Known to breed only in the mountains of Reunion Island, this endangered species was only sighted for the first time off the coast of Africa a few years ago, and records of them are few, however we found no less than 6  individuals and I managed to photograph this one in all its glory. Wishing all 10,000 Birds fans a fantastic Festive Season and superb year ahead!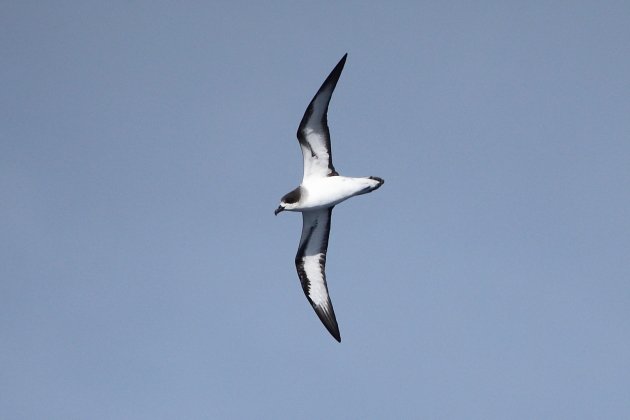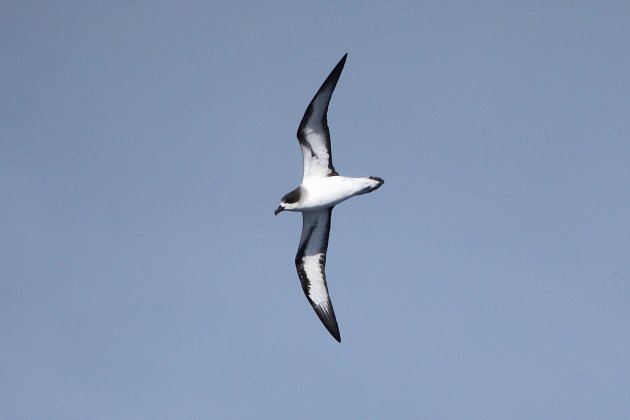 Barau's Petrel by Adam Riley
Mike's Best Bird of the Year was the Northern Shrike he spotted with me at Jones Beach in November. Alas, this year was the first since Mike started birding that he didn't see a single lifer. Tragic, right? He promises to do better next year! (And if he doesn't we will revoke his birder's card!)
My Best Bird of the Year was one which I wish I had managed to get better pictures of but, still, I can't complain about my first-ever Gyrfalcon, especially considering how much work I put into it!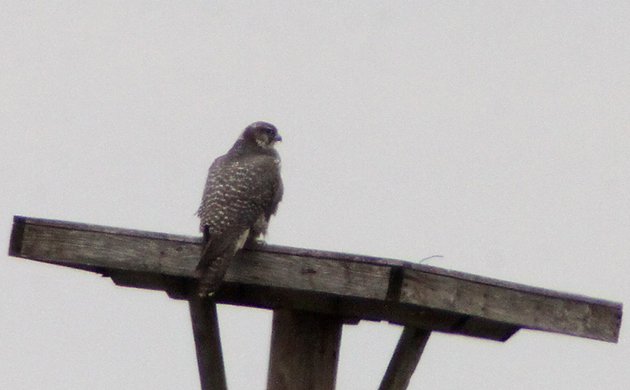 Gyrfalcon by Corey Finger
Now, remember, give a 100-word description of your Best Bird of the Year in the comments below or email a description to corey AT 10000birds DOT com by 31 December (you can include an image if you want – just make it a maximum of 630 pixels across).  If you have a blog please write as long a description of your Best Bird of the Year as you want on your blog and provide a link in the comments or via email by 31 December.  Shortly after the new year I will publish another post with links to all the blog posts and the descriptions emailed to me or left in the comments and we can all revel in each others' Best Birds of the Year!