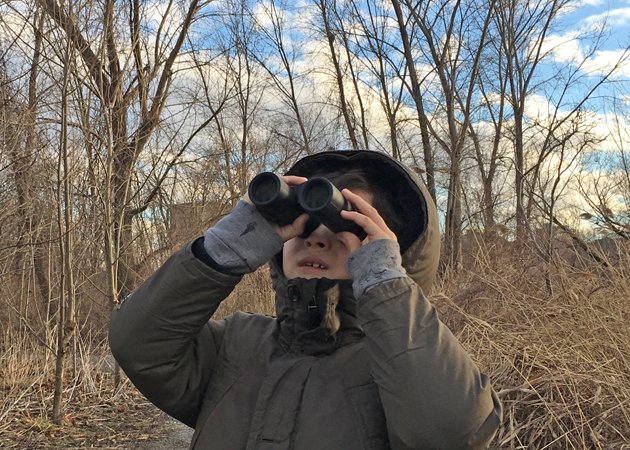 I often like to have a pair of binoculars with me when I'm going to or from work, in case something good gets reported that I want to stop off and see. But my standard binoculars, ten-power Swarovskis, are a bit big and heavy for me to want to lug with me every day to work, especially considering that most work days I don't end up using them. When I used to occasionally go on business trips where I might squeeze in an hour or two for birding it was always frustrating how much weight was added to my carry on bag by my optics. Many companies have sought to create  lightweight travel binoculars that still provide a good image, but Opticron has done a great job of it with their BGA ED 8X32, which weighs in at well under one pound.
As someone who is used to the heavy, top-of-the-line, binoculars, it was quite an adjustment to use lightweight eight-power optics. But the view through Opticron's Travellers was surprisingly sharp and, to my eyes, faithful to the colors that were there to be seen. With a close focus of under six feet they are good for checking out birds, butterflies, and anything else, both near and far. They barely felt like they were hanging from my neck and I discovered I could even dispense with the strap altogether and keep them in my jacket pocket without any discernible bulge giving away my concealed-carry binoculars.
Optics at the mid-end have generally improved greatly over the last decade or so, and while Opticron's optics aren't quite at the level of Swarovski or Zeiss they are surprisingly close considering the price point. At about $400, the Traveller is relatively inexpensive and a great value.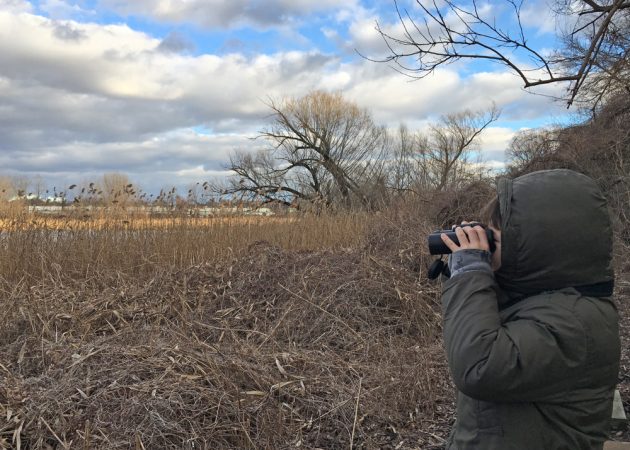 Another great advantage of smaller, lighter binoculars is that they are far easier for small hands to grasp. I took my eight-year-old son out for a walk in one of our local parks and let him try out the Travellers. We went about a mile-and-a-half and he never tried to hand them off to me to carry, a first on a birding outing with him. He really enjoyed using them and had this to say: "They are good and make the birds look really close. And they aren't so heavy!"
One thing I would be careful of with the Travellers is the rubber objective lens covers. They look like they can stay on while you use the binoculars but we managed to lose one cover within twenty minutes of our walk starting. Of course, this is partly because eight-year-olds tend to drop stuff but in general the strap, the lens covers, and the case the Travellers come in are not of the highest quality. You don't manage to keep a pair of binoculars with an image this clear at $400 by loading on high-end accessories! That said, the soft case they come in is perfectly adequate.
Opticron Travellers come with Opticron's limited lifetime warranty, which covers "all optical and mechanical components as well as the outer protective armor." I have no experience with Opticron's customer service but a quick Google search has only turned up positive results.
Should you buy a pair of Opticron Travellers? If you are a regular birder with a high-end pair of bins looking for something lightweight to use in situations where you don't want to lug your usual heavy optics these are a perfect solution. If you have the money to spare and are looking for a good pair of binoculars to start a kid out with these are ideal. Heck, the Traveller is far better than the Nikon Monarchs I started out birding with fifteen years ago. As Desi said when I asked him if people who were thinking about buying the Opticron Traveller should, "Yes, even if they cost $550!"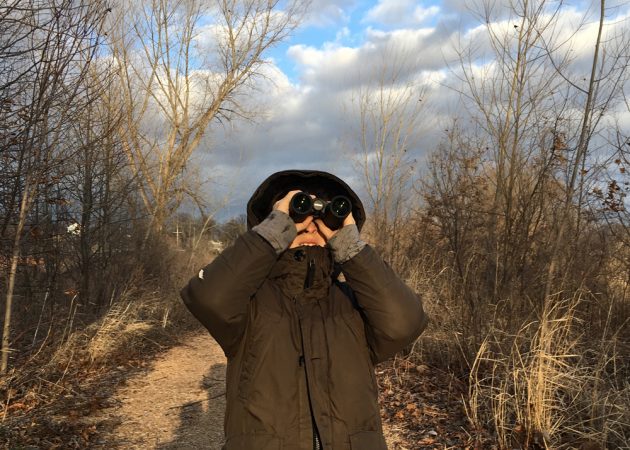 For both me and Desi to both like and use a pair of binoculars means that Opticron has managed to create a product that can be used by people of any age and level of birding ability. That it is lightweight, optically sound, and only $400 is pretty astounding. You won't regret purchasing a pair of Opticron Travellers.
…
Opticron advertises on 10,000 Birds and provided the binoculars for review. Though we do our best not to let such things effect our reviews, readers should take into account those facts when judging the objectivity of this review.
…