The four days I spent in Kazakhstan, though they sped by while I was experiencing them, now seem to
be nearly endless in the amount of material about which I have to blog. Though I have already written about the first waterhole we stopped at on our final day, the cool finch we saw there, the ride to the next waterhole, the cool finches we saw there, and a bathing Grey-necked Bunting we also saw there, I have not yet written a post telling what else we found at and around the second waterhole we stopped at in the desert of eastern Kazakhstan.
The second waterhole was a long way down a dirt road from the paved road we were on, which was already seemingly in the middle of absolutely nowhere. Kazakhstan has a population density of 14.5 people per square mile, a number which doesn't mean anything at all until one drives across seemingly empty terrain for hours without seeing any sign of habitation. The landscape is hauntingly beautiful but the lack of buildings is a bit disturbing, and though I knew, of course, that the folks I was traveling with were upstanding citizens, I couldn't help but wonder what one could possibly do if the folks one were traveling with through such an unpopulated landscape decided to do you in and leave you in a shallow grave in the desert…but my morbid thoughts are neither here nor there: the birds, like the Linnet below, were great!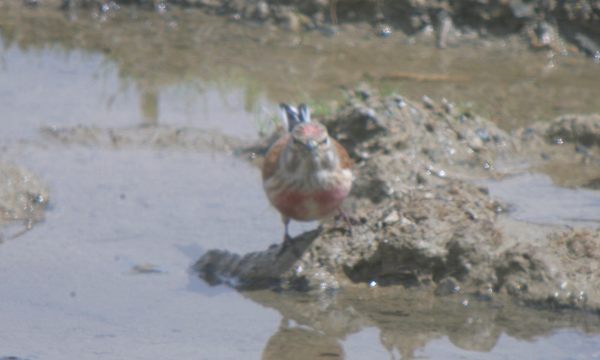 This waterhole was in a rather bare spot that had a small hill overlooking it that allowed us to have a fine view without spooking the birds. Sharon and Tim serve to illustrate our fine overlook: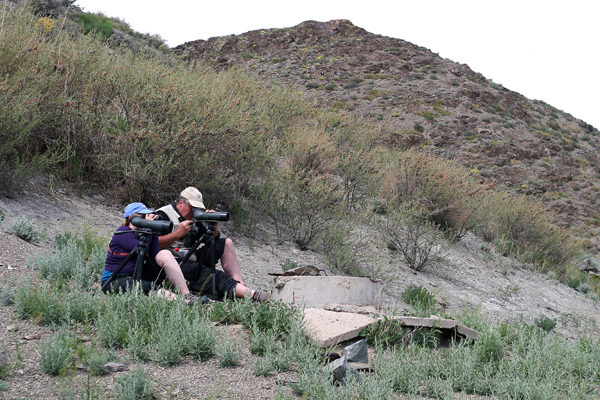 That bush behind them held a Common Whitethroat that almost became a deceased whitethroat when the Isabelline Shrike that is featured in the next two pictures tried to make a meal of it.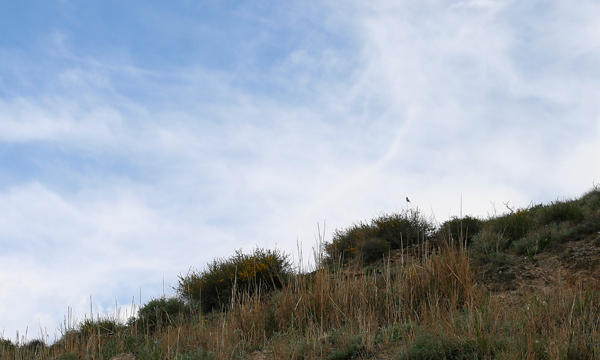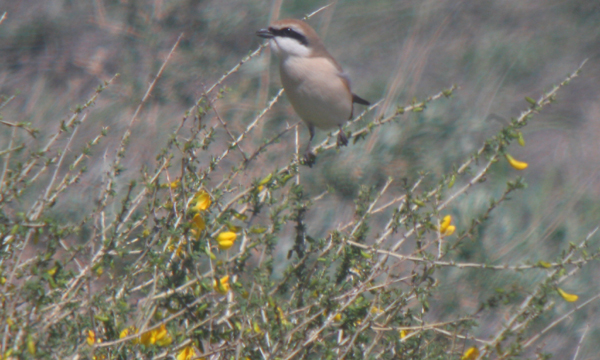 Other birds we spotted from our vigil overlooking the waterhole included my first-ever Tawny Pipit, my first-ever Pied Wheatear, and my second-ever Long-legged Buzzard, all of which I managed to miss or screw up photographing, though, in my defense, the buzzard was a rather high fly-by and the wheatear wasn't much better, so I'm not sure I could have managed decent pictures. What I really like about our elevated vantage point, besides the great birds, was the view whenever one wanted to take a break from the birds.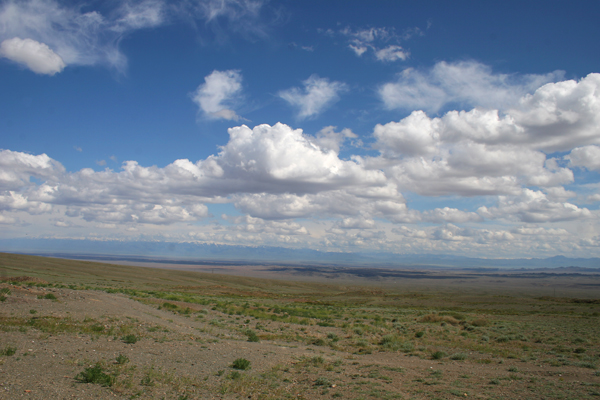 Eventually,like all good things, our time at the waterhole came to an end, and, after a brief stop back at the van for snacks, we intrepid birders walked cross country in search of more birds until the van caught up to us. Our only real addition was a Desert Wheatear. I manage to get a lousy shot of it (check out that heat distortion!) which I share below simply because I can't imagine when I will get the chance to see one again (Uh-oh! I've been told in the comments that this is a Pied Wheatear.)!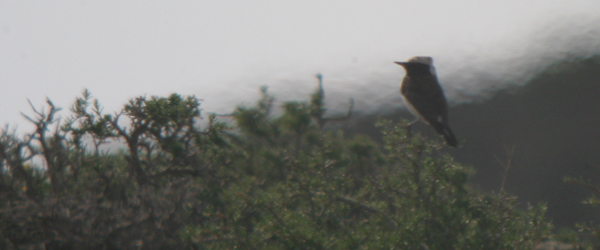 After we rejoined the van we tried and failed to spot a Little Owl in the concrete remains of some long-abandoned buildings and then we made walked across the terrain in a long line hoping to find sandgrouse. We failed at the sandgrouse but did manage to kick up and identify a Desert Warbler, another lifer (it was a darn good day!).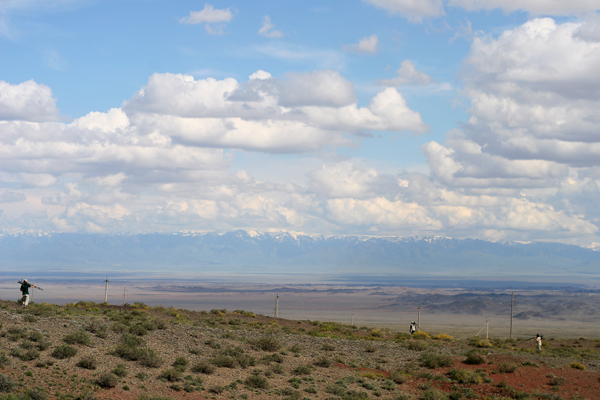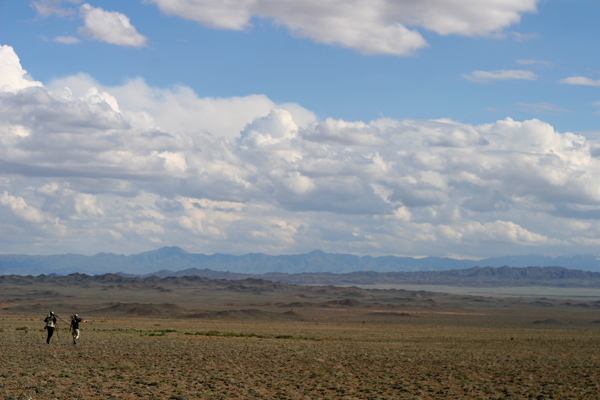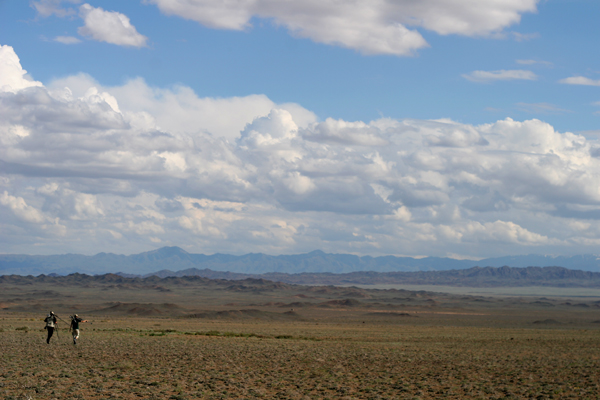 While the waterholes were both great stops neither of them compared to our next stop which was simply amazing…but that will come soon enough, so come back soon (unless you are sick of Kazakhstan in which case, well, don't come back, I guess…).
________________________________________________________________________________________________
My trip to Kazakhstan was made possible by the wonderful folks at Swarovski Optik who sponsored the trip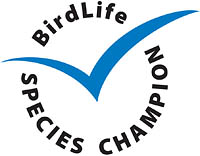 not only to draw attention to their marvelous optics but to the fact that Swarovski Optik is, with the RSPB, the Species Champion for the Sociable Lapwing, a critically endangered species that breeds almost entirely in Kazakhstan. We here at 10,000 Birds, the only blog designated a Species Champion by BirdLife International, salute Swarovski Optik's commitment to conservation.
To learn more about 10,000 Birds' commitment to conservation through BirdLife International's Species Champion program and what it means to us at 10,000 Birds (or to donate to the program through 10,000 Birds) just click on the nice Species Champion logo to the right.