Coronado National Forest. Santa Rita Mountains. Madera Canyon.
Pre-Internet, I got all my birding info from print magazines; and WildBird was my go-to back in the day. One particular issue had a feature on the birds of Madera Canyon, Arizona. They claimed 15 species of bejeweled hummingbirds, 36 wood warblers, a Flame-colored Tanager, Greater Roadrunners (straight from the cartoon), and an oddly perched, metallic green-headed fellow called the 'elusive' Elegant Trogon. It seemed at the time that there was nothing to do but wrangle up a friend, pack the tent and newly purchased (red) Audubon Field Guide, and make that 1,000-mile road trip to look at the birds of Madera Canyon!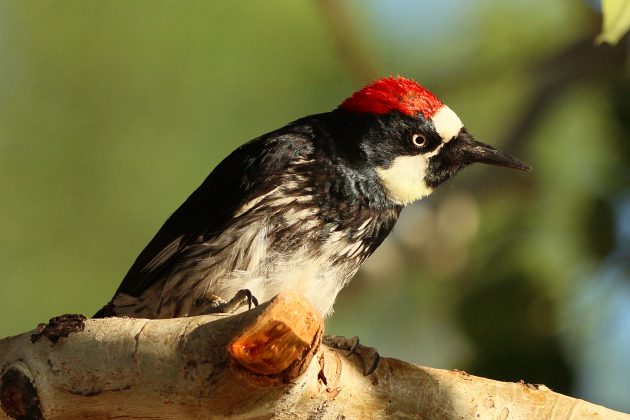 Acorn Woodpecker. Photo by © Mark Schraad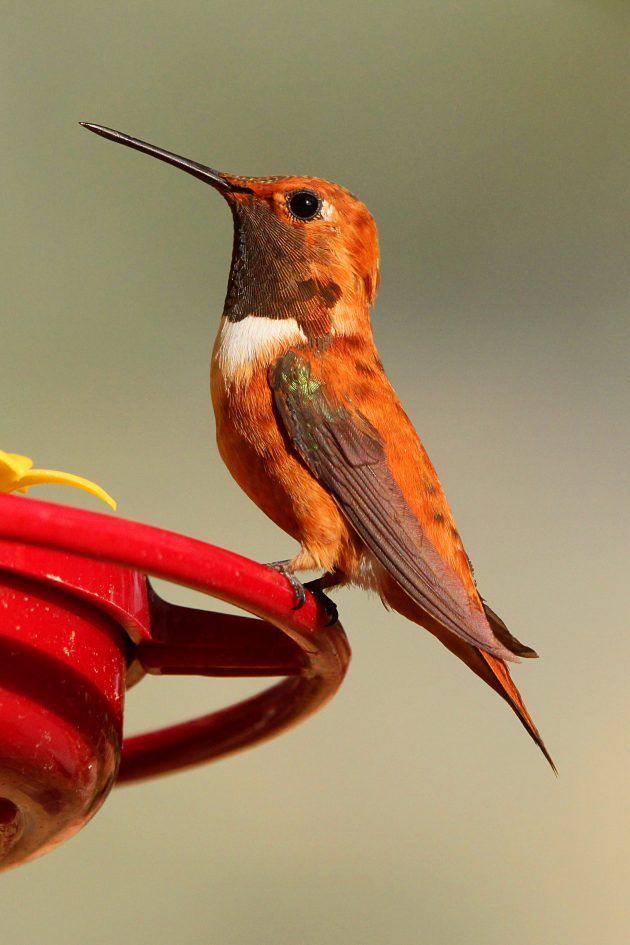 Rufous Hummingbird. Photo by © Mark Schraad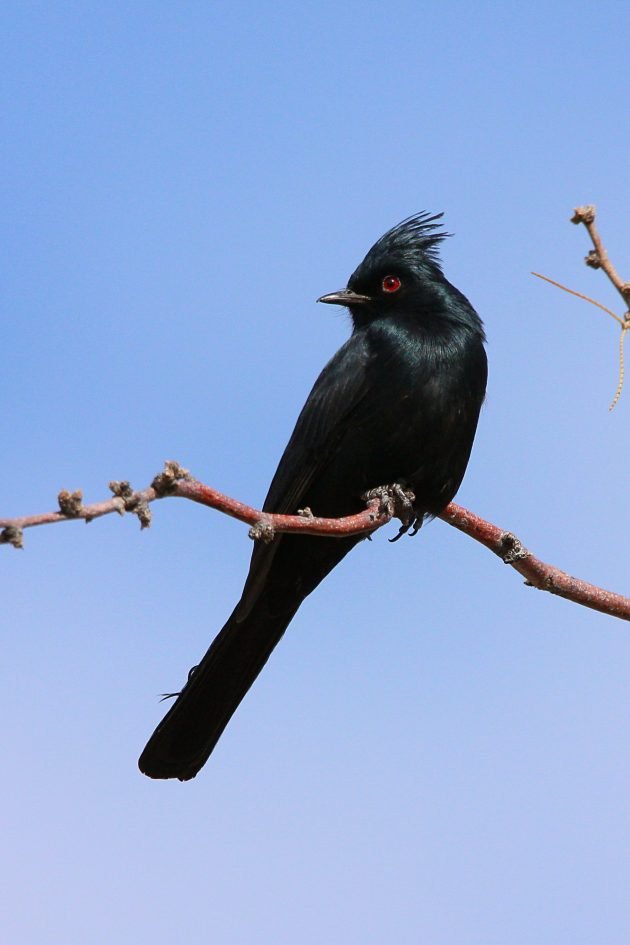 Phainopepla. Photo by © Mark Schraad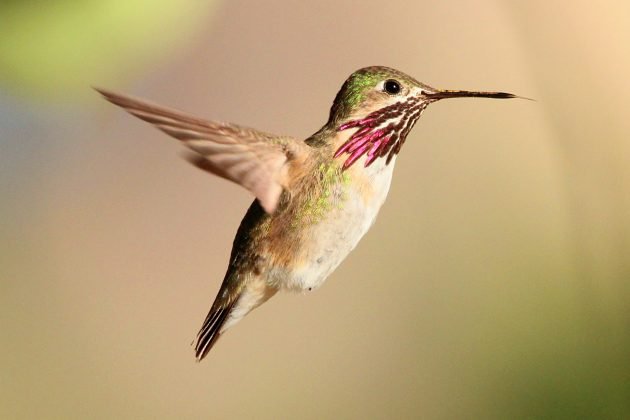 Calliope Hummingbird. Photo by © Mark Schraad
The mountain ranges in Coronado NF are nicknamed 'sky islands,' and climb from 3,000 feet to over 10,000 feet. They support such a diversity of habitats that the ecosystems are comparable to traveling from Mexico to Canada (National Forest Foundation). And, where there is flora diversity (prickly-pear cactus at the bottom and Douglas fir at the top), there is fauna diversity. Up to 256 bird species, deer, black bears, foxes, big cats, Gila Monsters, and 16 species of bats call this area of southeastern Arizona home. (The Friends of Madera Canyon group publishes a good bird checklist.)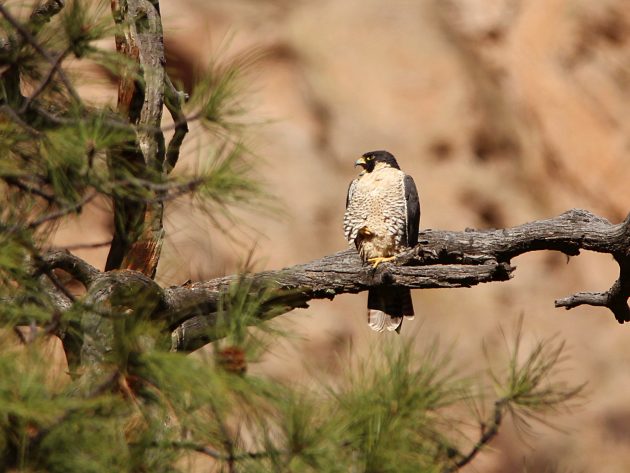 Peregrine Falcon. Photo by © Mark Schraad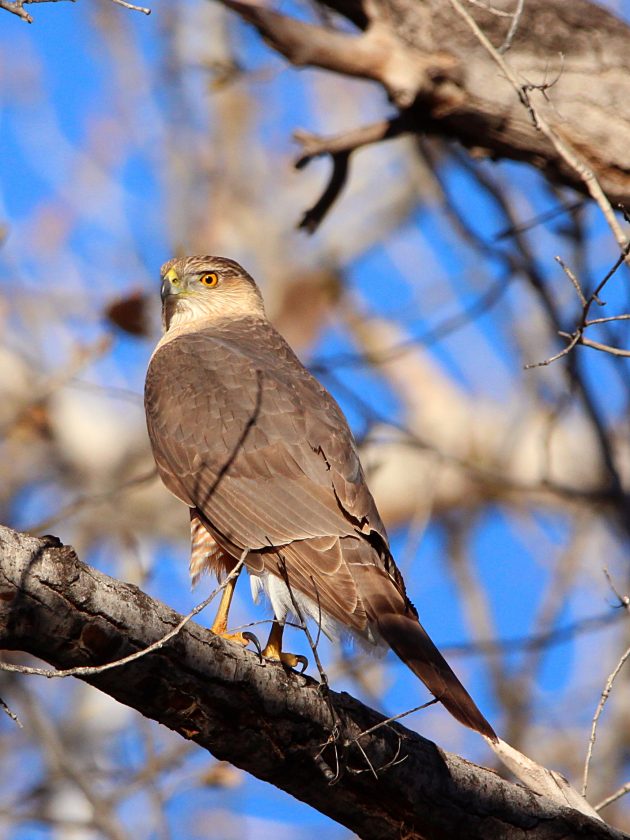 Cooper's Hawk. Photo by © Mark Schraad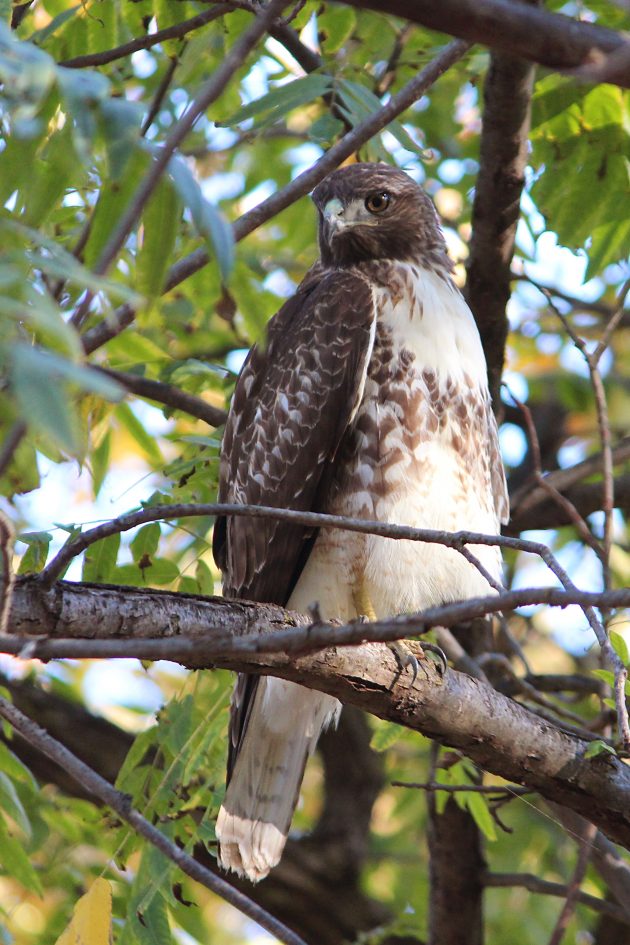 Red-tailed Hawk. Photo by © Mark Schraad
Insider tip: For Madera Canyon camping, I stay in the Bog Springs Campground (unless it's the apex of summer – too hot for me!). Amenities – shady sites, picnic tables, fire pits, grills, water and toilets available, pets allowed, and good access to trails and views.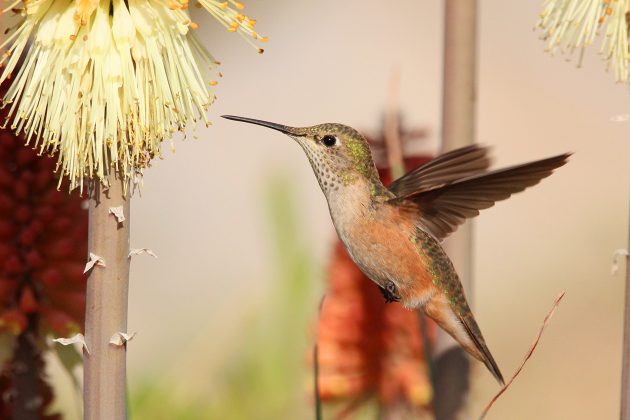 Broad-tailed Hummingbird. Photo by © Mark Schraad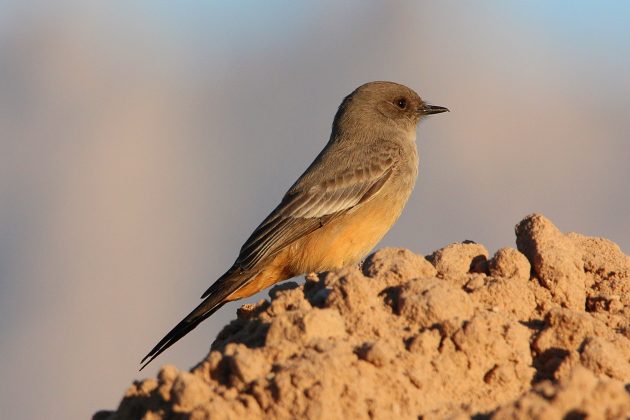 Say's Phoebe. Photo by © Mark Schraad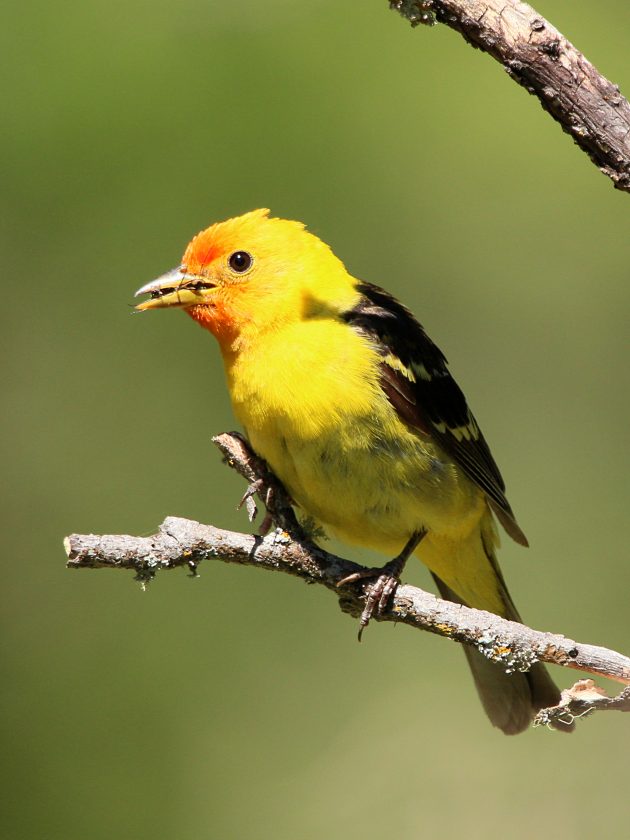 Western Tanager. Photo by © Mark Schraad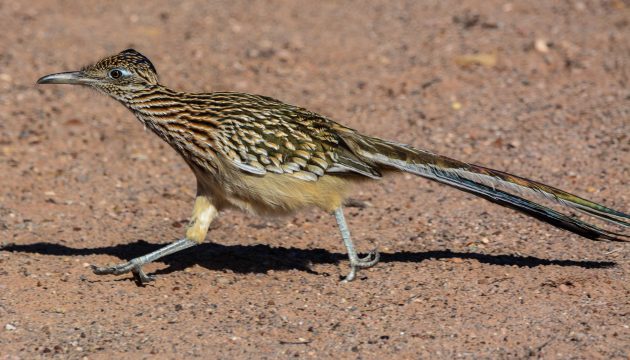 Greater Roadrunner. Photo by © Robin Edwards
Santa Rita Mountains/Madera Canyon. Photo by Fredlyfish4 via Wikimedia Commons
For a peek at the lay of the land, there are some terrific Google walking maps of Madera Canyon online.
Final insider thought: Coronado NF is almost 2 million acres with eight Wilderness Areas. Extend your trip and explore the mountains, canyons, and valleys, searching for the many endemic species in one of the "single-most diverse mountain ranges in North America" (US Forest Service).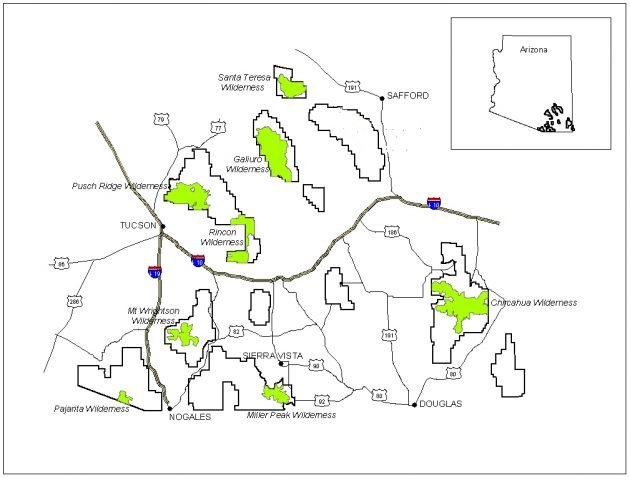 Coronado National Forest Wilderness Map. Courtesy of the US Forest Service
Well, E.T. is certainly an elusive bird. Despite many subsequent trips to 'the southwest', I've yet to spot either a male or female Elegant Trogon. And, with some luck, maybe a Flame-colored Tanager will pass through my field of vision. Next time!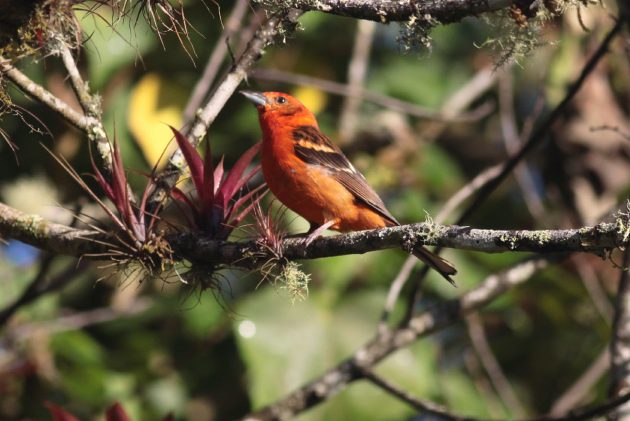 Flame-colored Tanager. Photo by © Michael Todd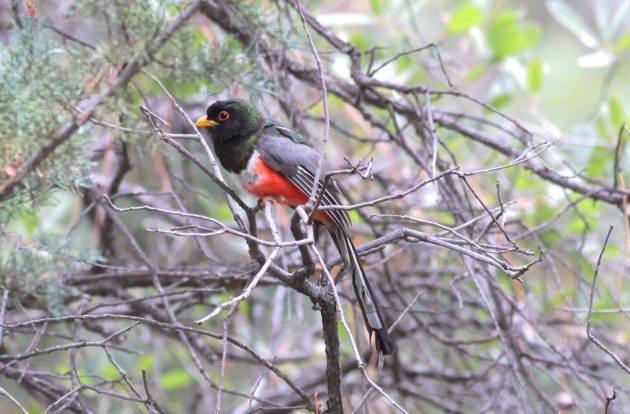 Elegant Trogon. Photo by © Michael Todd
For birding Arizona-style, memorize these three overlapping locations southeast of Tucson: Madera Canyon in the Santa Rita Mountains in the Coronado National Forest. That was my first official birding trip some three decades ago; and happily I haven't been the same since.
(Featured image – Elegant Trogon. Photo by © Michael Todd)
~