This past weekend, Sara, Mason, Ivy, and I met with my siblings and aunts in Ocean City, Maryland to celebrate my mother's 60th birthday (Happy Birthday, Mom!) As anyone who has been to Ocean City, or other local vacation areas like Rehobeth or Bethany Beaches, can attest, this stretch of the Atlantic has a lot to offer in terms of sun, sand, surf, and summer fun. Birding, on the other hand, not so much…
I could augur which way the avifaunal winds were blowing even as we traveled down from NYC. The Cape May – Lewes ferry, known in certain circles as the "Poor Man's Pelagic," was rather poor indeed with nary a storm-petrel in sight. All we had to look at were lots and lots of gulls, most of them Laughing Gulls. Don't get me wrong… Larus atricilla is as attractive a gull as you could want; even from the neck up, the combination of ebon hood, ivory partial eye-ring, and sloppy lipstick bill is a winner in the mid-Atlantic world of white-headed gulls. Throw in a daring pewter mantle and fearsome ubiquity and you've got the banner bird of any summer beach trip in this part of the country.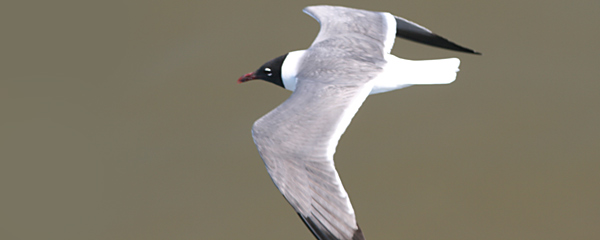 Who's laughing now?
Other species made the scene but there were precious few of them: august Osprey plummeting for prey from high above the ocean; orange-billed Caspian Terns plunge-diving as well, though from less loft heights; Brown Pelicans barreling down the coast looking to fill their prodigious maws. These and the gulls made up most of my oceanside sightings. But Bank and Barn Swallows, Red-winged Blackbirds, and Common Grackles turned up as well and while the meager beach vegetation couldn't sustain Seaside Sparrow, it supported House Finches and House Sparrows just fine. The bay side of these barrier islands promises much more interesting birding for those with the time to plumb those tallgrass channels. Despite the herons and egrets on the wing, though, a commercial culture of strip malls, surf shops, and gaudy mini-golf courses seems to have made this area inimical to real nature.
Actually, some of the coolest natural sightings of the non-avian variety.  Sunrise on the ocean and sunset on the bay are both deleriously beautiful. Those pods of dolphins popping up regularly just offshore were crowd-pleasers as well. I tried to take it all in, no matter how odd my behavior seemed. A fitting example of this involved the drab brown moths that appeared everywhere throughout our condo. When my reaction to a particularly passionate invasion of moths deadset on communion with our living room light fixture was to grab a camera, my sister and her boyfriend got a ringside seat to the kind of damage writing a nature blog inflicts. Can't miss out on content, right? Anyway, some painstaking research revealed that these banal bugs are Armyworm Moths, notorious ravagers of crops.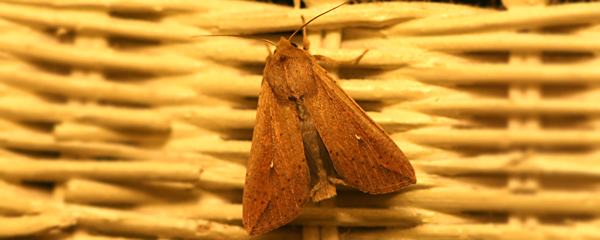 Armyworm Moth in a hideous wicker light fixture
Ocean City is fun, but it's not exactly my kind of fun. Sure, I love a couple of days bouncing from the beach to the pool as much as the next guy (though not nearly as much as my son!) but prefer a more natural, less crowded setting than this. By noon on a typical sweltering day, you'll find yourself shoulder to shoulder with other sun-thirsty visitors desperate for the respite of an angry ocean, surrounded by an army of umbrellas, blankets, and the ever-present gulls, laughing because they can fly away any time they please.