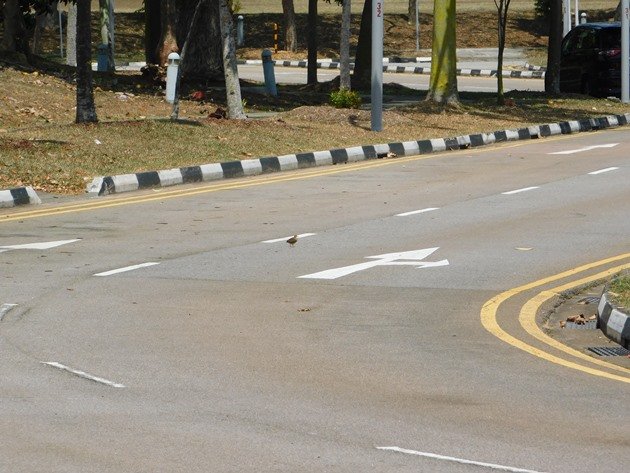 It is often useful to look at satellite images on Google Earth to see where there is suitable habitat for different bird species. Sometimes it can be disappointing when the area has changed due to development and other times you can find some unlikely birds. When we decided to go to see what bird species there were in the undeveloped areas at Changi Business Park we encountered several species of bird that we did not observe anywhere else in Singapore.
The most surprising bird was the Barred Buttonquail that was just crossing one of the quiet roads. The Barred Buttonquail was in no rush and sauntered across the road while I photographed it. It even followed the arrows on the road!!!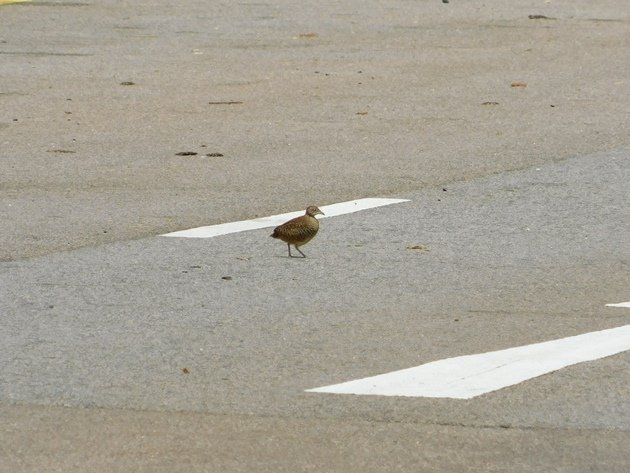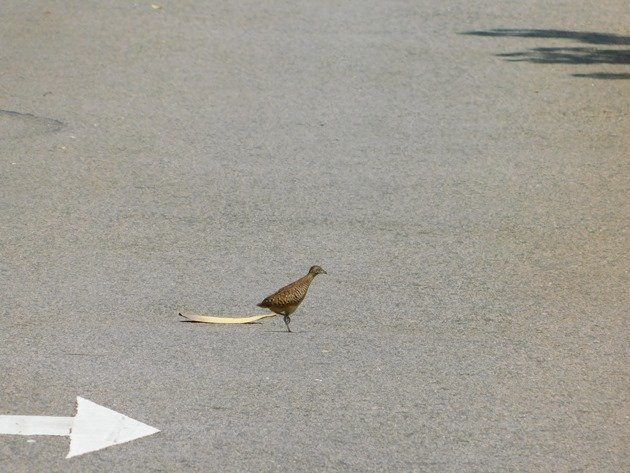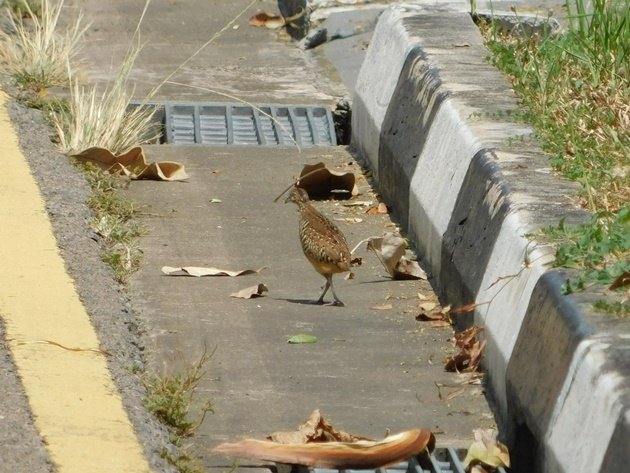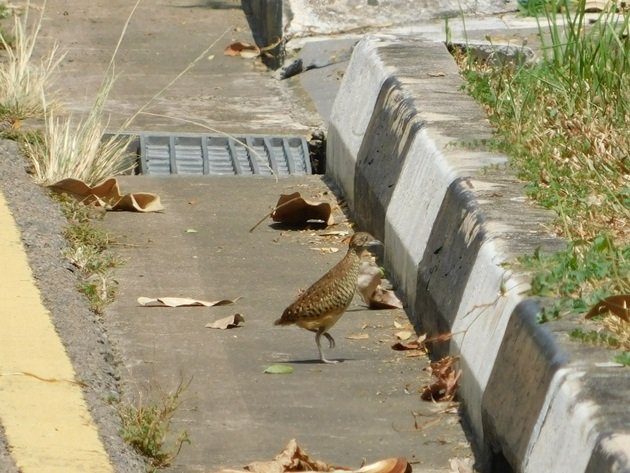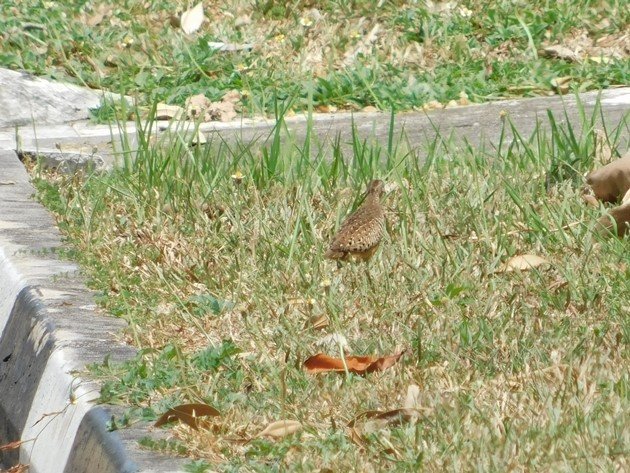 Barred Buttonquail
Another bird species that we did not encounter anywhere else in Singapore was the Green Imperial Pigeon. There were three of the birds near the Bus Terminal, but they were not easily photographed in the trees.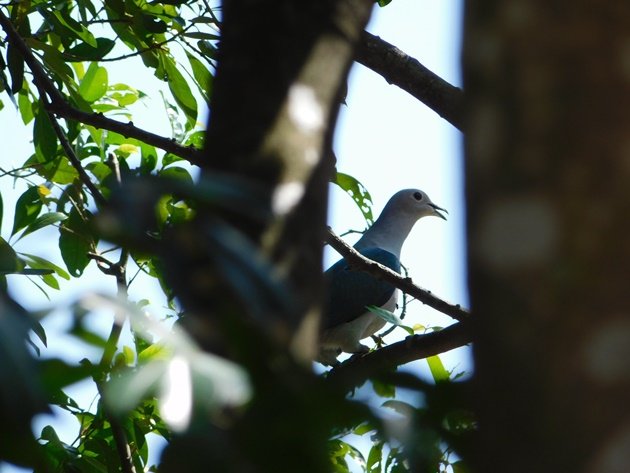 Green Imperial Pigeon
Despite the ground being dry there were still dips in the grass and it was perfect habitat for both Swinhoe's Snipe and Pin-tailed Snipe to hide. There were a minimum of twenty one Snipe partially hidden in the dips. This was another bird species that we did not encounter at any other location in Singapore. We also encountered a Large Hawk Cuckoo, but I was unable to photograph it.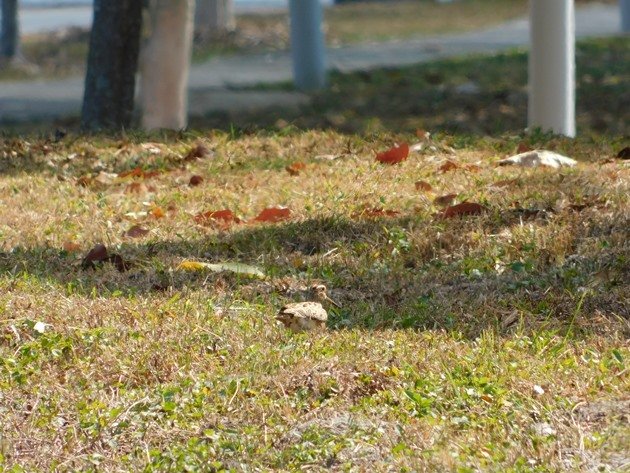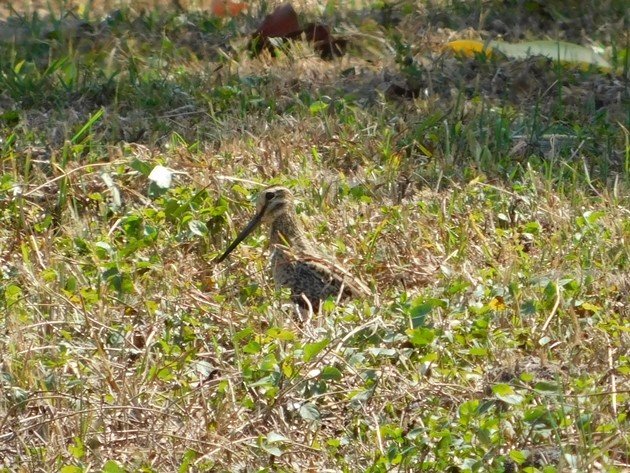 Snipe watching us watching it!
There were numerous other bird species in the area that we encountered at various other locations around Singapore. These included Zebra Doves, Spotted Doves, Grey Herons, Cattle Egrets, Chinese Pond Herons, Common Iora, White-fronted Kingfishers, Collared Kingfishers, Oriental White-eyes, Long-tailed Shrike, Brown Shrike, Asian Koel, Asian Glossy Starlings, Yellow-vented Bulbuls, Sunda Pygmy Woodpeckers, White-bellied Sea Eagle, Javan Myna, Common Myna, Asian Brown Flycatcher, Olive-backed Sunbird, Oriental Magpie-Robin and Paddyfield Pipits.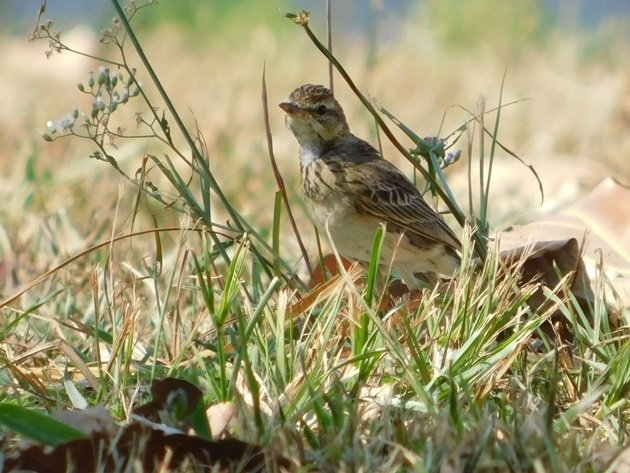 Paddyfield Pipit
Despite the area being an industrial park there are some great birding opportunities to be had at Changi Business Park and it is definitely worth a visit. As with anywhere in Singapore, it is easy to access by public transport.