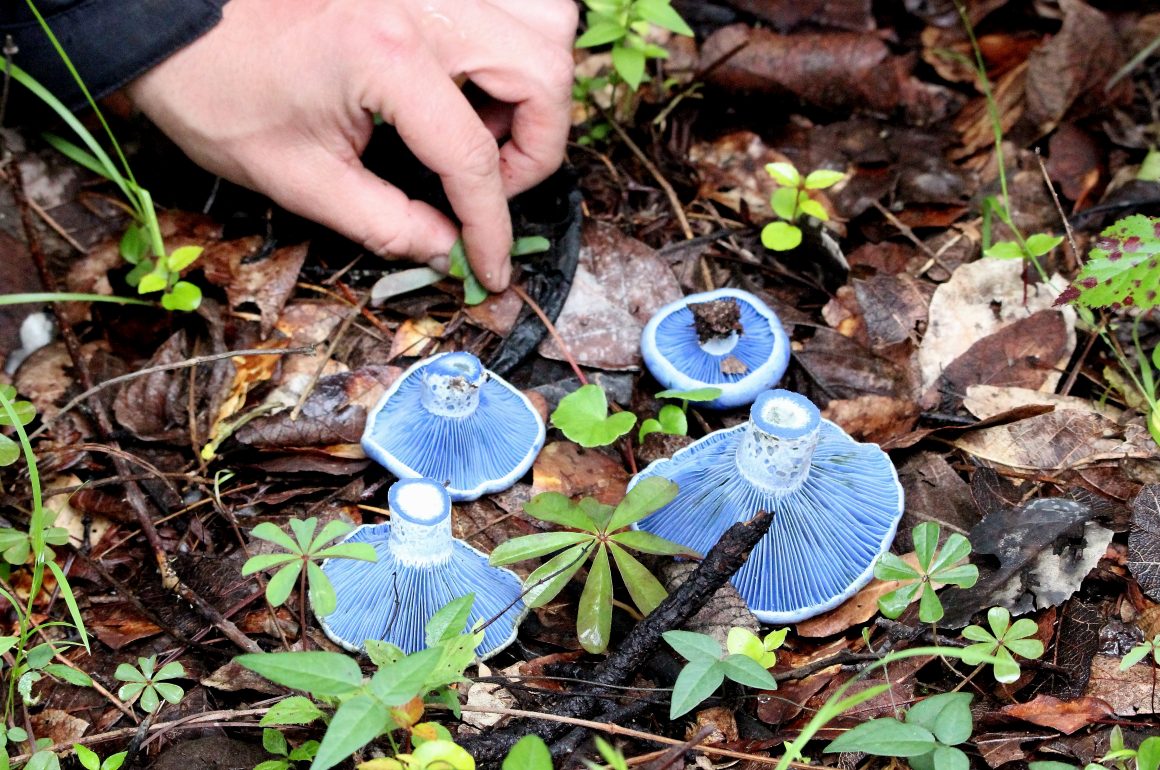 I am guessing that no birder practices this passion exclusively for the birds. If you are like me, and I suspect you are, it's also for the butterflies, beetles, lizards, and plants. In my case, it is especially for the plants. In fact, I've brought a good number of those plants (in the form of cuttings and seeds) back to my two gardens.
That is why I'm happy to have a new birder friend who is also a biologist, with a specialty in native plants. I never tire of finding out more about the trees, bushes, vines and flowers that I encounter on my outings. And figuring out the IDs for wild plants in central Mexico on my own is difficult. I should know, I've tried.
I have written here and here about my first two outings with my biologist friend Ignacio, who I will call Nacho from here on, as any Mexican would do. Last week Nacho texted me, and we decided to go back to Río Bello. (In my first article about that site, I included three photos of ground orchids Nacho found on our first trip.)
As we walked up the "beautiful river" (which is what "Río Bello" means) Nacho pointed out trees from the dogwood, holly, and linden/basswood families. He especially wanted me to see one tree from the Ilex (holly) family, so large that he calls it his "Avatar tree". I do not doubt his statement that this massive tree is centuries old, and it is good to know that such a tree can still be found so close to the city of Morelia.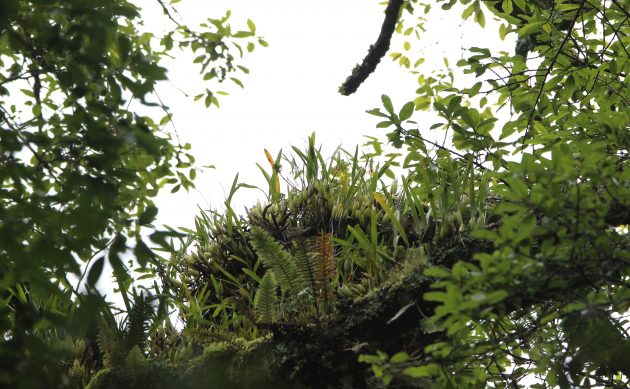 I couldn't even begin to do justice to this massive tree with my long birding lens. Hey, I couldn't even do so with my short lens. So I'll just show one of the many, many large orchid/fern colonies on its branches.
It was a poor day for walking outdoors, with a constant drizzle and occasional spells of real rain. And it was an even worse day for photography, with light levels that might be expected a few minutes before nightfall. And by the latter part of our 8 km walk, so much moisture had made my lens fog up, rendering photography impossible. But I will make do with the photos I took, to discuss some of the day's highlights.
It is fascinating to me how many common garden flowers grown around the world originate in central Mexico. Just on this trip I was able to see begonias, delphiniums, dahlias, morning glories, marigolds, scarlet runner beans, zinnias, sanvitalias (creeping zinnias), and salvias, all plants that have been tamed for cultivation in gardens everywhere.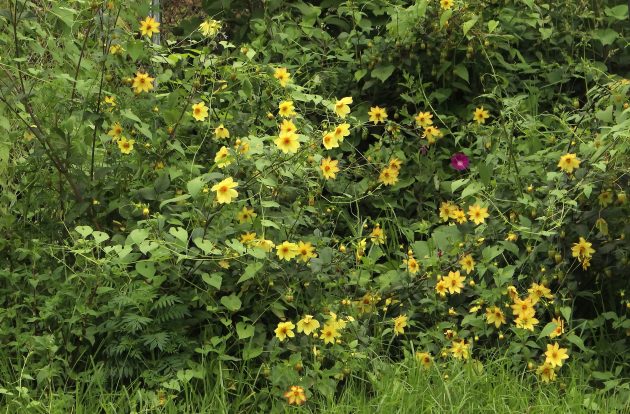 Around here, you can get your Dahlias three ways: yellow, orange, and red. Just don't ask for ball, pompon, fimbriated, or star Dahlia flowers. Our flowers are all single.
But the flowers on this one did have an unusual and pleasing shape.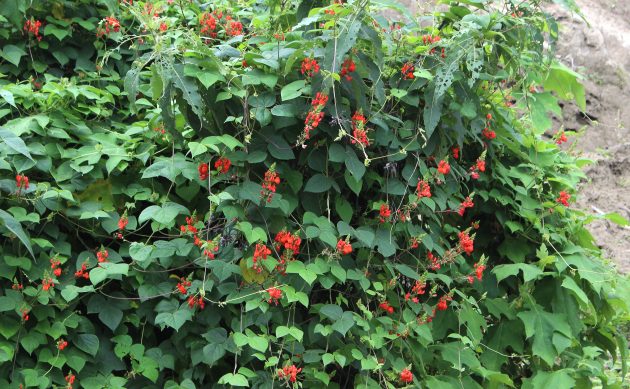 The Scarlet Runner Beans that you can grow in your garden, in contrast, are very little changed from their wild form. While usually grown for their flowers, they also produce tasty beans.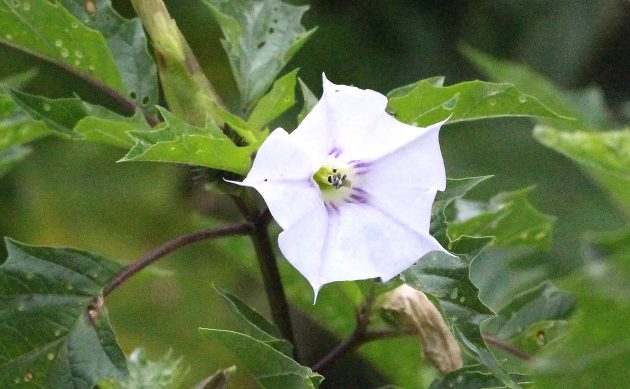 Some varieties of Datura are grown for their large trumpet-shaped flowers. This one had a more subtle beauty.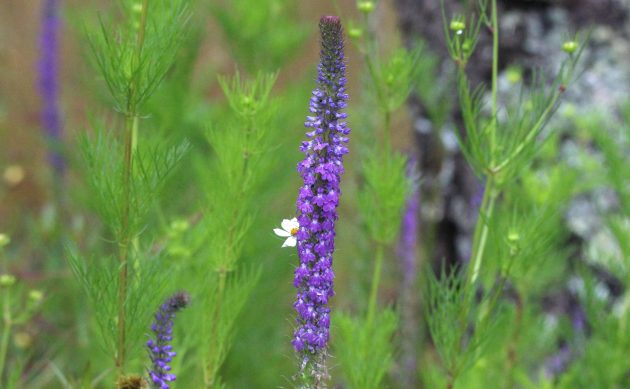 You might not guess this Lobelia is from the same family as the popular bedding flower with that name — until you see the individual flowers close-up.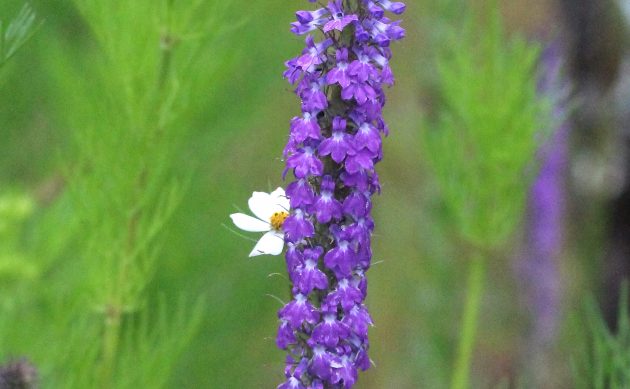 Of course, even when you bird with a botanist, some of the excitement must actually be bird-related. Many migratory Warblers and other birds are now arriving down here. Among these were Blue-gray Gnatcatchers, American Robins, and Black-and-White, Black-throated Gray, Hermit, Wilson's, and Red-faced Warblers. Several of these were lifers for Nacho, who is a relatively new birder. But the birds of the day were definitely a family of resident, but uncommon, Gray-collared Becards.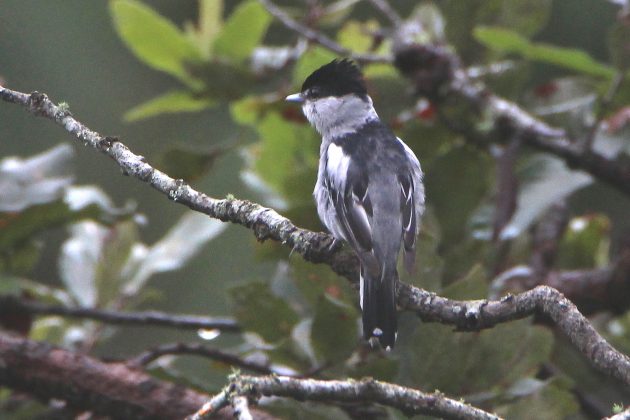 Nevertheless, I must end with two of our strangest plant encounters. (Strange for me, that is — Nacho fully expected, even looked for, these plants.) The first was a carnivorous plant he had located on a previous visit. These were growing on some nearly vertical, deeply shaded, and very wet rocky slopes. Those nondescript round leaves growing flat on the surface are sticky, and bugs that land on them are trapped and slowly absorbed. (The wrinkled, more interesting-looking single leaf to the left of the photo is a begonia leaf.) Nacho had a difficult time finding these carnivorous plants, as they had been sporting little flower stalks on his previous visit.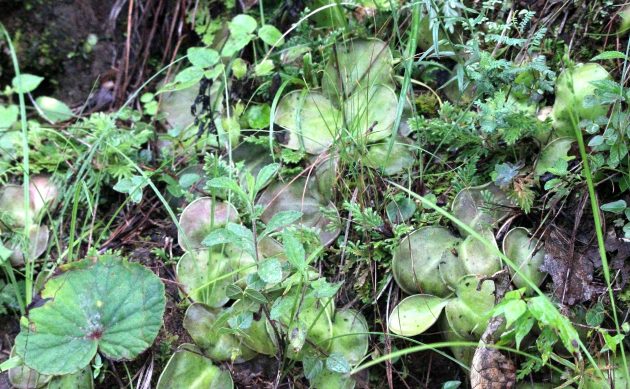 And the topper of them all for me was a good number of Indigo Milk Caps, which, as you can see, are bright blue edible mushrooms. These are called Milk Caps because not only are they blue, but they also bleed a neon blue milk when cut.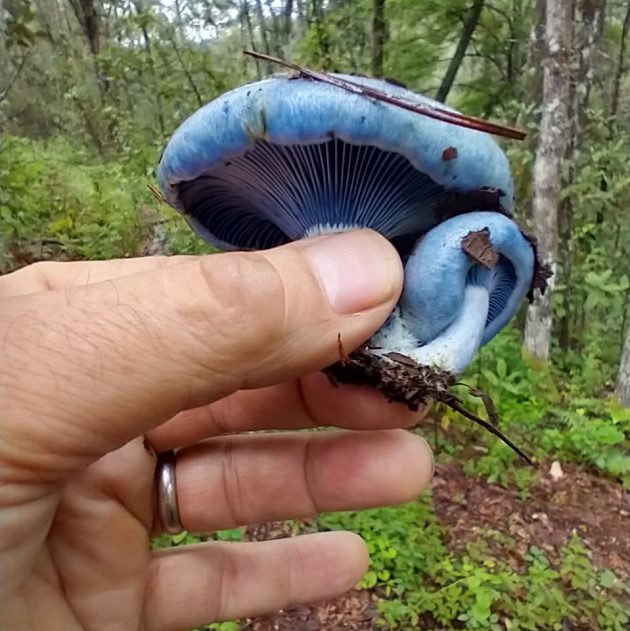 That's my hand in this photo. The hand in the photo by this post's title belongs to Nacho.
Did I cook and eat some of these mushrooms? You bet! Did I live to tell the story? Why yes, I am doing so here and now. Were they delicious? I'm sorry to say that I did not find them all that tasty. But hey… I ate bright blue mushrooms!