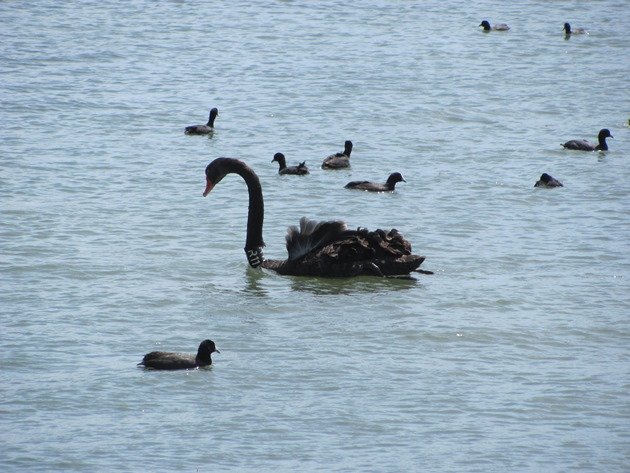 Melbourne you ask…yes, Melbourne! With very little notice Grant was offered a short term job in the city of Melbourne and hopped on a plane from Broome. I had a few commitments at home, requiring me to wait a few days before I joined him to do what wives do and then go birding! I soon collected maps and off I went to wander the parks and look for birds. In only a few days I have added over 30 species to my year list and already I have over 50 species close to the city.
I wandered over to the Royal Botanical Gardens in search of birds and I was soon rewarded for my efforts and will let you know of my other observations around Melbourne in due course. I came across a lone Black Swan wearing a neck collar and it is something we have not personally seen in the past, but know that it is widely used in other areas of the world to study Swans. I noted the time, place and then took some photographs and then once I got back to our accommodation I endeavoured to find out who was doing the research. It did not take too long to discover that the project has been running since 2006 and has enabled the research team to find out a lot about the Black Swans in the Melbourne area. They are not as faithful as we like to believe! There is a lot of information on the Black Swan website and even better than that is the fact that you can enter your sightings into the website and instantly get information on the Black Swan that you have observed. You can find out when the Black Swan you observed received its neck band, where it has been observed in the past and how many days since it was last reported. It also offers updates on the Black Swans that you have observed. With so many research projects you just don't get the instant information that these researchers offer you.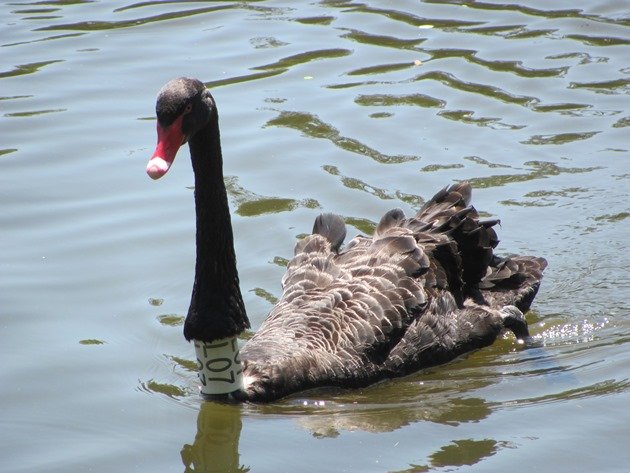 Black Swan L07
When in sent in the information of Black Swan L07 at the Royal Botanical Gardens I found out that she was actually a paired bird, though she was alone when I saw her. The white neck band indicated that the bird is female. Black Swan L07 was originally banded 21st June 2006 at Albert Park and is over 9 years old.
Two days later I decided to return to the Royal Botanical Gardens and Black Swan L07 was still present, but there was one other Black Swan J23 also at Long Island. She was also given her neck band in 2006, but on 12th October. I then decided I should walk to Albert Park, the home of the Formula 1 Grand Prix, and see the Black Swans there.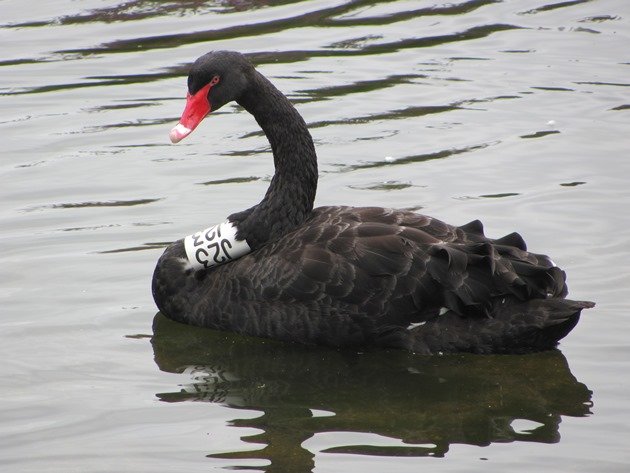 Black Swan J23
Albert Park is a large park with walking trails right around the lake and apart from when the cars are racing next month it is easily accessible. It was a popular place for people and birds when I visited. I was soon busy writing down the bird species that were present and the neck bands on Black Swans and taking photographs. The population of Black Swans at Albert Park is believed to be about 150 birds and I had over 70 individually marked birds recorded by the time I had completed a lap. They have been recorded doing day trips as far as Ballarat, Willliamstown and the Mornington Peninsular.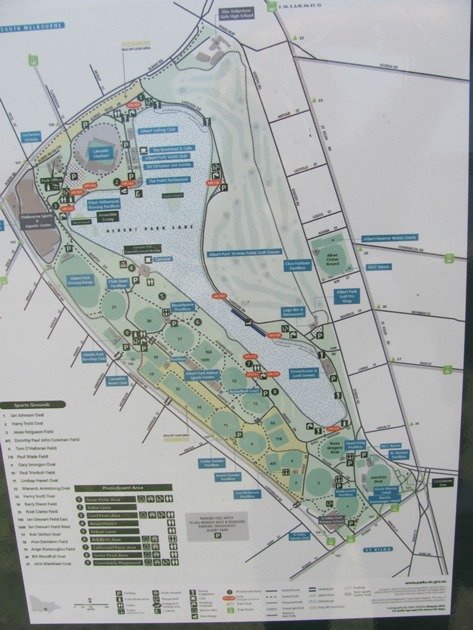 Albert Park
Once I returned to our accommodation I entered all of my sightings and got the history of the Black Swans that I had seen. They varied in age and the sex was determined by the colour of the neck band. The white bands were female, the black bands were male and the one blue band I observed was also female.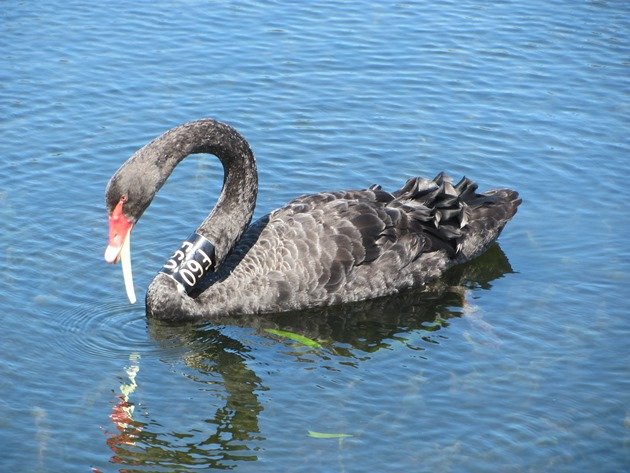 Black Swan F60 got his neck band 18th November 2013 and is over 2 years old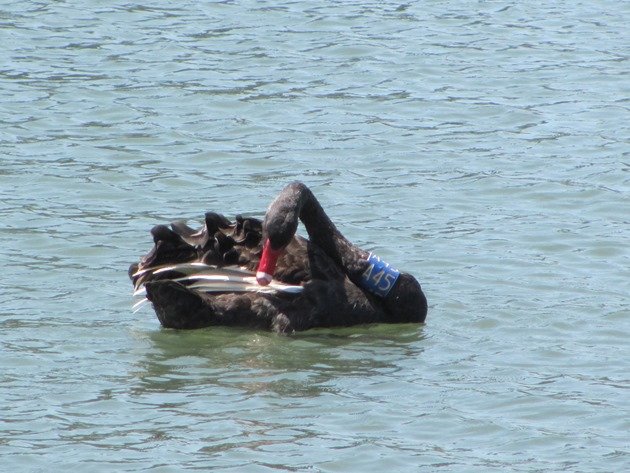 Black Swan A45 got her neck band 4th July 2007, is over 8 years old and is a paired bird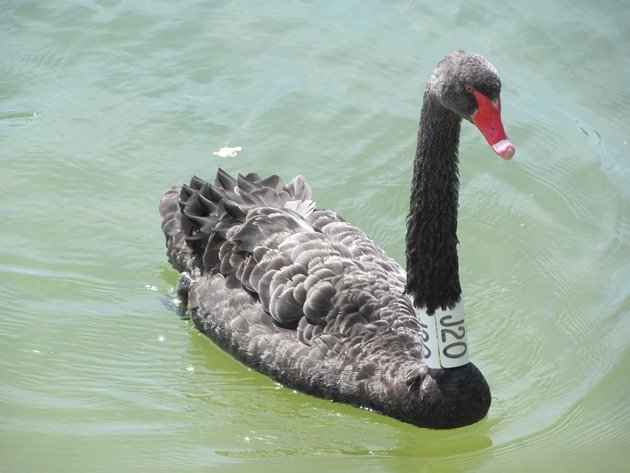 Black Swan J20 got her neck band 15th August 2006, is over 9 years old and is paired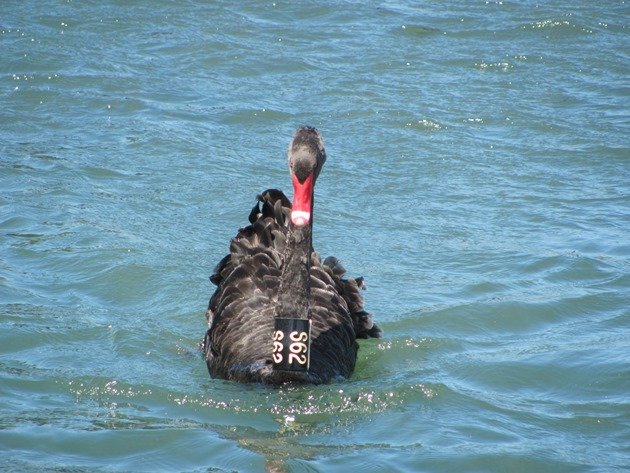 Black Swan S62 got his neck band 31st January 2014 and is over one year old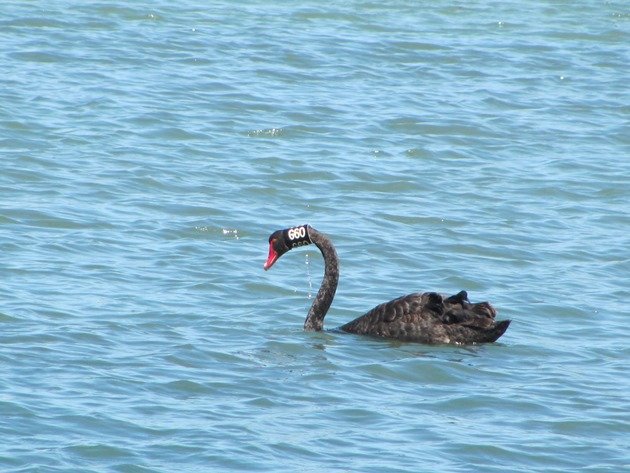 Black Swan G60 got his neck band 20th June 2006, is over 9 years old and is paired
It is possible to see in the above photo just how loose fitting the neck bands are and they slip up and down as the Black Swans feed. There is also information on the website that explains about the collars and the welfare of the Black Swans.
Many types of research have to rely on "citizen science" and this is an excellent example where you can contribute and be instantly rewarded with information when you submit your observations.
Meanwhile, I will continue to see what other birdlife Melbourne has to offer within walking range of the city! Of course the most common birds here are not birds that we have at home in Broome!