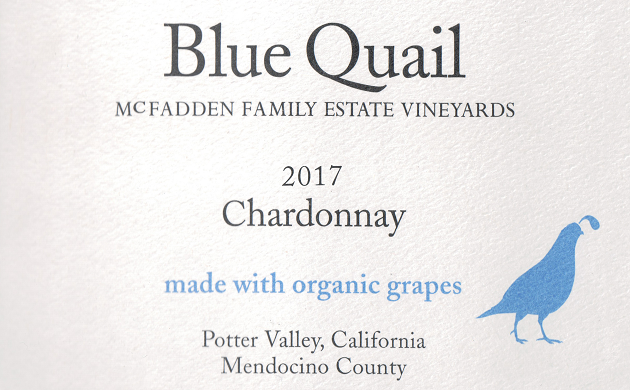 With about two-thirds of the United States on the verge of a dangerous heatwave, I'm hesitant to endorse any libation but shockingly cold ice water for our readers in eastern North America this weekend. While we have plenty of summer remaining (and with it, several more great summer drink recommendations in store for you here at Booze and Birds), I won't pretend that any quality or quantity of beer, wine, cider, or spirits – no matter how refreshing (or inebriating) – will be a sufficient (or safe) remedy to the scorching weather headed our way. But we try to have a global perspective at 10,000 Birds, even if there is a somewhat unavoidable American bias to our weekly beverage selections. So, recognizing that it's a big world out there, and that it may very well be cool enough to enjoy a boozy beverage safely wherever you may be, we'll proceed as normal this week with a crowd-pleasing expression of perhaps the most popular white wine style in the world.
Our feature this week is a 2017 Chardonnay from Blue Quail Wine of Hopland, California. Ironically, there don't appear to be any breweries in Hopland, a small town in Mendocino County named – as I hope one would assume – for that principal ingredient in brewing. Nor does there seem to be any remnant of once-lucrative hop cultivation in Hopland, as it was pushed out of the area by disease in the 1950s. But since then,  several wineries and wine tasting rooms have been established there, one of which is Blue Quail, an organic vineyard established over forty years ago in the Potter Valley by Guinness McFadden  (deceptive allusions to brewing culture seem to be a theme in this wine review!), an Irish-American from New York's Upper West Side.
There are phasianids in the world that are blue in name: namely, the Blue Quail (Synoicus adansonii) found in sub-Saharan Africa, but also the Blue-breasted Quail (Synoicus chinensis) of south and southeastern Asia. But the azure silhouette that adorns the labels of Blue Quail's bottles is clearly a tribute to the charismatic California Quail, (Callipepla californica), which is a year-round resident of the Blue Quail vineyard. This isn't the first time we've seen a California Quail on a California wine bottle, and I suspect it won't be the last.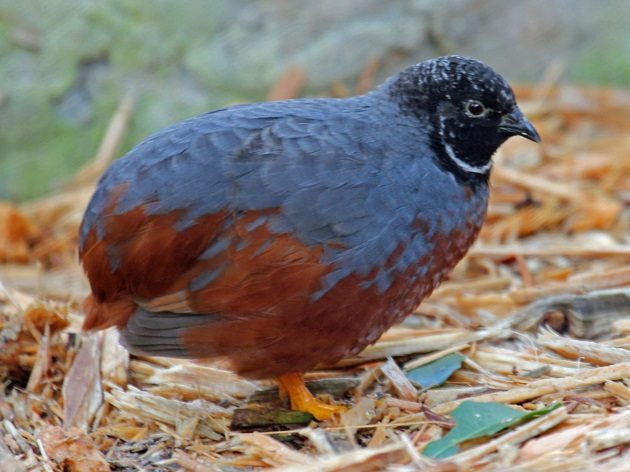 Blue Quail Chardonnay is a ripe and fruity white wine, with a generous aroma of green apple, peach, and a touch of mint in the bouquet. It offers a gentle, somewhat lean mouthfeel, with a crisp acidity, without the over-the-top dashes of oak or butter that have made California Chardonnay both famous and controversial over the years. While it may not be the perfect antidote to a brutal summer heatwave – and what wine could be? – Blue Quail Chardonnay makes a lovely wine for year-round enjoyment. Just don't dare serve it over ice!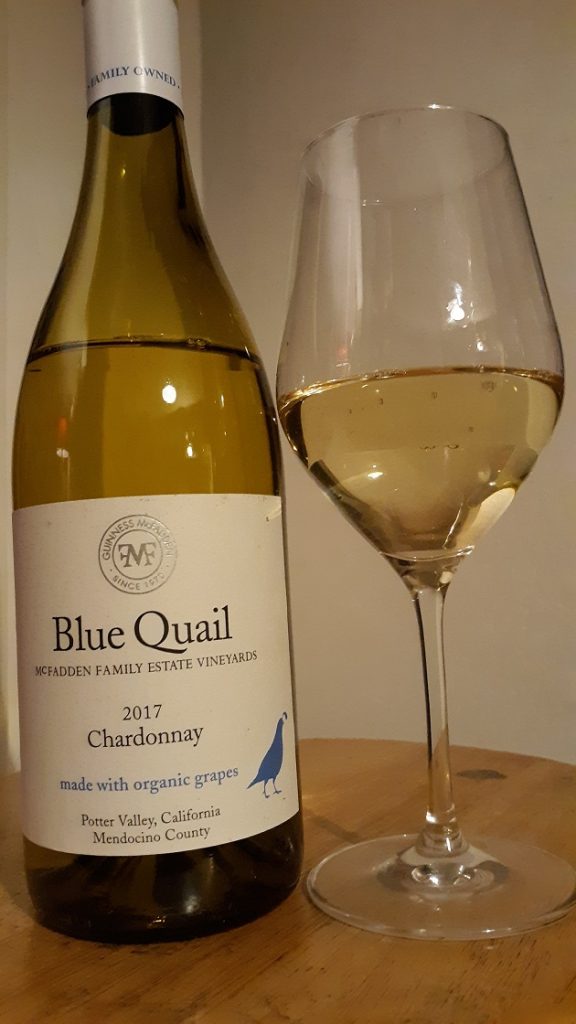 Stay cool out there – and good birding and happy drinking!
---
Blue Quail Chardonnay (2017)





Three out of five stars (Good).