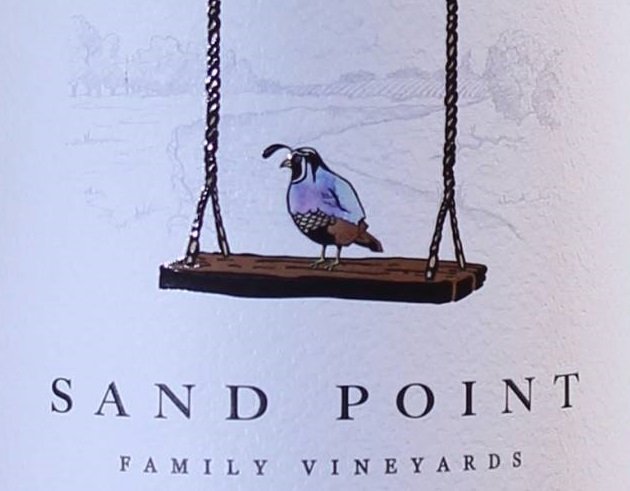 At last count, there are 25 species of birds named for U.S. states, with varying degrees of geographical relevance (sorry, Tennessee Warbler). But only two states have more than one bird named for them: Hawaii and California, with nine and seven extant and eponymous species, respectively. Considering all the birds named for the Aloha State are Hawaiian endemics, while none of those named for California are restricted in range to the Golden State, California made out pretty well in the bird-naming sweepstakes. I suppose a case could be made for renaming  California's two avian endemics –  the Yellow-billed Magpie and the Island Scrub-Jay – after the state to pull it into a tie with Hawaii. But after the recent controversy that surrounded the renaming of the Gray Jay to Canada Jay, perhaps its best to leave these names be for now (and you can find Canada Jays in California and even Arizona, by the way).
So, each of the seven "California" birds is also found outside of California: California Condor, California Gull (which is Utah's state bird!), California Scrub-Jay, California Thrasher, California Towhee, California Gnatcatcher, and even the state bird, the California Quail. I saw my first in Utah back in 2010 right around the time I first started birding but didn't see one in California proper until a visit to Point Reyes National Seashore in October of last year.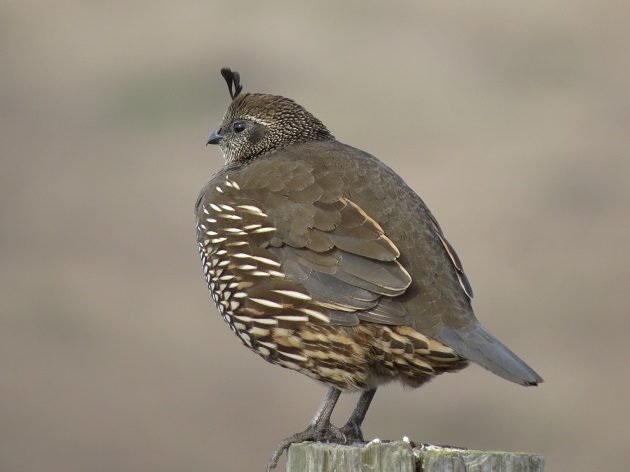 My first California Quail in California, at Point Reyes National Seashore in October 2017.
I just got back this week from my second-ever birding vacation to California, this time to the three southernmost counties of the state: San Diego, Riverside, and Imperial. After finding few California Gnatcatchers in the lagoons north of San Diego, and finally catching up with some California Thrashers in its suburban canyons, I can now say that I've seen all seven "California" birds, even if they haven't all been in California (my only California Condor sightings were at the Grand Canyon in Arizona).
To celebrate this minor listing milestone, I chose a 2015 Cabernet by Sand Point Family Vineyards of Acampo, California, whose logo is an adorable California Quail sitting on a swing (we can presumably eliminate the similar Gambel's Quail by range here).
I actually didn't see any California Quail this trip and San Diego's more of a beer town, anyway – arguably the best in the country at the moment – but I've yet to find a California Thrasher or California Gnatcatcher on a bottle of anything. And anyway, I couldn't resist Sand Point's playful label.
Their 2015 Cabernet Sauvignon is made from grapes from the Lodi American Viticultural Area (AVA), an appellation reserved for the northern San Joaquin Valley of California (Sand Point also makes a Cabernet Sauvignon with grapes from the Clarksburg AVA, which is further north in Sacramento, Solano, and Yolo Counties). The 2015 Lodi vintage is a bold red with an unmistakable cherry pie aroma, with sweet and tart blackberry flavors balanced by some gentle tannins and a spicy dose of oak.
While a lot of wineries put birds on their labels, Sand Point takes the environmental stewardship of their land very seriously. Over the years, the winery has undertaken several riparian habitat restoration efforts (in collaboration with Audubon California and the Center for Land-Based Learning), established a wildlife lake at the winery, and set up native plantings, habitat buffers, raptor platforms, and boxes for wood ducks, passerines, owls, and bats. One wonders how they ever find the time to make wine!
Good birding and happy drinking!
---
Sand Point Family Vineyards: Cabernet Sauvignon 2015 (Lodi Appellation)





Four out of five feathers (Excellent).