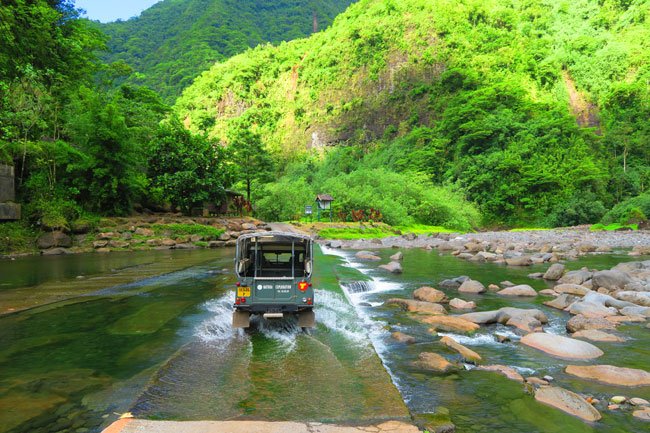 Presuming that you want to bird Costa Rica, you would book a southbound flight (from N. America) or westbound (from Europe). Yet, for most people, birders are all eccentric. What if you were truly eccentric?
In such a case, you might opt to book an eastbound flight, or a series of flights, from Lisbon to Sao Tome and Principe, Ghana, Rwanda, Uganda, then Sri Lanka, Thailand, Borneo, PNG, Tahiti, Ecuador, Guyana and finally to Costa Rica…
Reachable by direct flights from Portugal, the island country of Sao Tome and Principe lying in the Gulf of Guinea, in the armpit of Africa, has about 140 bird species and 28 endemics – more endemics per square mile than anywhere else on Earth. The main island of Sao Tome has about 100 species and 17 endemics among them. Visiting both islands, almost all endemics are possible (although 2 are hard to get), among some 60 to 70 species birdable in 10 days. Add turtle and whale-watching into that picture, and as a background, play some seductive Afro-Portuguese music. The best month is December, followed by June-July.
Not far from it, on the shores of West Africa there is Ghana with its 750 birds, of which some 350 are possible in two weeks. The key areas for lowland forest species are Kakum National Park (famous for the only canopy walk in this part of Africa) and the Ankasa Reserve, for moist savannas Shai Hills Reserve, for Guinea woodland birds Mole National Park, and for the Yellow-headed Picathartes Bonkro Community Forest. The best months are October to November, and April.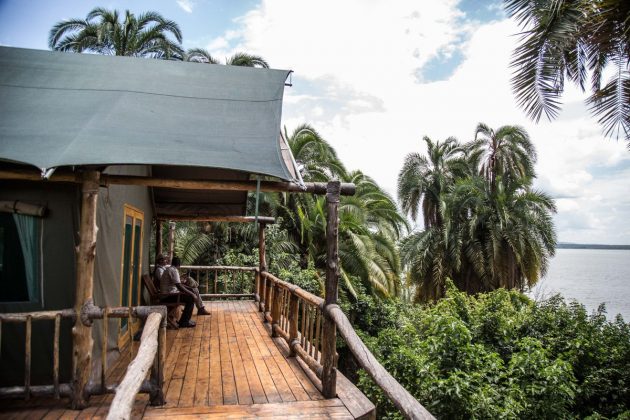 Rusizi Tented Camp, Akagera National Park, Rwanda
On the eastern side of the continent lies Rwanda with its 700 species, about 250 of them birdable within a week. This is a densely populated country and very few reserves remain. Focus on the Akagera National Park for 490 savanna species, Nyungwe National Park montane forests with 320 birds including 29 Albertine Rift endemics (also 13 primates and, again, famous for the only canopy walk in this part of Africa). The best season in June to September.
Its northern neighbour Uganda has 1080 birds, including 24 Albertine endemics. Some 500 species are possible in three weeks. Focus on Bwindi Impenetrable Forest (350 sp.) for montane, and Kibale (375 sp.) for lowland forest birds, Queen Elizabeth National Park (600 sp.) and the Murchison Falls National Park (450 sp.) for savanna species. The best season is January, followed by June-August.
Further east lies Sri Lanka with its 440 species, among them 33 endemics, and about 230 birds possible in two weeks. Birding areas to focus on are Kitulgala, Nuwara Eliya, Horton Plains National Park, Yala National Park, Bundala National Park, Udawalawe National Park and Sinharaya Forest. This is the only place in the world where Leopards are visible (here they are the apex predators and aren't hiding), also, don't forget the Blue Whale (at Hikkaduwa, Galle, Mirissa). The best season is November to March.
Located in Southeast Asia is Thailand with 1050 birds, some 400 of them birdable in three weeks. The best reserves are in the north, near Chiang Mai (e.g. Doi Angkhang, Doi Inthanon). The best season is December to March.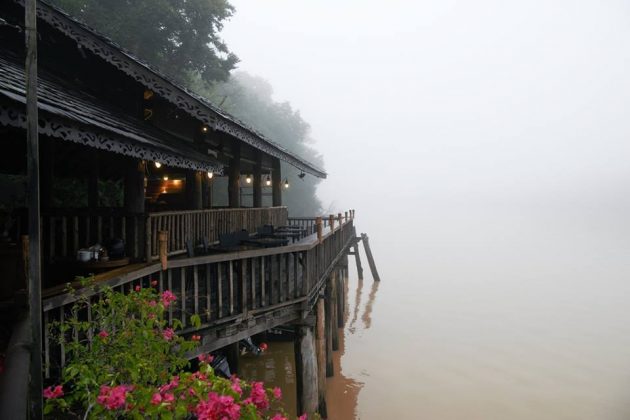 Sukau Rainforest Lodge, Kinabatangan River, Borneo
The birdiest part of neighbouring Malaysia is the Sabah Province at Borneo, with about 600 species. The main areas are Mount Kinabalu (320 birds, including 17 endemics), and the lowland rainforests by the Kinabatangan River (200 sp.), and the DanumValley (300 sp.). The best season is June to August.
Island hopping further east lies Papua New Guinea with 870 species, including 38 Birds of Paradise. On the eastern New Guinea (within PNG) there are 29 endemics, plus 54 at the Bismarcks and the Admiralties, plus 4 more at the Bougainville. 300+ species are possible in three weeks. The main areas are Varirata National Park, Kiunga, Kumul Lodge and Rondon Ridge at Mt. Hagen, Ambua Lodge and Makara near Tari, and the Walindi Resort on New Britain. The best season is July, with shoulder seasons from May to September.
One huge jump east and I am not sure how many species can be found on Tahiti itself, aside from its 5 endemics. As a whole, French Polynesia has 120 birds, but only 31 terrestrial, and 27 of those are endemic. The main areas at the Tahiti are Papenoo Valley (cover photo) for Tahiti Reed Warbler and Tahiti Kingfisher; and Papehue Valley for Tahiti Monarch and the Tahiti Swiftlet. The best season is October to November.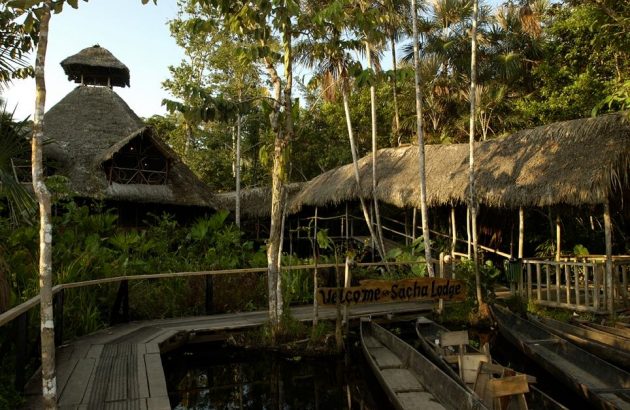 Sacha Lodge, Amazonian lowlands, Ecuador
A bit further east lies the mythical Ecuador where all birding dreams come true. It has 1630 species, of which over 500 are possible in 10 days and 600 in two weeks. The best areas are Mindo, Tandayapa, Yanacocha, Papallacta and Antisana in northern Andes; Amazonian lowlands in the east, and the coastal Tumbes in the west; plus southern Andes. The best season in the north is July to March, while in the south it is January to March.
With its 810 birds, Guyana is located at the northern coast of South America. The areas to focus on are mostly lodges, e.g. for rainforest species Iwokrama River Lodge, Atta Lodge and Surama Ecolodge; and for savanna birds Karanambu Lodge and Dadanawa Ranch. Dry seasons here last from September to November and from January to April.
Finally, Costa Rica has 920 birds, including 90 Central American endemics; not to mention that more than one milion raptors pass through it (Kekoldi in the southeast) in a single season. Some 300 species are possible in a week and 500 in two weeks. The main areas are Arenal, Monteverde, Gulf of Nicoya, Carara National Park, La Selva, Braulio Carrillo National Park and Rancho Naturalista near Turrialba. The best season is December to April.
And from there… no, I shouldn't close the circle. Costa Rica is a good place to stop, to settle down. And write a book on the circumbirding of the world. Ummm… Publishers, anyone?