Well I have done a lot of travelling in the week since I last wrote a post! I flew out of Broome and across the Northern Territory and Queensland and changed planes in Brisbane. I then flew south to Sydney to have the weekend with my sister and family. It is lovely to see the influence that Grant and I have had on our two young nephews from afar. George, who is 5, said that I should be the mummy penguin and he would be the baby penguin for the weekend. We played a game where we thought of a number and then looked it up in the bird book to see what it was. When we were not talking about birds we talked about sharks and sea snakes!
On Monday I flew back over Queensland to go to Hong Kong for a few hours before flying on to Busan. We have never had a trip to Queensland, so I think we may have to before too long. Now there are direct flights from Broome in the winter months we should consider it. There shouldn't be too many people there, as they all seem to come to Broome! I then flew into Busan, South Korea after a heavy rain storm Tuesday morning and the first birds I saw were egrets beside the runway. Sadly I could not identify them due to wet windows and the early hour of the day.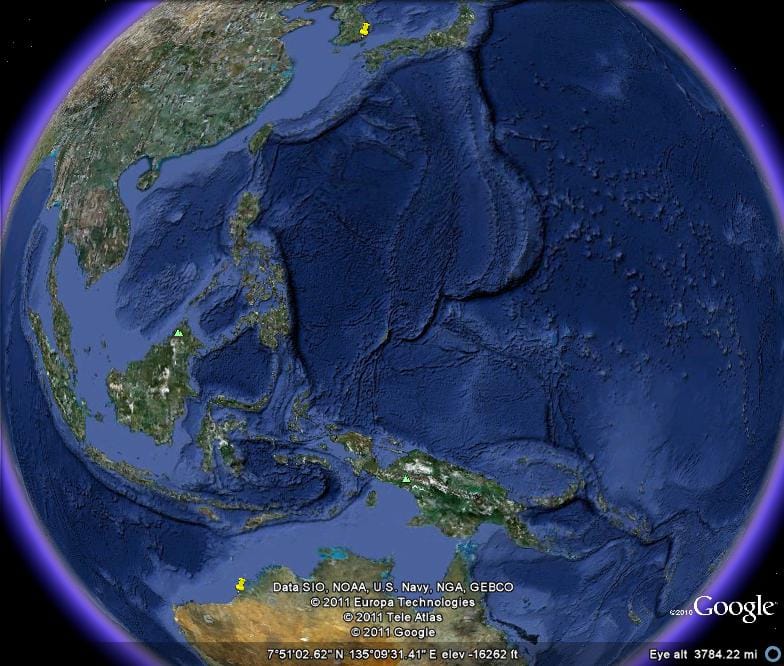 Broome and Busan marked on a Google map!
I have been walking around the city since I arrived and the most common bird would appear to be sparrows! Well, we don't get them at home so it is a bit different! I got excited when I saw a Magpie in a park, but by the time I had my camera ready the pigeons were in full force!
There seems to be a lot of places to go and look for birds and we may even see some individually marked birds from Broome if we are lucky. The Birds Korea website has a very good gallery. Grant's work will keep him here for a short while, but we hope to both get to bird the area in the evenings. Meanwhile I have a good chance of getting a few birds that he won't! Well, he has just had two trips to Singapore with work and has managed to fit some birding in. The big excitement for him last week was seeing a Dollarbird there, as we get them come as far south as Broome, but have not seen them in Asia .
The language is a bit of a problem, but I have been able to buy fruit and vegetables at the local market and I am a bit of an oddity as a lonesome foreigner! I still laugh at the challenge of trying to use a Korean washing/dryer machine as you finally realise you have achieved something when it plays a cheerful tune and then has the cheek to put up in English "END" and then "OFF". Most electronic things we don't touch for fear of something going wrong in Korean, but I am sure I will be bringing you some funny stories in the next few weeks.