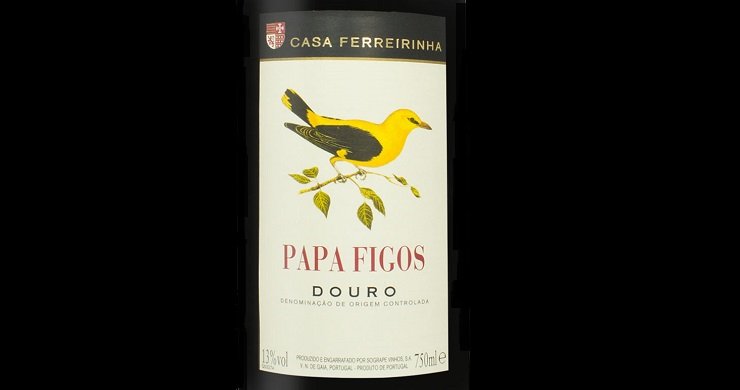 Whether they hail from the New World or the Old, orioles are undoubtedly fond of fruit. Of the thirty or so members of the family Icteridae that go by the name "oriole" on the western side of the Atlantic Ocean, several species are partial enough to fruit that they even visit feeders that offer it as jelly, as the sugar-preserved form usually reserved for human consumption is known. In particular, grape jelly – made from fruits of the genus Vitis, along with copious amounts of pectin and sugar – is an oriole favorite at North American feeders, especially in spring when these birds are first returning from their tropical wintering grounds. I wouldn't be surprised to learn that New World Orioles just head straight to the source of this fruit and raid winery vineyards for their fill of grapes, though I haven't heard of this happening.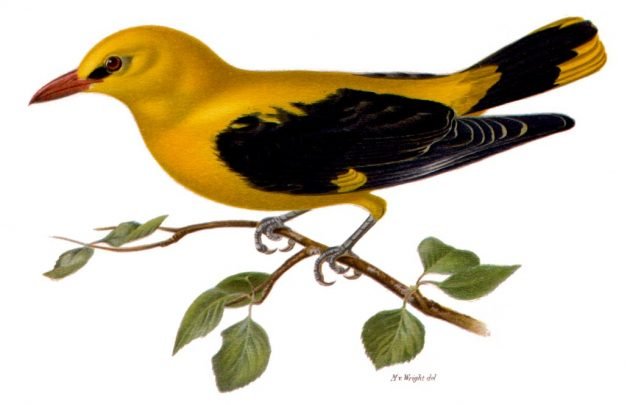 Eurasian Golden Oriole depicted in by Finnish painter Magnus von Wright (1805-1868), from the second edition of Svenska fåglar, efter naturen och på sten ritade.
Similarly, it'd be just as easy to believe that Old World orioles (of the family Oriolidae – the eponym to their unrelated New World namesakes) invade the grape plantings of southern Europe looking for a quick meal. But the name of this week's wine – the Casa Ferreirinha 'Papa Figos' Vinho Tinto – seems to absolve European orioles of any winery fruit theft. If the name is to be believed, these orioles – a colorful Eurasian Golden Oriole (Oriolus oriolus) is depicted on the label – are scarfing down not grapes, but figs; papa-figos is one of the Portuguese names for this bird and means "fig eater". In any case, the orioles seem to be leaving enough grapes on the vine for Casa Ferreirinha to make their wines, if only because the birds are usually on their way back to Africa by the time the grape harvest takes place.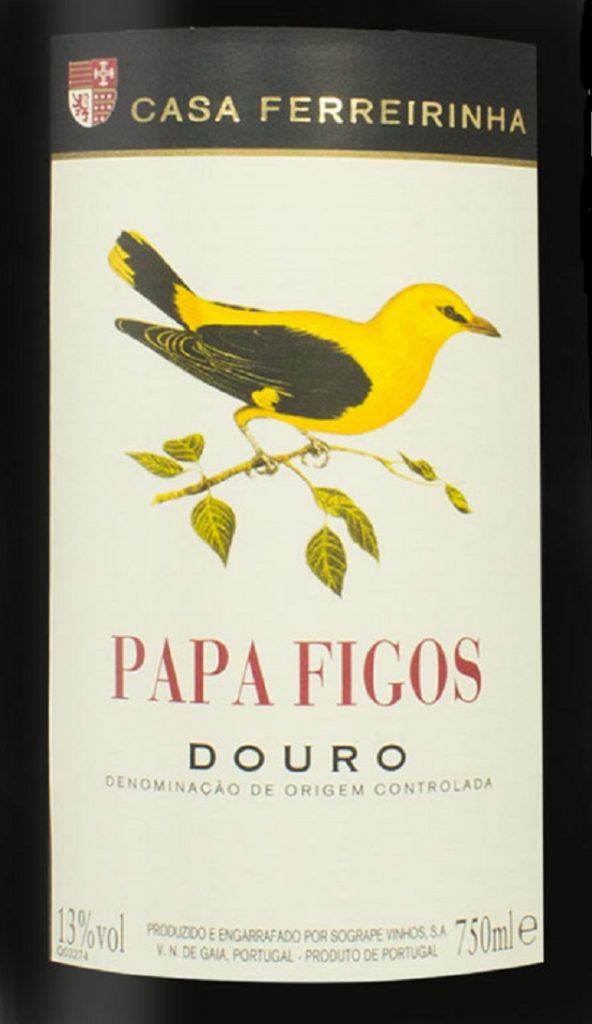 The label Casa Ferreirinha dates to 1845, when Dona Antónia Adelaide Ferreira took over her family's port business in the Douro Valley of Portugal. The grapes for their 'Papa Figos' Vinho Tinto are sourced from Douro Superior ("Upper Douro"), the hottest and driest subregion of the Douro Denominação de Origem Controlada ("protected designation of origin") in northern Portugal.  Casa Ferreirinha uses four grapes grown at their higher elevation estates in 'Papa Figos': a blend of 35 percent Tinta Roriz (perhaps better known by its Spanish name tempranillo), 30 percent Tinta Barroca, 20 percent Touriga Franca, and 15 percent Touriga Nacional. All four of these grapes are widely grown in the Douro for port production, and – except for the Tinta Barroca – I believe we've sampled all these varieties at Birds and Booze in the five Portuguese wines we've featured here previously.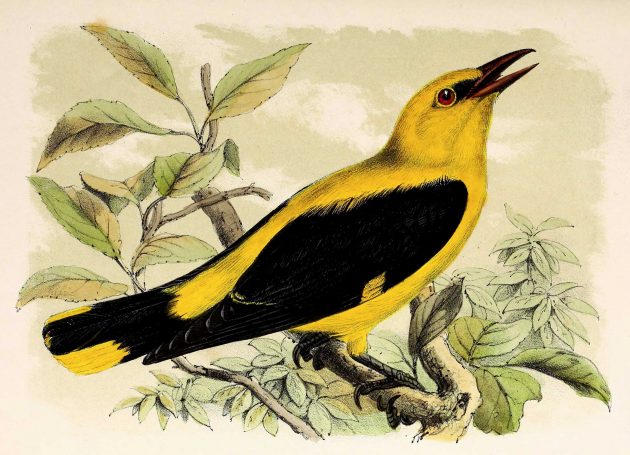 Eurasian Golden Oriole by Dutch illustrator J.G. Keulemans (1842-1912), from Onze vogels in huis en tuin (1873).
The 2017 Casa Ferreirinha 'Papa Figos' Vinho Tinto is a deep red wine with flashes of violet. Its enticing dark fruit bouquet of black cherry, plum, and strawberry jam is accented by rich notes of cocoa, cedar, and a savory hint of balsam. Fittingly for a wine inspired by such a colorful avian fructivore, 'Papa Figos' supplies plenty of lavish black and red fruit flavors on the full-bodied palate, which is balanced by a smooth acidity, a slight mineral edge, and a long, drying finish.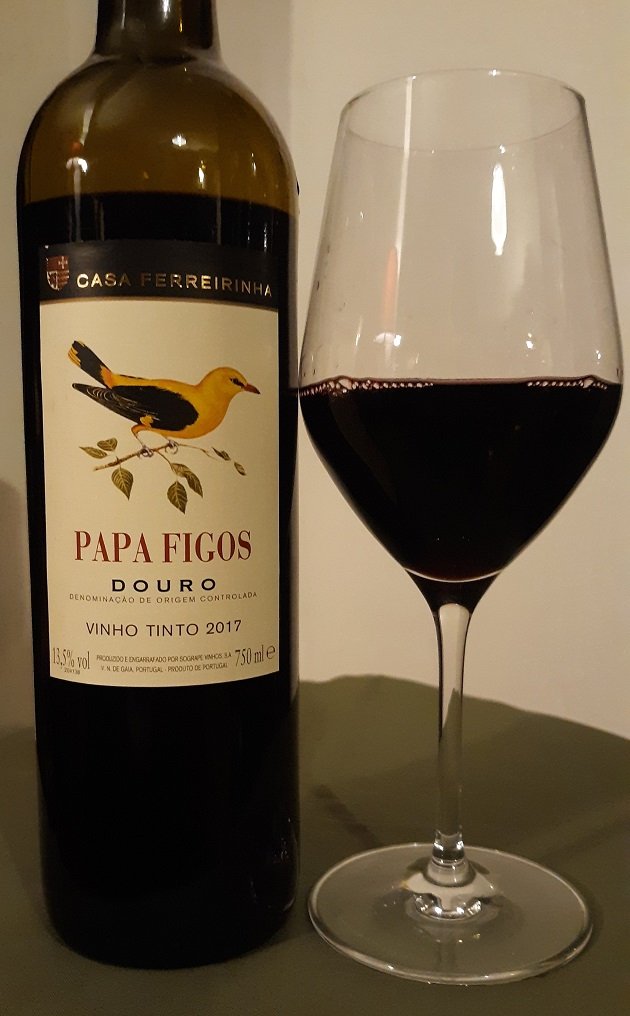 Good birding and happy drinking!