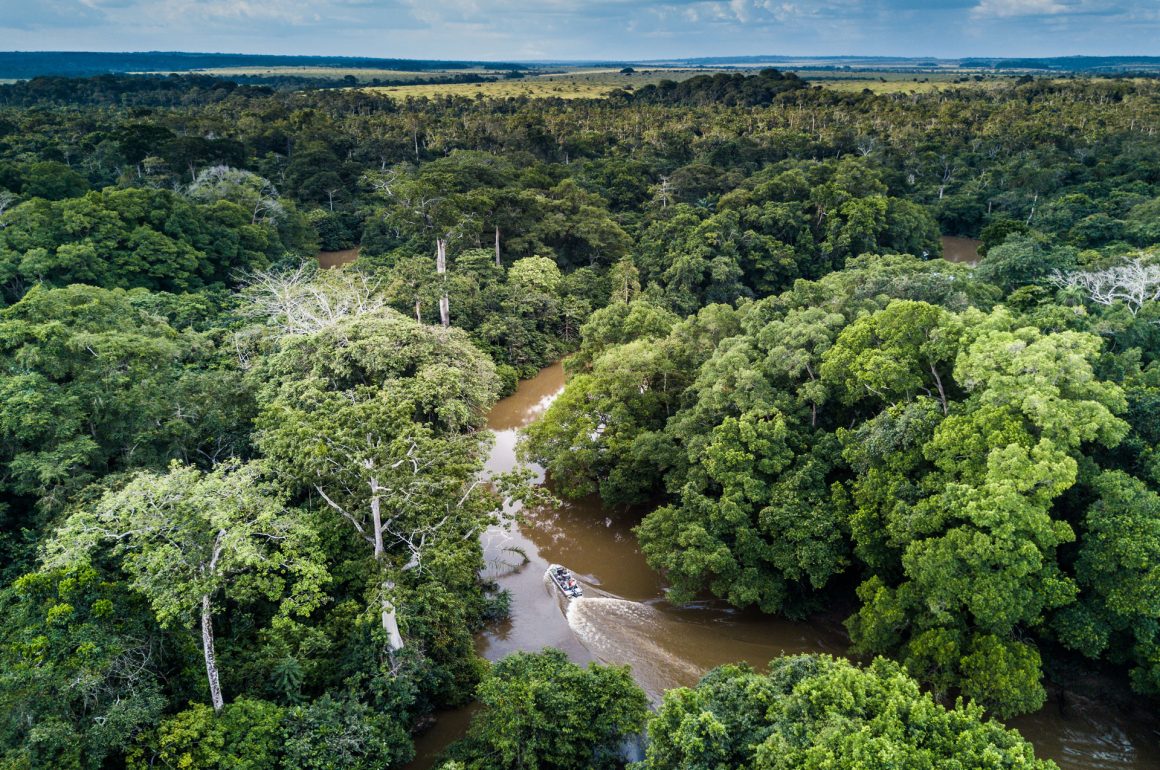 Hot summer days, often reaching 40C/104F, time to open another beer and dream of birding some cooler place, a place where deep shade of tall trees controls the heat… Perhaps the world's second largest rainforest?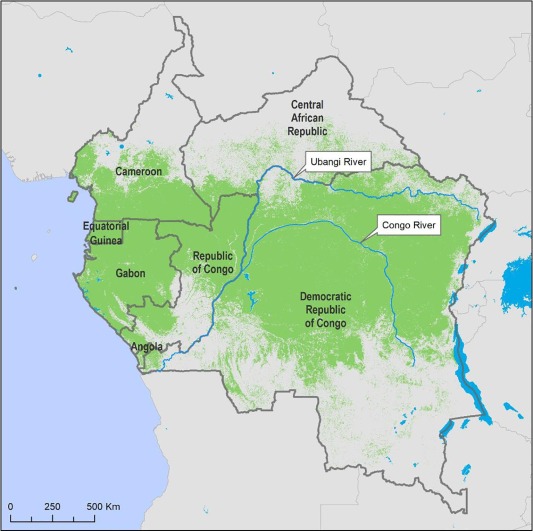 The Congo is one of the deepest rivers in the world with depths sometimes exceeding 220 meters (720 feet). The Congo Basin, second in size only to the Amazon, spans six countries: south-eastern Cameroon, portions of southern Central African Republic, the north and central Democratic Republic of the Congo, Gabon, Equatorial Guinea and the Republic of Congo.

The Congo Basin is 300,000 square miles (777,000 square kilometres) in size and its forests store 25 per cent of tropical forest carbon. At the same time, 50% of the Congo Basin forest has now been allocated for logging and this region loses close to 1.5 million hectares of forest cover each year. Logging roads have opened up vast areas to commercial hunting, leading to industrial-scale poaching and a more than 60 per cent drop in the region's Forest Elephant population in less than a decade. Because of poaching and disease combined, the Western Lowland Gorilla's numbers have declined by more than 60% over the last 20 to 25 years. Looking forward, the biggest threats to the Congo rainforest come from industrial plantations, especially for palm oil, rubber, and sugar production.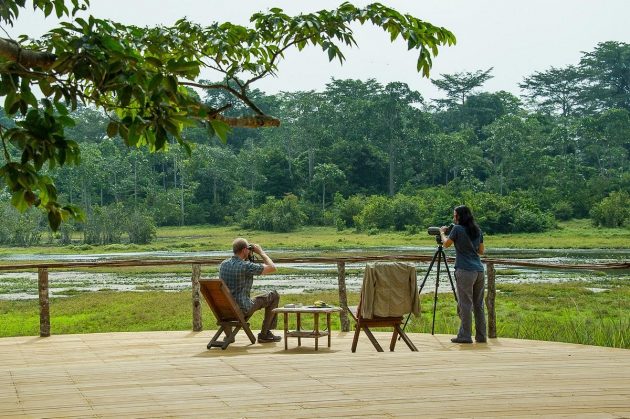 Lango Camp deck overlooking Lango Baï, by Congo Conservation Company

The forests of the Congo Basin contain more than a 1,000 species of birds, together with 400 species of mammals, including Okapi, Hippos, Leopards, Chimpanzees and Bonobos. The Congo Basin is the only place to shelter all three subspecies of gorilla: the Western Lowland Gorilla, the Eastern Lowland Gorilla and the endangered Mountain Gorilla.

The region also provides food, fresh water and shelter to more than 75 million people of nearly 150 distinct ethnic groups. Ba'Aka people are among the most well-known representatives of an ancient hunter-gatherer lifestyle.

I will now focus my attention to the three title countries, Gabon, Republic of Congo and the Central African Republic, each with about 200 mammal and 700 bird species.

Settled at the Atlantic coast, Gabon – one of the most prosperous African countries and the most stable of the trio, offers 700 birds, among them Congo Serpent Eagle, Bare-cheeked Trogon; Fiery-breasted and Gorgeous (Perrin's) Bushshrikes; African Dwarf, White-bellied, Shining Blue and Chocolate-backed Kingfishers; Long-tailed Hawk, Grey Pratincole; Vermiculated and Pel's Fishing Owls; Black-headed and Rosy Bee-eaters; African River Martin; together with Western Lowland Gorilla, a chance of Chimpanzee and Mandrill. It is possible to travel through the country, staying in basic to moderate hotels and visiting various national parks.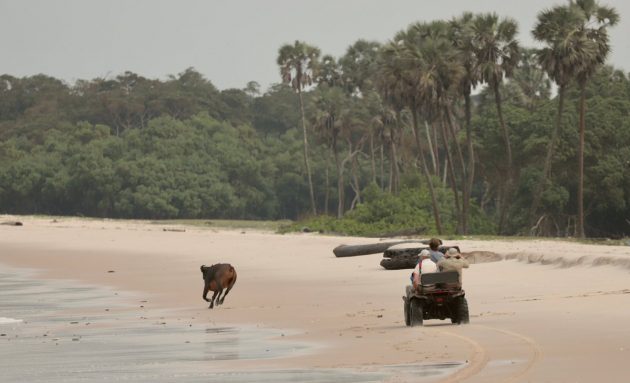 Loango Lodge beach safari by UNDP

There are 13 national parks in the country, all created in 2002 when President Omar Bongo established Gabon's National Agency for National Parks. Birdwise, the most important are the Leconi area in the southeast, near the border with the Congo, as well as centrally located Lope and Ivindo National Parks, with 430 forest bird species, one of the bird-richest rainforests of Africa. Finally, by the Atlantic Coast lies the Loango National Park with large areas of pristine lowland forest, tranquil, forest-lined rivers, pans and open grasslands with White-crested Tiger Heron, African River Martin, Congo Serpent Eagle, Long-tailed Hawk, Red-chested Goshawk, Forbes's Plover; White-bellied and Shining Blue Kingfishers; Loango Weaver, Bare-cheeked Trogon; Vermiculated and Pel's Fishing Owls; Bates's Nightjar, Hartlaub's Duck, African Finfoot, etc. Ecotourists' accommodation was developed by Gabon Wildlife Camps & Safaris, parallel with the parks themselves, e.g. in the Loango National Park you may choose from Loango Lodge, Louri Wilderness Camp and Akaka Forest Camp; in the Ivindo National Park there is a Kongou Forest Camp, in the Lope National Park Moabi Tented Camp, etc.

Republic of the Congo (former French Congo; not to be confused with much larger Democratic Republic of the Congo, formerly Belgian Congo) is sometimes informally called Congo-Brazzaville, after its capital city. In the remote northwest of this country in Odzala-Kokoua National Park, accessible by air from Brazzaville, nearly 450 species of birds await you (330 breeding), including Congo Serpent-eagle, Red-chested Owlet, Black-collared Lovebird, White-bellied Kingfisher, Blue-headed Bee-eater, Grey-headed Broadbill, Angola and West African Batises, Eastern Wattled Cuckooshrike. Mammals include Western Lowland Gorilla, Forest Elephant and Forest Buffalo, and eleven diurnal primates. Odzala Discovery Camps is running three lodges in and by the park, the camps have a network of trails, decks and boardwalks, and birding is excellent. You might find African Grey Parrot or Hartlaub's Ducks drawn to the salty water of the baïs or Bare-cheeked Trogons and Blue Malkohas in the trees.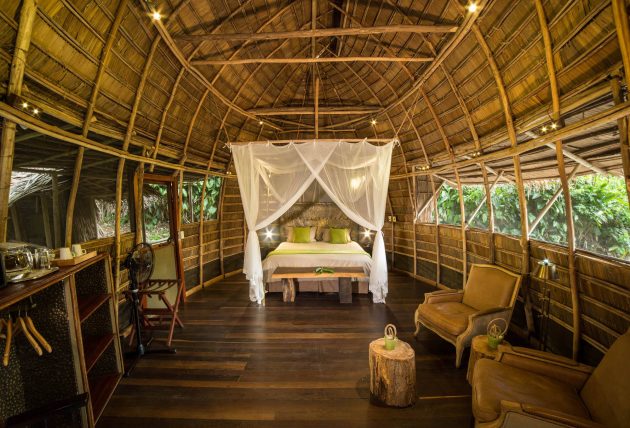 Ngaga Camp's (above) main draw is tracking the Western Lowland Gorilla (2 habituated groups out of 20 living in the area, time limited to 1 hour). Other primates include Chimpanzee and Putty-nosed Monkey, several duiker antelope species, etc.

Lango Camp is situated along the mineral-rich baï in the heart of the park, visited by Forest Buffalo, Forest, Elephant, Sitatunga and Bongo antelopes, Allen's Swamp Monkey, large flocks of African Grey Parrots… Game viewing on foot or by motorboat.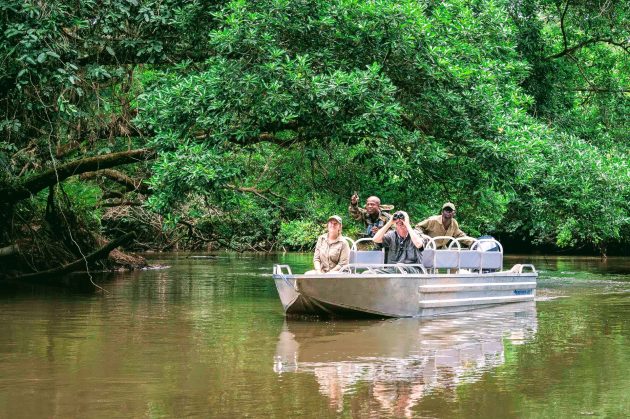 Mboko Camp is in the open savannah dotted with termite mounds next to the riverine forest (it has a 700 metres long boardwalk through semi-flooded forest). Forest Elephants here graze inside the camp, other species to be seen include Bongo and Dwarf Crocodile. Game viewing on foot, by 4×4 or by motorboat.

The least stable and the most troublesome of the trio, the Central African Republic (CAR), has its finest reserve, Dzanga-Sangha, in the southwest, by the border with Congo. The best way of visiting it is by air from Brazzaville to Kabo Airstrip, inside Congo, but near the CAR border, and from there several hours upriver by boat. Among about 430 species of birds are Grey-necked Rockfowl (with small breeding colonies in the area), Frazer's Eagle Owl, Vermiculated Fishing Owl, Hartlaub Duck, African Grey Parrot, Great Blue Turaco, Bare-cheeked Trogon, Black Bee-eater and hornbills. The Sangha Baï, a large mineral-rich forest clearing, offers Forest Elephants, Forest Buffalo, Red River Hog, Bongo and even Lowland Gorilla. There are also some habituated groups of Lowland Gorillas, and over 200-strong habituated troop of Agile Mangabey monkeys.

Perched on the banks of the Sangha River, Sanhga Lodge (above) is simple yet idyllic. Some of the birds living around the lodge include Plumed Guineafowl, Grey-throated Rail, Lyre-tailed Honeyguide and Sangha Forest Robin (a subspecies of the Forest Robin), as well as breeding Grey-necked Rockfowl. Elephants, Buffalos and Sitatungas can be watched from viewing platforms, Gorilla tracking on foot, and riverine forest exploration by motorboat. Another accommodation option is the nearby Doli Lodge (Doli means "elephant" in the Sango language), farther up the river.
Photos by Congo Conservation Company (4), Sanhga Lodge (1) & UNDP (1)
Cover photo: Odzala-Kokoua National Park, by Congo Conservation Company/Odzala Discovery Camps