Okay. I know at 10,000 Birds, we're not only supposed to wow you with blog articles, but we're also supposed show you some awesome photos. So let me get this photo of a Trumpeter Swan out of the way: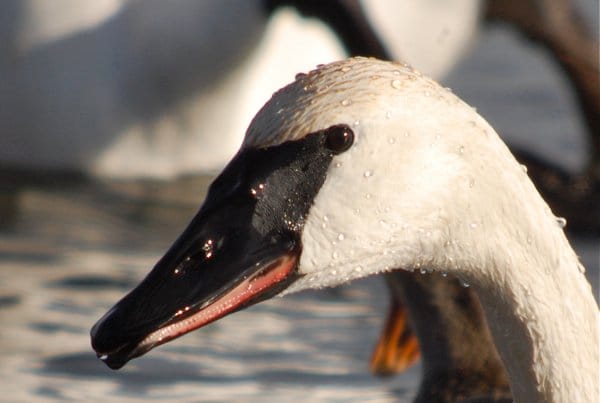 That's an up close shot, but sometimes you can see some cool things when you are far away. I'm in the middle of three different bird surveys for work and it's been a fantastic way to watch the changes in fall migration in Minnesota.  One of them is a waterfowl usage survey over the upper Mississippi conducted by plane…or as I like to call it: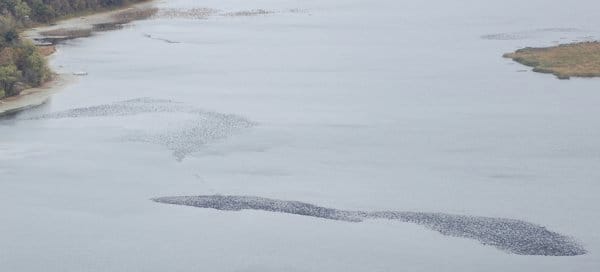 Duckmaggedon! Although, technically the above photo would be Cootpacalypse.  There are at least four large flocks of American Coots in the above photo.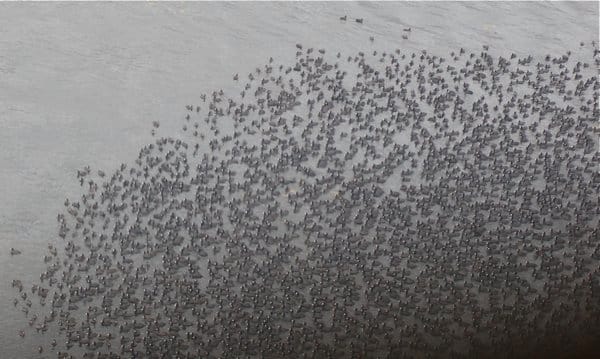 Here's a closer view.  I know a piece of the propeller is in the way of this shot, but it's about the best I can do while I count–isn't that an intense amount of coots?  It's a crazy way to watch and id birds–from above.  Most field guides do not prepare you for that because most people look up as birds fly over.  Our job is to fly above the Mississippi River at a about 120 feet going about 100 mph and count and ID ducks. It's not an exact science, but it's to get an idea of general usage and to see how the habitat can be managed in a better way for migratory feeding.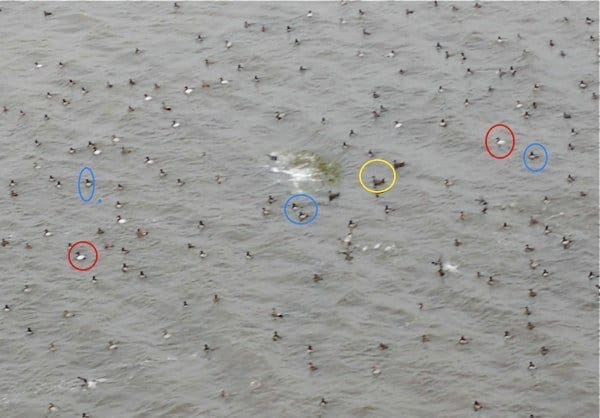 Here's an example of what we see.  Can you make out any species in the above photo? The birds in red are Canvasbacks, the birds in blue are Ring-necked Ducks and the birds in yellow are Gadwall.  There are a couple of American Wigeon mixed in there too.  We don't have time to count them individually, especially when multiple species comprise the flocks and we call out our notes into digital recorders to be transcribed later. We can usually see a large flock ahead of the plane and then note in our digital recorders the size of the flock, "5000 birds" and then give percentages of what we see (to save time I usually have birds down to single syllable words), "25% cans (Canvasback), 10% wig (American Wigeon), 25% gad (Gadwall), the rest rings (Ring-necked Ducks)."
If you can do those sorts of estimations while zigging and zagging in a plane without throwing up–then you may have what it takes to count ducks in the fall too.
If you'd like to follow any of our waterfowl numbers this fall you can check out our updates on the US Fish and Wildlife site.