Forgive me for a momentary lapse from relatively straightforward bird-blogging.  My St. Louis Cardinals, the storied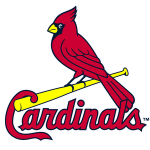 National League franchise, have won their 18th National League pennant in convincing fashion.  It wasn't easy for the Redbirds to get to this spot though – the Cardinals season has had more ups and downs than an American Goldfinch in flight. Adam Wainwright, our best starting pitcher, went down to a season-ending injury in spring training and that was just the beginning of an absolutely insane season. But the Cardinals persevered and managed to claw their way into the playoffs via the wild card spot on the final day of the season after almost everyone, including me, had declared the team dead after a dismal stretch in late August.  Once they squeaked into the playoffs the Cardinals won a tough series with the highly powered and highly favored Philadelphia Phillies and then managed to knock off a divisional rival, the Milwaukee Brewers, in six games to clinch the pennant.
Today starts the World Series where we face the formidable bats of the Texas Rangers and hope that the starting pitchers remember how to pitch and that the bats stay hot and the relievers as cold as penguins on ice.  We have one of the best players to ever play the game in Albert Pujols, our amazing first baseman, seen below striking out against the Mets three years ago.  Notice how even while striking out he looks good?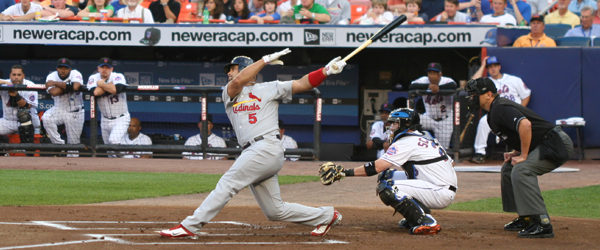 And while Albert might be striking out in that picture he will not strike out much against the Rangers.  I'm predicting the Cardinals in six games, with Albert as World Series MVP.  How do you think it will end up?
Go Cardinals!  Let's just hope we don't end up looking like this.
And, if somehow you ended up here looking for information on what, exactly, the bird called a cardinal is you should go take a look at this.
…