When last I birded with Patrick Belardo he was still cursed so I was really looking forward to birding with him again to determine if whatever evil had a hold on him had let go or if he was doomed to never again see a rarity.  Our plan this past Monday was to take a day off of work and head east onto Long Island to seek out rare terns and scope out seabirds to add to Patrick's life list.  Monday dawned sunny and hot and once Patrick picked me up and we headed east it only got sunnier and hotter.
Rather then head directly to Cupsogue Beach County Park, our main destination for the day, we decided to give the tides time to align properly and detoured briefly to Jones Beach where the birds we expected to find on the spit by the Coast Guard station were sadly lacking.  Sure, Laughing Gulls, Willets, and Common Terns are nice but they were not exactly the stunners for which we were hoping.  I entertained myself by trying to get shots of the fly-by terns with my 60mm lens, the best of which, heavily cropped, is below.  Not bad for a 60mm, no?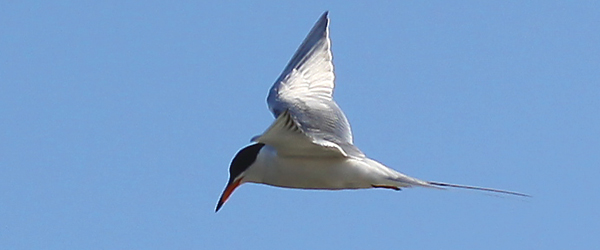 We gave up on Jones Beach and continued east.  Though I didn't say anything to Patrick I must say that I was concerned by the poor showing at Jones Beach.  Was he still cursed?  Was the curse contagious?  Was I doomed as well?
A stop for iced coffee and junk food (junk food before lunch is awesome) buoyed my spirits and so did our arrival at Cupsogue Beach County Park where I have seen some awesome birds.  We first headed to the beach side to do a seawatch, and was the sea ever worth watching.  I don't ever remember seeing the Atlantic Ocean so beautifully blue before.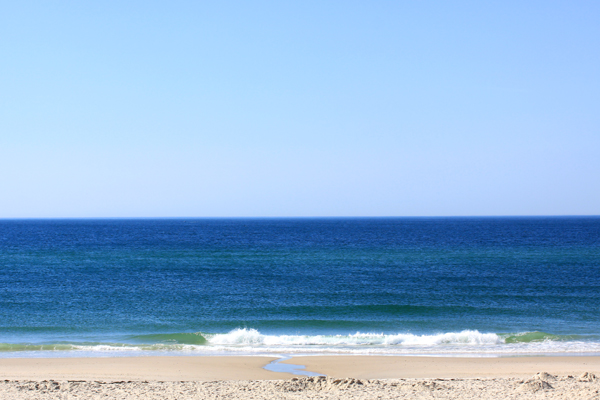 While the ocean was nice the birds over it were not so wonderful, and almost an hour's worth of watching the sea only netted us a handful of Northern Gannets and a Common Loon as highlights, not exactly what we had been hoping to see.  Even the nesting Barn Swallows couldn't get me excited about birding, considering that my birding partner for the day was about as likely to see a good bird as the Chicago Cubs are to win the World Series (or, for our non-American readers, as likely as the 2010 French football team to win a game without a handball).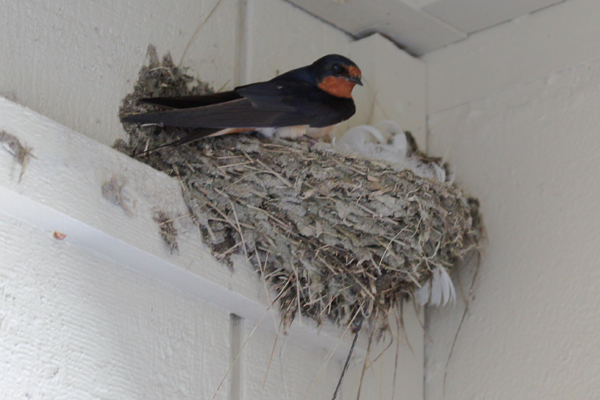 From the beach we walked west and then to the bay side where I wanted to scan the bay a bit and look for Seaside Sparrows in a really good saltmarsh.  The bay was disappointing and the Seaside Sparrows refused to show, making me wonder about Patrick even more, but, finally, we managed to get a Saltmarsh Sparrow to give up good looks so our walk wasn't a total loss.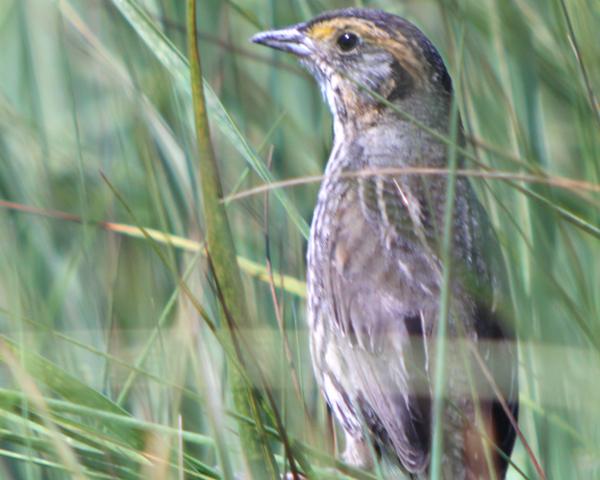 So, is Patrick still cursed?  I was wondering the same thing as we walked back to the parking lot and prepared ourselves for the highlight of the day, our walk out onto the mudflats on the rising tide to search for rare-for-New York terns.  You, dear readers, will have to wait to find out whether or not The Belardo Curse is still in effect because the story of our adventures in the mud won't be shared until next time…