When the birding day starts with a frantic search through a backpack for a digiscoping adapter at the first birding stop one would think that the day was doomed. That is kind of how I felt when Andrew Baksh and I arrived at Jones Beach early on Saturday morning and I realized that I had my scope and I had my camera but I did not have my DCA, the all-important adapter that allows me to connect the two together and digiscope. The alternate way of looking at things would be that the day could only get better from such a low point, and, well, it certainly did!
To start with, the sandbar at the Coast Guard Station at Jones Beach was positively packed with birds: we walked away from an hour watching the bar with over forty species for the morning (of course some of these birds were seen or heard in the hedges and lawn behind us as we focused on the sandbar). Over fifty Red Knot in a variety of plumages were the highlight but we also saw Short-billed Dowitchers, Black-bellied Plovers, Semipalmated Plovers, Semipalmated and Least Sandpipers, Willets, Ruddy Turnstones, Piping Plovers, a Spotted Sandpiper, a Lesser Yellowlegs, over one hundred American Oystercatchers, and, well, you get the idea. Also on the sandbar, and germane to the title of this blog post, were four species of tern: Least, Common, Forster's, and Gull-billed. Some Black Skimmers, like the three below, were also loafing on the bar.
After awhile we decided to walk to the Fishermen's Lot, checking the edges along the way to see if we could track down any migrant passerines. While we didn't find any migrants we did start to pad our day list with species like Brown Thrasher and Yellow Warbler. From the Fisherman's Lot we scoped the bay but failed to find the bird we were really hoping for, a Brown Pelican. Neither of us had ever seen a pelican in New York before and a recent influx to the south shore of Long Island had us hoping, but even after we headed over to the beach at West End 2 we had no luck finding any pelicans. Of course, once Andrew checked his email we found out that while we were exploring Nassau County a Brown Pelican showed up at Riis Park in Queens!
No matter, we were having fun and seeing good birds ourselves! Our next stop, after fortifying ourselves with coffee and "health food" at a local Dunkin' Donuts, was Cow Meadow Park and Preserve, where we saw some more of the same shorebirds but also increased our heron total to five by adding Yellow-crowned Night-Heron and, though we didn't see them, we added Clapper Rail to our day list when we heard two sounding off at each other in the high-tide-flooded saltmarsh.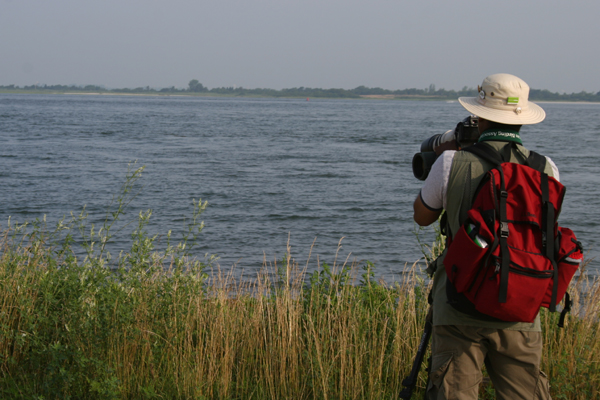 On to the east we went from Cow Meadow Park and Preserve, to the barrier beaches of the Hamptons, where beach goers probably outnumbered birds and parking was a problem. Nonetheless, we persevered, and added nice birds like Purple Martin, Seaside Sparrow, and, most amazingly, Whimbrel, to our day list. The way we saw the Whimbrel was just amazing and pretty much random luck. Andrew had pulled over to allow an idiot tailgater to go by when he noticed some peeps. Because we are birders we had to figure out if the peeps were Least or Semipalmated Sandpipers, and, as we figured out they were Least Sandpipers, a bigger shorebird flew past behind them, calling "quiquiquiquiquiquiqui" from its long, downcurved bill as it flew. At first, neither of us managed to get the word "Whimbrel" out of our mouths because we were both so shocked to see one (neither of us had ever seen one in New York before though they are regular, but rare, migrants). Eventually, though, we shouted the word out and figured we had our bird of the day…but we hadn't yet birded the flats at Cupsogue County Park.
Upon our arrival at Cupsogue, Andrew and I had originally planned to walk straight out onto the flats but when we got through the saltmarsh to the edge of the flats we found the flaw in our plan: the flats were still under rather a lot of water because somehow low tide was not following the tide table. So, to kill time we walked out on Dune Road and tried to scan for pelicans but the sheer volume of boat traffic made the presence of pelicans a very unlikely prospect.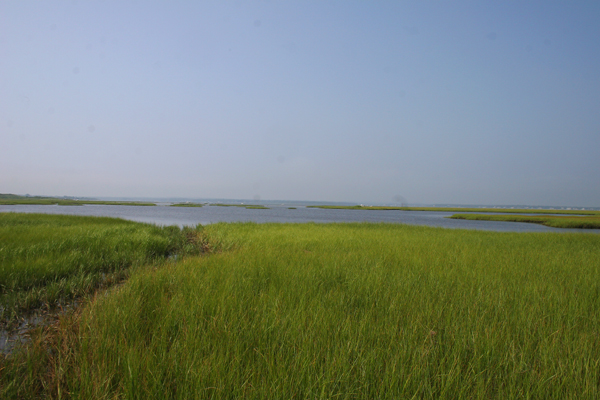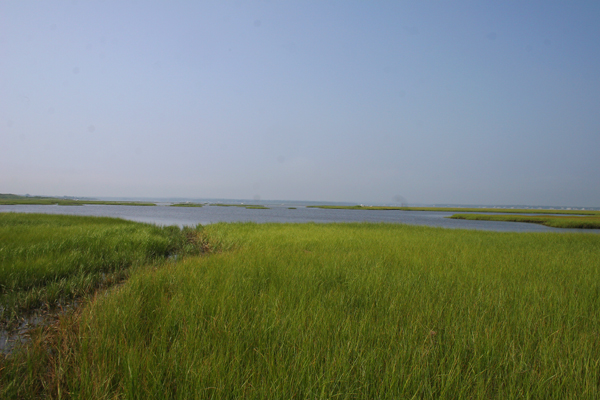 We gave up on our pelican search and joined some fellow birders at the refreshment stand where I cooled myself off and replenished the salts I had sweated by swilling some margaritas. By the time the tide was low enough to walk out on the flats I had decided to leave my adapterless camera behind where I couldn't accidentally drop it into the water, and just lug my scope and bins out onto the flats, so there are no pictures to share of the amazing birds we spotted.
There were five of us who made the walk out onto the flats, Andrew and I, and Shai, Pat, and Andy, and the birds were absolutely great. At first, it seemed that we were just seeing the usual suspects, but then Shai picked out a Black Tern that was gradually molting out of breeding plumage. Then a Roseate Tern was spotted, always a pleasure, especially considering that it was only the third time I had ever seen a Roseate Tern. Pat called out that two Royal Terns were flying past, a new bird for the year for me and Andrew both, and our seventh tern species of the day (eight if you count skimmers). Shai also managed to pick out a brick-red Long-billed Dowitcher and gave us a clinic on how to tell a Long-billed Dowitcher from a hendersonii Short-billed Dowitcher.
That, we figured, considering that the sun was headed down, the wind was picking up, and the tide was turning, was that. A pretty great day of birding, all things considered. Then, just to show that he never gives up, Shai called out "Sandwich Tern!"
Sandwich Tern, dear readers, was a lifer for me. And as I looked through my scope at the ninth species of tern for the day, a tern with a diagnostic pale-tipped black bill, in my thirteenth consecutive hour of birding, I thought to myself, "Right, let's go have another margarita then."
So we did. And I enjoyed it nearly, but not quite as much, as I enjoyed seeing the Sandwich Tern.
Then we had the long ride back to Queens, lengthened by lots of traffic. I got home at 11:20, showered, and was asleep by 11:45. And then I woke up this morning and made my way over to the East Pond of Jamaica Bay, but that is a story for another day…