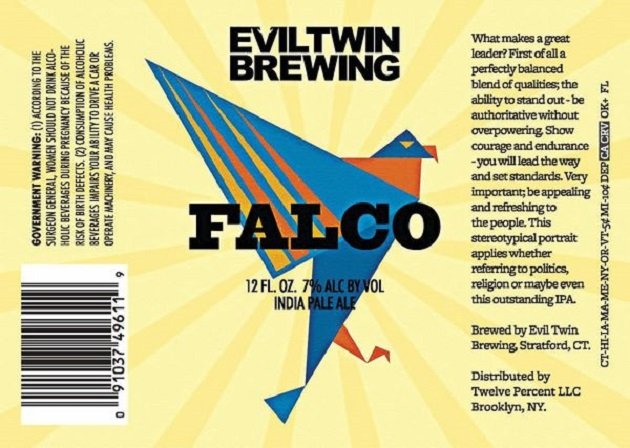 If there's a "trash bird" in the world of craft beer, it's unquestionably IPA. Like starlings and pigeons, these flamboyantly hopped beers are everywhere, aggressively crowding out more modest offerings in taprooms and in the beer aisle, and always leaving a bitter aftertaste, whether you want it or not. These days, it seems that every brewery makes at least one, if not several IPAs, foisted on the market in every imaginable form and permutation of hops, sometimes in the latest attempt to out-hop the next brewer in what's become a long-drawn-out IBU arms race. There's also a somewhat insufferable strain of hoppy chauvinism running through the craft beer scene, one that's not shy about questioning your devotion to "real" beer based on the Humulus lupulus content of your glass. It's enough to make even the most hardened hophead yearn for the occasional break from the monotonous procession of IPAs.
But the fact is, IPAs are often delicious and the hoppy bitterness can be pleasingly addictive – and as they make up nearly 30% of the craft beer market, it's inevitable that I'll be reviewing one here from time to time. Not that I'm complaining: I like them just fine and this IPA – Falco by Evil Twin Brewing – is a great showcase for some of the most sought-after hops in brewing today.  Besides, I couldn't resist the name, or that striking, smartly designed label.
Evil Twin Brewing was founded by Danish brewer Jeppe Jarnit-Bjergsø in 2010 as a so-called "gypsy" or "phantom" brewery; unlike most brewers, Jarnit-Bjergsø is a wanderer without a brick-and-mortar brewhouse of his own to call home. Instead, he formulates his recipes on paper as blueprints for other brewmasters to follow, farming out production to several far-flung collaborators. So far, this peregrine approach to brewing has worked well, as Evil Twin has gained as much of a reputation for its unpredictable use of unusual ingredients as it has for its unconventional business model. As an American-style IPA, Falco is one of its more straightforward products.
The genus name Falco is said to derive from the Latin falx, meaning a sickle, the talon-like farm tool used to harvest grain, making it a fitting name for any malt beverage. While I know falcons mostly as grim reapers of pigeons, as a beer drinker, I also happily endorse any agricultural implement inspired by the raptor's most fearsome anatomical feature, particularly when it's put to good use in the barley mow. I admit it's unlikely that Evil Twin was pondering the etymological roots of raptor names in ancient Roman farm tools when they named this beer, but here at "Birds and Booze", it's my sworn duty to play fast and loose with the allusions between alcoholic beverages and our feathered friends in any way I can, no matter how tenuous they may be. What I do know is that Evil Twin's Falco was in fact named for a hop blend called Falconer's Flight, a proprietary mix of Pacific Northwest-grown hops resourcefully concocted by Washington-based supplier Yakima Chief – Hopunion in the wake of the 2007-2008 global hop shortage when individual strains were in high demand and often unavailable to brewers. The blend itself has nothing to do with falcons, but was named in memory of Oregon brewer Glen Hay Falconer, who met an untimely death in 2002.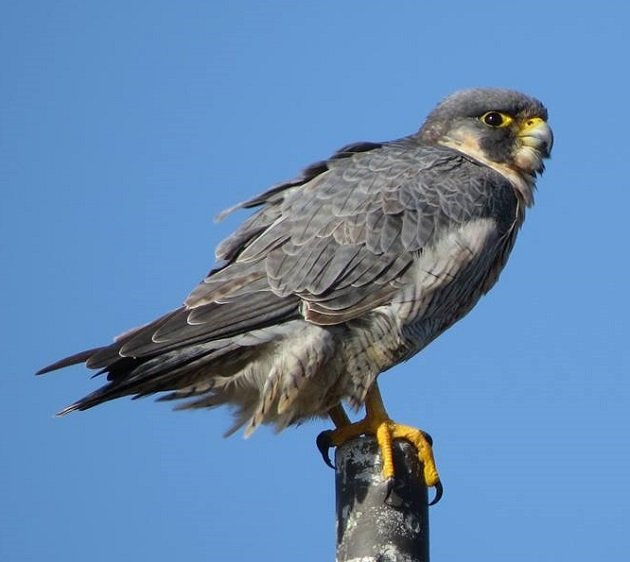 A Peregrine Falcon resting on its sickle-like talons, about to put the hammer down
Falco is hopped exclusively with this blend. According to online sources, Falconer's Flight contains the popular hop varieties Citra, Simcoe, Sorachi Ace, along with a few unnamed experimental strains. Citra is one of the most highly-prized hops among brewers, noted for its intense citrus and tropical fruit aromas, most often recalling passionfruit. Simcoe is another favorite, offering more earthy aromas that many tasters liken to pine. And Sorachi Ace is generally described as lemony, with faintly herbal notes suggestive of dill.
Given this potent hop lineup, it comes as no surprise that Falco is a hugely aromatic beer. The beer pours with a deep, burnished gold with a slight bit of haze, capped with a towering head of ivory foam. Falco presents an assertive but intricate bouquet, with tangerine, orange pith, and pineapple standing front and center, and muskier pine aromas in the background. Subtler, fruity fragrances like cantaloupe come through in spots, and there are hints of breadiness as well. The flavor hints at passionfruit and pineapple, with a bitterness that's firm, but not bracing. A sweet, cracker-like maltiness provides an understated counterpoint to the dense hop overlay above. The dry, resiny finish smacks of grapefruit. On the whole, it's more well-rounded than most beers in this style, but the Falconer's Flight blend provides plenty of hoppy satisfaction for the most devoted IPA fan.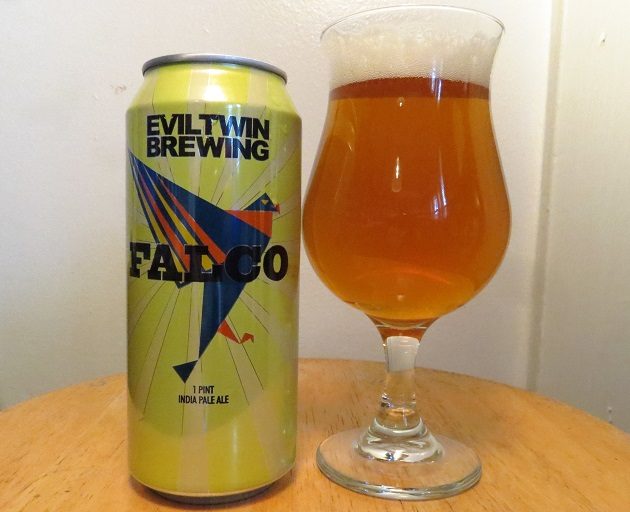 Arguably, a very fresh, hoppy IPA is often best enjoyed on its own, but they make great companions to food, as well. Their pronounced flavor profiles make them the suitable matches for spicy, grilled, and other intensely flavored fare, and the bitter dryness is often an asset in cutting through greasy fried foods. Obviously, IPAs pair well with citrus desserts – and more surprisingly, they make an astonishingly good complement to carrot cake.
I like IPAs year-round, but with the fall hawkwatching season upon us in New York and elsewhere, it's a good time to be on the lookout for falcons, maltose and otherwise.
____________________________________________________________________
Evil Twin Brewing Falco India Pale Ale




Four out of five feathers (excellent)
____________________________________________________________________
Birds and Booze News:
Blue Owl Brewery of Austin, Texas has teamed up with the Travis Audubon Society to create a beer to raise awareness for the endangered Golden-cheeked Warbler.
Titletown Brewing Company of Green Bay, Wisconsin has brewed Swifts' Night Ale to help raise awareness of recent declines in Chimney Swift populations.
Lastly, it's not exactly birds, but they've still got wings: Seatuck Environmental Association of Islip, New York is holding its eighth annual Bats and Brews Benefit, a fundraiser to support wildlife conservation on Long Island.