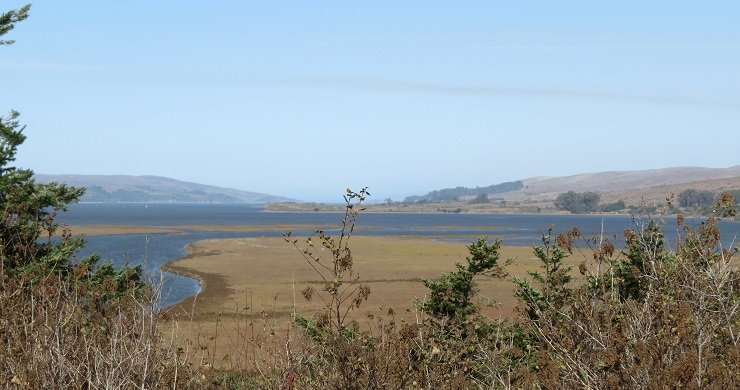 As uncertain as the future may be, I'm sure we're all ready to bid farewell to the year 2020. And while we're all looking forward to 2021 with an uneasy mix of hope and trepidation, I decided to spend this week's post looking back at a happier time in my own life when carefree travel was still possible – though not without its own hardships.
In October of 2017, I took what was my first trip to California as a birder. My girlfriend (and later fiancée) Katherine and I had planned an eight-day vacation to the Bay Area, mostly to visit her sister in inland Napa County, but also to see as much of San Francisco as we could. It was our first real vacation away from New York together and we were really looking forward to it.
After landing at SFO, we got off to a whirlwind start, hopping on BART to the 24th Street Mission station for "super burritos" at El Farolito, still shouldering our luggage into this tiny landmark taquería. After checking into the excellent hostel at historic Fort Mason Park just east of the Presidio, we spent the rest of the afternoon and evening being complete San Fran tourists: Katherine the architect loved wandering around Russian Hill and Cow Hollow neighborhoods with their ornate Victorian homes, while I added Western Gull (Larus occidentalis), Golden-crowned Sparrow (Zonotrichia atricapilla), and Brown Pelican (Pelecanus occidentalis) to my life list as we strolled along the marina. I'm not ashamed to admit that we had dinner at the hopelessly touristy Fisherman's Wharf at sunset, with two orders of clam chowder in bread bowls, washed down with cool bottles of the city's native Anchor Steam Beer.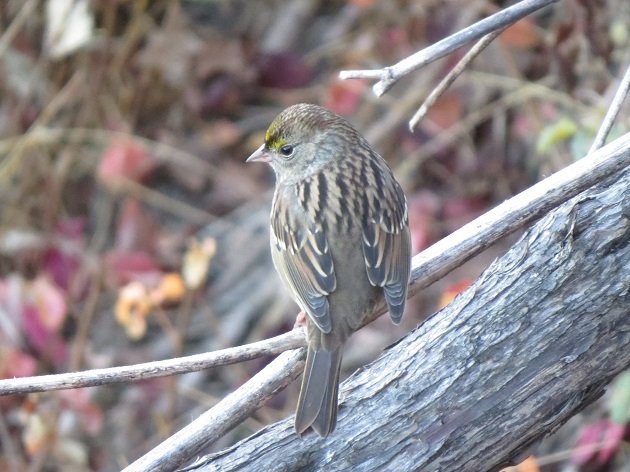 My lifer Golden-crowned Sparrow at the Lombard Street Reservoir in San Francisco, just around the corner from the most famous crooked street in the world.
The next morning was Sunday, October 8th, and I was up before sunrise to bird the gardens of Fort Mason, leaving Katherine to sleep in for another hour or two before we got ready for a long day of city sightseeing. But when I stepped outside, there was an unmistakable haze all around in the dim twilight, which even I realized was not San Francisco's famous fog. Something was amiss. No fires were visible, but the air reeked of smoke. I pulled out my phone and searched for "San Francisco" and "fire", expecting to find news of some conflagration nearby in the city. Instead, there were dire reports of overnight wildfires in Sonoma and Napa Counties, with the nearest over twenty miles away on the north shores of San Pablo Bay. We'd arrived in San Francisco just in time for the very beginning of the record-breaking 2017 Northern California wildfires.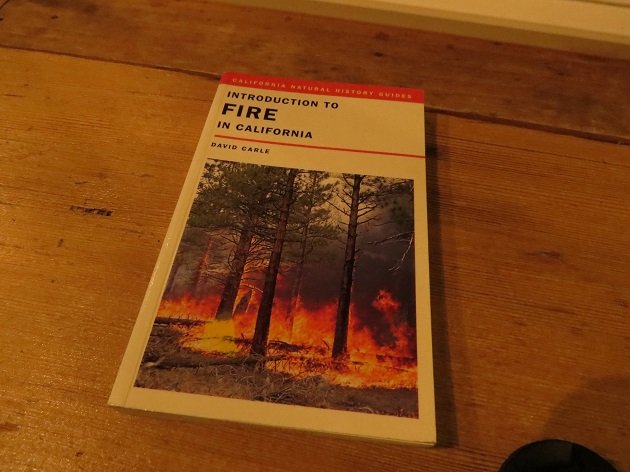 The title of this book I found in the library at the Point Reyes hostel was just a little too accurate a description of our vacation thus far.
Of course, we never ended up making it to Napa County that week, where we'd been planning to spend part of three days of our vacation. I cut short my birding that morning, headed back to our room to wake up Katherine, and told her she'd better call her sister. With the rest of our vacation now up in the air, we did our best to enjoy the next two days in San Francisco as planned, all the while keeping in touch with her sister, who was making plans to evacuate Napa County. As the days went by, the fires worsened, but the coast north of San Francisco was so far spared. So, on Tuesday, we crossed the Golden Gate Bridge into Marin County, stopping at Muir Woods National Monument on the way to Point Reyes National Seashore, where we spent the rest of the day getting lost in the fog high above the crashing Pacific waves below.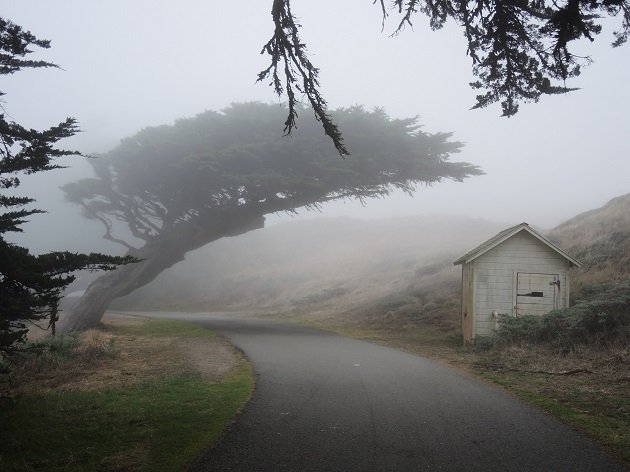 Katherine took this photo of the strange, foggy landscape of Point Reyes.
After a night at the Point Reyes hostel and a long walk to Limantour Beach the next morning, Katherine and I drove into Point Reyes Station for a breakfast of buttermilk blueberry scones at the excellent Bovine Bakery, where the Brewer's Blackbirds (Euphagus cyanocephalus) outside gathered around us and begged for crumbs.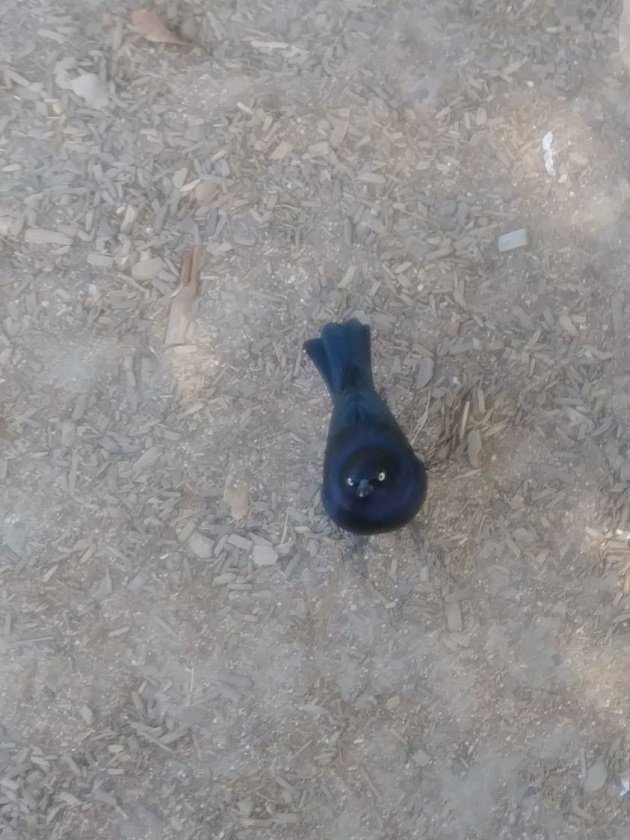 I wasn't joking – the Brewer's Blackbirds outside the Bovine Bakery really were expecting us to share our scones with them.
Up to this point, our trip was – amazingly – going as planned, despite the natural and humanitarian disaster that was unfolding at what was for us a safe but still troubling distance. But Point Reyes represented the turning point – and the high-water mark – of our trip. With fires getting out of control just east of us in Santa Rosa, we knew we would be retreating to the south before long. But I knew we couldn't come this far without making one more stop up north before turning back to San Francisco.
When you're in this quiet part of California, the best meal you can treat yourself to involves a short drive up the Pacific Coast Highway, which snakes along Tomales Bay to Marshall, where the Hog Island Oyster Company sells fresh oysters by the dozen from their barebones wholesale store. The service and accommodations are sparse; just a handful of weathered picnic tables stand out back by the bay for seating and you have to shuck your own oysters – but the views and the atmosphere are incredible.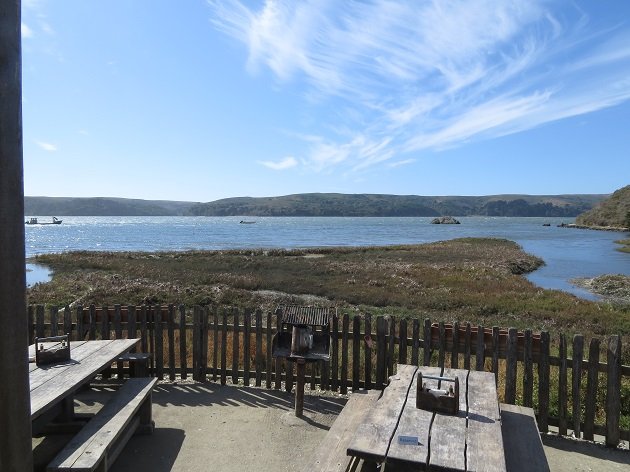 The view of Tomales Bay from the picnic tables at Hog Island Oyster Company in Marshall, California.
As we'd just eaten our breakfast with the blackbirds, Katherine and I had some time to kill before our next meal. We picked up extra provisions to complement our oyster lunch at the Cowgirl Creamery Cantina, a small shop in Point Reyes Station run by the award-winning cheesemakers at Cowgirl Creamery. We grabbed a baguette, green olives, a local saucisson sec, a lemon to cut up for the oysters, and a round of Chimney Rock, an earthy cow's milk cheese made by Cowgirl Creamery with shiitake mushrooms and summer savory. I also picked up a bottle of Albion Amber Ale from the Marin Brewing Company. Having just begun my tenure here at 10,000 Birds covering the Birds and Booze beat a month before, I was delighted to find a Great Egret (Ardea alba) on the bottle. Despite our well-laid vacation plans beginning to unravel due to forces beyond our control, we had all the makings of a lovely lunch by the bay – once we'd gotten to Hog Island and bought our oysters, that is.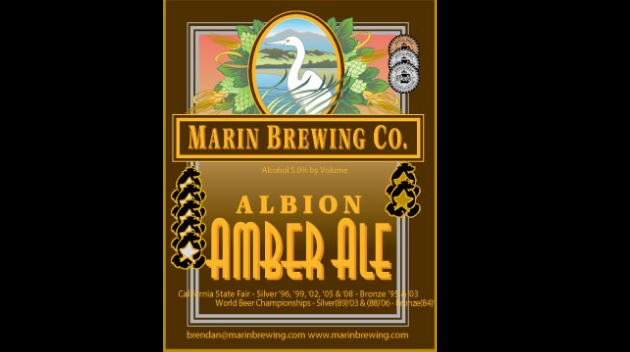 Katherine had plans to call her sister that morning so we could figure out when and where we might meet up with her, now that she'd finally evacuated her home in Napa County (in the end, I'm happy to report both she and her house remained safe during the fires). We could have stayed in town for this call, but it was a beautiful and sunny autumn morning in Northern California, so I talked Katherine into driving over to the nearby Tomales Bay Ecological Reserve for some more inspiring scenery just outside of Point Reyes Station. She walked around with me for a little while, before returning to the car to call her sister, leaving me to roam around the saltmarshes and arid uplands on my own a bit longer. I didn't get any lifers on this outing, but I had wonderful views of some of the West Coast birds that inhabit this sublime landscape.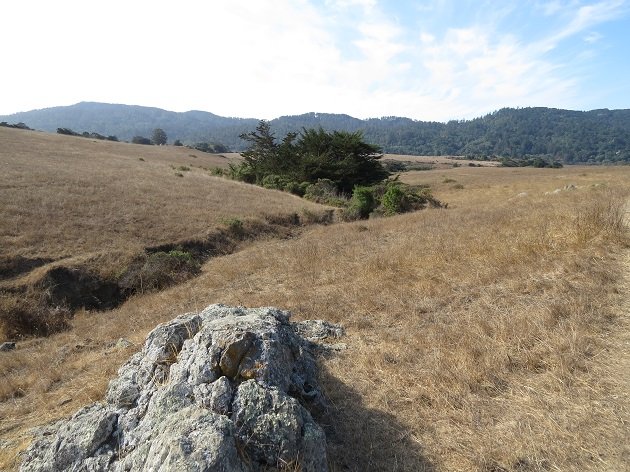 Upland habitat at Tomales Bay Ecological Reserve.
Western Meadowlark (Sturnella neglecta) at Tomales Bay Ecological Reserve.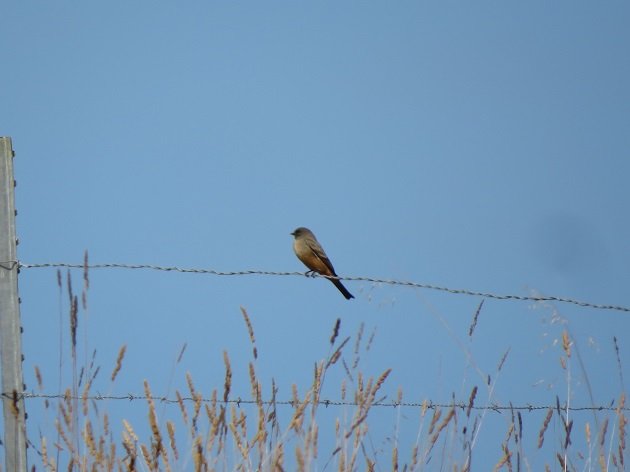 Say's Phoebe (Sayornis saya) at Tomales Bay Ecological Reserve.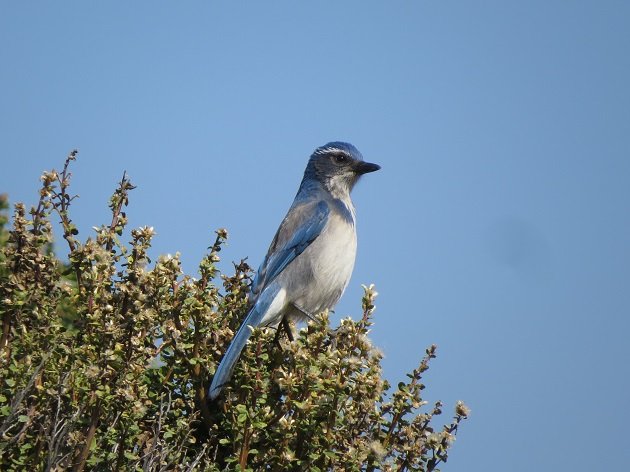 California Scrub-Jay (Aphelocoma californica) at Tomales Bay Ecological Reserve.
I got back to the car to learn we finally knew our next move: we were to head back to the Bay to meet Katherine's sister that evening in San Rafael, a city about an hour southeast of Tomales Bay. With the rest of the day to get there, we made the most of our remaining time in Marin County. We made an impromptu stop at the outstanding Heidrun Meadery in Point Reyes Station for a tour and tasting of their dry, sparkling honey wines. After this perfect aperitif, we were ready for lunch and headed up California Highway 1 to the Hog Island Oyster Company in Marshall.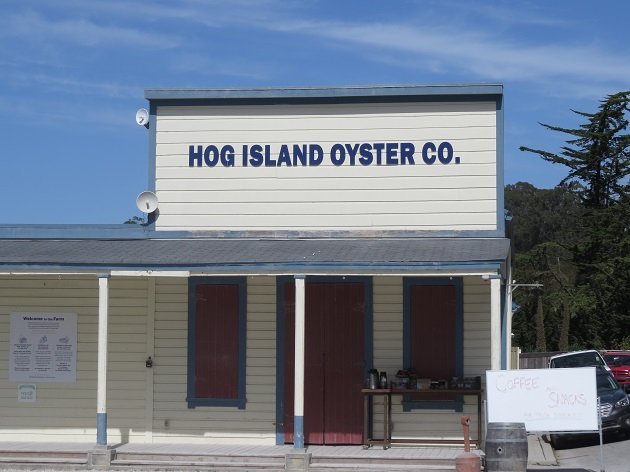 Considering everything that was happening around us, we'd been very fortunate. We were safe, as was Katherine's sister. Sure, the next three days we planned to spend in Napa County were out, and we scrambled to find last-minute accommodations and to replan the rest of our trip. But we knew these were trivial inconveniences compared to the suffering the fires were causing, which became more evident as we continued our journey that week: the highways crowded with refugees fleeing from the north and east and we witnessed a great outpouring of neighborly help for those in need at many roadside stops. It's easy to feel helpless amidst a disaster of that scale – and impossible not to feel guilt when passing through it as a mere tourist.
Despite this, our meal at Hog Island Oyster Company was everything I hoped it would be. Katherine and I ordered a dozen oysters on a tray of ice, found a seat at the water's edge out back, and unpacked our lunch. I found my oyster knife I'd thoughtfully brought all the way from New York for this very moment, and thanks to my long-ago stint as a sous-chef at a busy Manhattan restaurant with a raw bar, the shucking went very easily. It was the early afternoon on a nearly cloudless day, the bright sun was glinting off the calm waters of the Tomales Bay, and a noisy Belted Kingfisher (Megaceryle alcyon) kept us company while we ate. I know I dutifully took tasting notes on the Albion Amber Ale, too, which I intended to turn into a 10,000 Birds post someday. I never did get around to writing that post until today, and I lost track of those notes long ago, but none of that matters now: it was exactly the right beer for a perfect moment and that's how I remember it.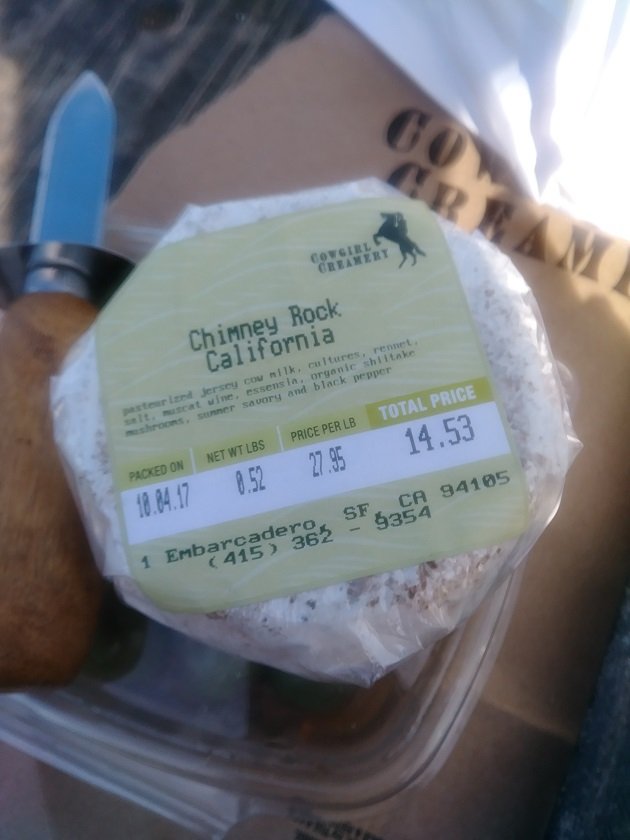 Chimney Rock by Cowgirl Creamery, alongside the very first oyster knife I've ever packed in my luggage. I hope it won't be the last time.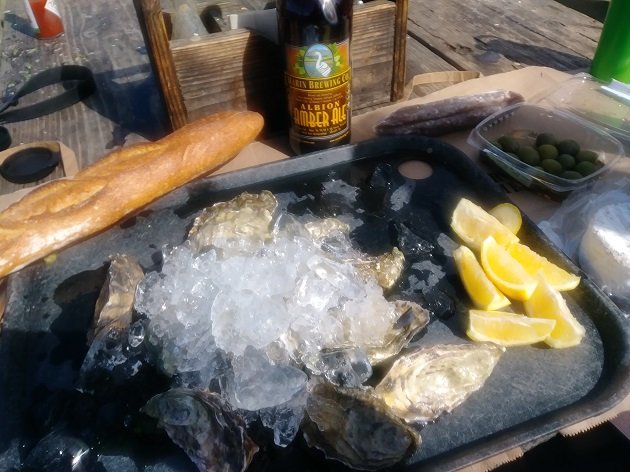 Our bayside spread at Hog Island Oyster Company.
After lunch, we were back on the road again, racing back south on California Highway 1 with "China Cat Sunflower" blasting on the car stereo.
With that, cheers, and here's to a better year in 2021. Even in the best of times, life doesn't always go as planned, but it's still possible to find moments of peace and happiness in the worst of circumstances, which is something I think we've all been discovering in the last year.
Good birding and happy drinking – and happy New Year!