I wasn't ready to talk about this last week – and besides, last week's post was mostly written a few weeks ago, before life got in the way of publishing it until then. But I wouldn't be able to go on posting another routine Birds and Booze review at 10,000 Birds this week without mentioning that Katherine, my fiancée and partner for the last seven last years, passed away two weeks ago from a very brief and unexpected illness. She was far too young and we were looking forward to many more years together.
Katherine wasn't a birder, as much as I tried to make her one early on in our relationship. I had high hopes she might take to it: she was intelligent, observant, and always curious, and enjoyed being active in the outdoors. I figured she'd be hooked after an outing or two. But that never happened, which was probably for the best. I don't think it took her very long to realize how much my obsession with this hobby interfered with meeting the demands of responsible adulthood, generally preventing me from becoming the sensible and wonderfully well-rounded person she was. I have no doubt she was somewhat horrified that her partner would feign illness and leave work early to chase a county rarity, for instance. She also thought it was perfectly reasonable to sleep in until 10:00 on a Saturday morning in May, especially after seeing me struggle through spring migration year after year, sleep-deprived, cranky, and sore-necked – not to mention being unreasonably miffed about whatever birds I may have missed. Besides, she had plenty of her own much more productive hobbies and interests, like gardening and sewing, which kept her at home and within petting distance of our two indoor cats, Baltie and Pennsy.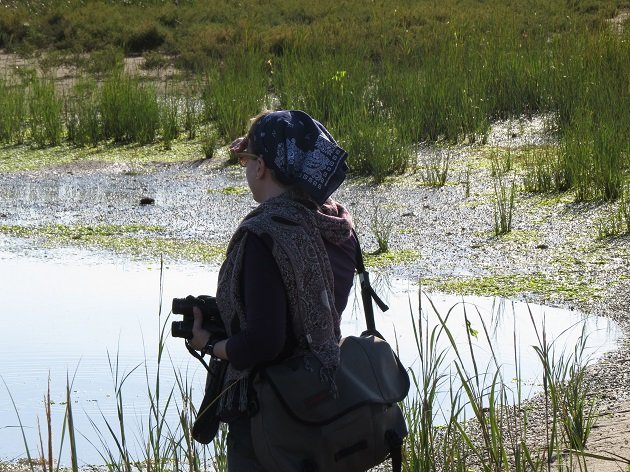 Katherine may not have been a birder, but I can't say she wasn't a good sport about going along for the ride (or more accurately, giving me a ride before I finally learned to drive). Sometimes I even caught her taking more interest in the birds than she probably wanted to let on.
However, Katherine did always enjoy helping me find birds in wine shops, beer distributors, and liquor stores – and she was actually a lot better at it than I am. A good number of "my" finds for Birds and Booze over the years should really be credited to her sharp eyes. She also traveled for work a lot and would sometimes pick up bottle and cans I would never be able to get my hands on back home in New York, which I also reviewed here. And as much as I hate to admit it, she was often a lot better at spotting real birds before I did, and without even trying. I also have to thank her and credit her patience in teaching me that all-important birding skill of driving, following my painful transition from New York City subway rider to upstate New York birder.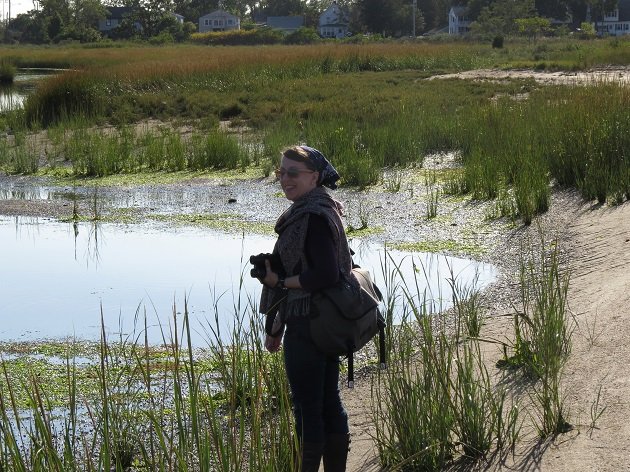 Taking a non-birder shorebirding is just about one of the worst ideas out there, but that certainly didn't stop me. I think Katherine was a bit amused that I caught her apparently enjoying herself a bit too much in the previous photo. 
Of course, Katherine made a wonderful drinking companion, too – I hope you didn't think I was polishing off all these bottles by myself! We didn't always agree on everything. She hated sauvignon blanc and IPAs and always claimed the latter smelled of cat piss. And to be truthful, now that I'm cleaning the litter box full-time without her, I understand where that comparison came from.
So, whether she knew it or not, Katherine was always an important but uncredited part of my posts here at Birds and Booze and I would be remiss if I didn't write a few words recounting her contribution. It's just one more of the many ways she made so many things that much better, in my life and in the lives of all who knew her. I know I won't find as much enjoyment in a bottle of wine without her, but I'll have to try. Besides all that, Katherine was just a wonderful person and a joy to know. I miss her so much already.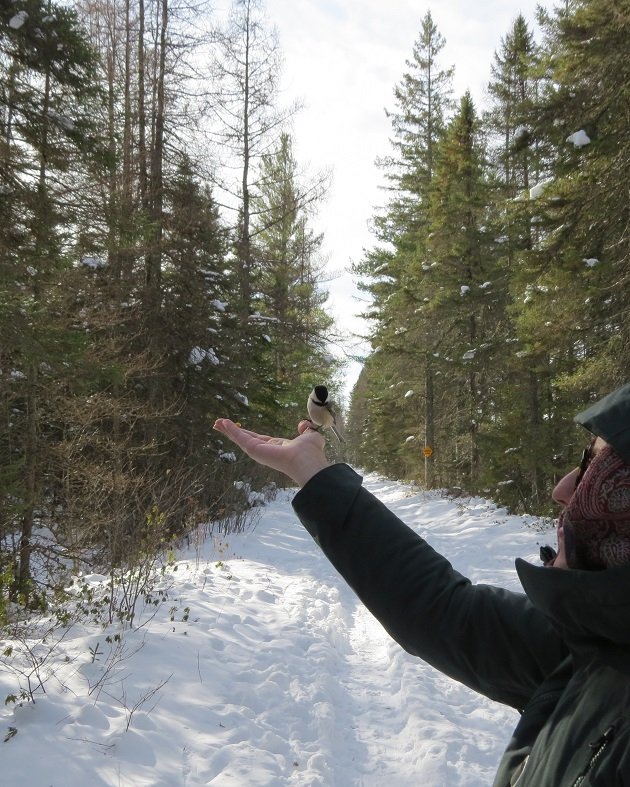 Katherine grew up in northern New York a few miles from the Canadian border. On our way back home from visiting her hometown during the holidays, we'd usually stop at various Adirondack sites to bird. Bloomingdale Bog was always a favorite stop, even if the jays sometimes rudely refused our offerings and the chickadees nipped Katherine's frozen fingers.
Birds and Booze will return next Friday with our usual weekly review.
Good birding and happy drinking with your friends and loved ones.