It was somewhere around the twelfth hour of birding the Adirondacks this past Saturday that it struck me: birders are insane. I had been up since 3:30 AM and had already traveled a couple of hundred miles through mountains and forests and was standing on the side of the same dirt road in the middle of nowhere that I had just visited last weekend, this time in a steady rain, not seeing a specific species of bird that I had already seen last summer. And I was doing this voluntarily!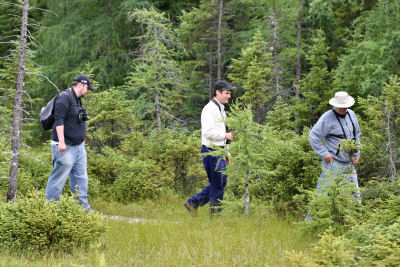 Will, Tom and Jory on the boardwalk at Spring Pond Bog
I hadn't felt this way at the beginning of the day when Will, Jory and I met up with Tom in the town of Amsterdam, from which we traveled north on Route 30 to the town of Speculator, where a Tennessee Warbler, a potential lifer for me, had been reported singing at the entrance to a christian resort. I guess we weren't pious enough for the elusive songbird, as we dipped despite our best efforts. Purple Finches, several species of warbler, Cedar Waxwings and White-throated Sparrows did their best to compensate for my lack of a lifer, but we drove away disappointed nonetheless.
Our next stop, a boggy spot along Perkin's Clearing Road, was more successful as we quickly heard the "Quick, Three beers!" song of the Olive-sided Flycatcher, a bird that had up until that point eluded Jory this year. We also got distant views of it perched on a dead tree, along with a Blue-headed Vireo, Chimney Swifts, and other common birds. The Mourning Warbler that we had tracked down last weekend stayed silent and unseen.
Our next destination, after a quick stop at Stewart's for breakfast to go, was way up north in Franklin County, the gorgeous and remote Spring Pond Bog. To gain access we had had to get a pass from the Adirondack Nature Conservancy to present at the gate that blocked the dirt Kildare Road. We also had to drive for miles through gorgeous habitat.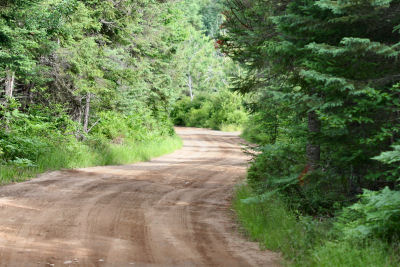 a typical scene along Kildare Road
Our main reason for visiting Spring Pond Bog was to try and spot a Fool Hen, more properly known as a Spruce Grouse, a rare-in-New York bird that earned its nickname by supposedly being so tame that one could walk up to one and catch it without exerting oneself. We didn't get to see an actual Fool Hen but Will almost ran over a foolish hen Ruffed Grouse, one of several Ruffed Grouse with young that we would spot during the weekend.
When we finally arrived at the trail to Spring Pond Bog we were eager to see some boreal birds. Black-throated Blue, Nashville and Black-throated Green Warblers serenaded us along the short trail and Yellow-bellied Sapsuckers incessantly whined from the woods. We were somewhat disappointed not to find two other hoped-for birds, Black-backed and American Three-toed Woodpeckers, but the sublime scenery seeming to shimmer in the sunlight soothed our souls.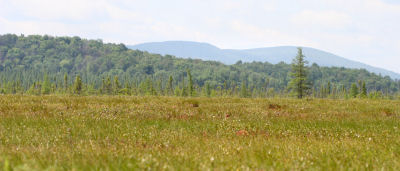 Spring Pond Bog
We were far from the hustle and bustle of modern life, with good company and a beautiful view. What more could we ask for? Birds!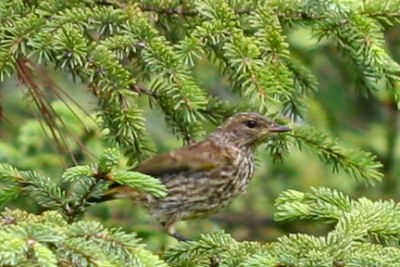 one of the two Pine Siskins we spotted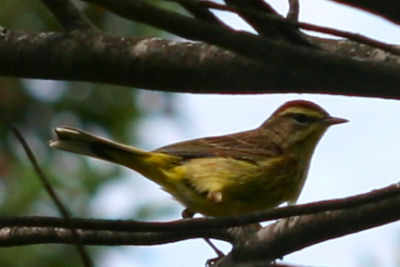 a Palm Warbler on breeding territory
The Pine Siskins were Jory's second year bird of the day and the Palm Warbler was the first any of us had seen since they passed through on their spring migration. They were the best birds we could find in the bog and they cheered us immensely as we headed back to Kildare Road where Will spotted a Broad-winged Hawk, the only raptor except for a single Turkey Vulture that we would spot all day long.
We elected to leave the backwoods area we were in via Floodwood Road, gambling that the gate would be attended. It was, we continued our drive, and, pausing here and there to look and listen as it suddenly and surprisingly began to rain, we made our way back to Route 30 and north to the Paul Smith's Visitor Interpretive Center. We didn't stay long but we did get directions to one of the few eateries in the area, Gus's Corner Diner, a modest establishment that served hot food at low prices. It wasn't very good but we were very hungry and the poutine I scarfed down provided me with enough energy to brave the rain when we arrived at Bigelow Road, where Jory had seen a whole family of Black-backed Woodpeckers the day after Will, Danika, Daisy and I had seen bubkus. Long story short: we didn't see much there or at our next stop, Moose Pond, where I had the epiphany that began this post. A Hairy Woodpecker that briefly raised our hopes at Moose Pond and Golden-crowned Kinglets singing their high-pitched song along Bigelow Road were our so-called highlights.
Because the rain would not let up we decided to make tracks to the west and our motel on Cranberry Lake, stopping once along the way to see a family of Common Ravens. Our lodgings at the grandly named Stone Manor Motel were neither built of stone nor located in a manor, but at $120 total for two clean rooms with two warm beds in each we weren't complaining.
Our stomachs were rumbling again and Tom, who went to forestry school in the area, had heard good things about the Windfall Bar and Grill so we headed there for dinner. Was I ever surprised to learn that the chef and owner was John Dragun, a neighbor of mine growing up in Saugerties! We enjoyed his culinary creations (I highly recommend the ribs) and the speedy service of the waitress and headed back to our motel where we collectively went over the day's sightings and realized we had managed to spot 67 species, including 14 species of warbler! Not too shabby considering it had rained from noon until the end of the day.
I don't know about my three fellow travelers, but I was out like a light as soon as I laid down my head.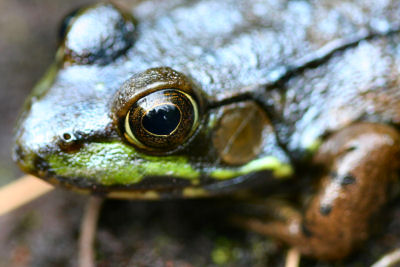 one of three Mink Frogs we spotted at Spring Pond Bog