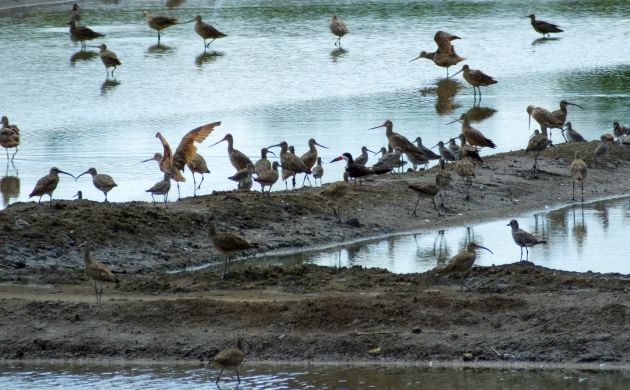 Godwits and curlews are shorebird royalty. The macaws of the sandpiper clan, these long-billed, long-legged, loud calling birds are large and in charge. Unlike peeps and other smallish sandpipers, identification of godwits and curlews doesn't even require the use of a scope. Better magnification is always preferred but there's no need to investigate tiny toe palmations or miniscule feathered details on these magnificant mud probers. They say their names by way of such bino-friendly field marks as bill shape, loud vocalizations, and plumage characteristics.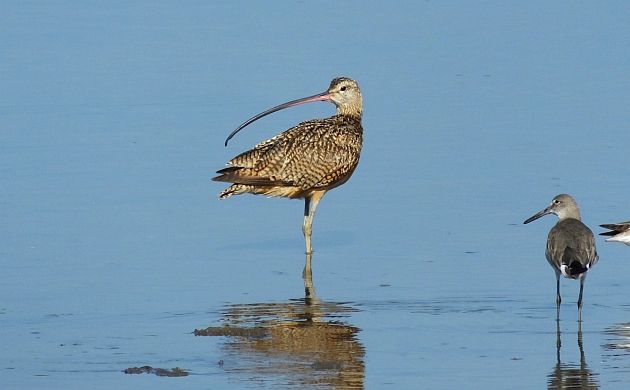 If the Long-billed Curlew could wear a crown, it surely would.
In Costa Rica, we enjoy healthy numbers of Whimbrels, a few annual wintering Long-billed Curlews that choose to lord over the flats of the Gulf of Nicoya, and good numbers of an equally impressive prairie bird, the Marbled Godwit. These are the usual shorebird royalty that winter in Costa Rica but there's another prince of mud flats that pays a visit, every once in a while. This beauty of shorebirds is the Hudsonian Godwit, a master of extra long flights and refined species preferring scattered boggy places for nesting way up north and estuarine wintering habitats way down south. In between way north and way south, the majority of Hudwits either fly right on over, or stop at regular rest and refueling sites. In Costa Rica, given the few records we have for this long billed bird, we are in the "in between" part of the Hudwit realm. Most must surely fly high overhead or well offshore. Either way, they rarely stop and we rarely see them.
However, thanks to more birders in the field, there has been a slight increase in sightings over the past few years. It has become apparent that a chosen few Hudsonian Godwits make occasional stops in Costa Rica. It's no big surprise, a lot of bird stuff happens when no one is looking and therein lies the key. Every spring migration, a very small number of Hudwits probably stop in Costa Rica, probably always have. We have just lacked the coverage needed to find those few transient birds. These days, we have a bit more coverage but the trick to connecting with a Hudwit in Costa Rica is the same as finding rare migrants anywhere; luck to be in the right place at just the right time. A couple weeks ago, a few local birders were fortunate to participate in just such a conjunction when they saw a Hudsonian Godwit at the shorebird hotspot of Punta Morales. Photos were taken, a report was made and other local birders made plans to visit the following day.
Being aware that the flying ability of godwits coupled with the heavy instinct to migrate didn't bode well for a successful twitch, Marilen and I wavered about making the 2 hour drive to try and see the bird. The morning tides weren't going to be conducive for shorebirds, in all likelihood the bird would be long gone. BUT, hope springs eternal and there were always plenty of other birds we could look for. Not to mention, I had wanted to visit this French bakery in Jaco for some time…so we decided on a contingency plan. We would make the hour and a half drive to the Jaco area and look for birds around there, visit the bakery, and if there were any eBird reports of the godwit, would continue on to Punta Morales for a birding date with her royal Alaskan-Patagonian highness.
The following morning, off we went on our possible godwit adventure. Our first stop wasn't actually on the coast but at a wet field that can have interesting birds. Lucky for us, the spot was wet enough for Marilen to espy a small group of Pectoral Sandpipers right next to the road. This high Arctic bird is a regular migrant in Costa Rica but it was still a sweet year bird for both of us, especially with such close, bino-range views in fantastic light. As per usual, while watching those long distance migrants, I wondered how far they had flown during the previous days? Where else had they stopped? Did they hear macaws calling when they zipped over the thick jungles of the Darien? Where would they go next?
We left those unanswered questions with the Pecs back in their random stopover field and continued on, heading downhill, down to the Pacific Coast. However, before looking for more shorebirds, we decided to check another birdy spot, an area good for all sorts of edge, forest, and open country species. This fun site is known as the Teleferico Road, a place where the blend of habitats can result in a huge number of species. It's where we have started Big Days and recorded 120 species or more in an hour. On Godwit Sunday, we had far fewer birds but there was still plenty to look at and listen to.
After having our morning fill of the Teleferico Road, we figured the time had come to visit the bakery. At this point, I should mention that I'm really into good bakeries and make efforts to visit places that know how to make actual focaccia, that make honest to goodness baguettes and other quality baked goods. My thing for quality bakeries surely stems from being spoiled by DiCamillo's, a bakery I grew up with in Niagara Falls, New York. It was and is a place that makes real Italian bread (a lot of so called Italian bread just isn't) and a place I still hold dear to my heart.
In Jaco, there's a place called "Patisserie Manon" and it's as French as it sounds. Oh man, after visiting, I can also promise that the place is as as good as those social media pictures look! I'm talking about real French bread, the crusty goodness of which revived memories of volunteering in Lans en Vercors, of looking for birds out of train windows while listening to "Swamp Thing" by The Chameleons on a walkman, of ticking Eurasian Hobby while changing trains, of hearing the tooting of a Eurasian Scops Owls while camping near a small train station. Good memories associated with delicious bread and those pastries are the real French deal.
Pattiserie Manon was all I had hoped it to be but we couldn't linger any longer, we had birds to look for. With eclairs in the bag, we moved on to a site where flooded rice fields played host to a Hudsonian Godwit in May, 2021 as well as White-rumped Sandpiper and other shorebirds. The place has potential but it has to be soaking wet and you have to be able to see the wet area where the birds are. Upon arrival, we quickly realized that none of those options were possible. It just hadn't rained enough yet to create large shorebird attracting puddles, and part of the road was blocked with a locked gate!
No birds at that site didn't signal defeat, it just opened the window to other birding opportunities. It meant that we could either just go back home or drive nearly two hours north to Punta Morales. There was no sign on eBird that the royal Hudwit had been sighted that Sunday morning but then again, the conditions wouldn't be right for shorebirds until at least 2 in the afternoon. We weighed our options. If we drove to Morales, we would get there right when the shorebirds shoud be in the birding house. On the other hand, if we went home now, we wouldn't have to be concerned with heavy afternoon rains nor driving at night (which, in Costa Rica, tends to be horrendous). The godwit being a serious long distance migrant meant that it probably wouldn't be present…but then again, maybe it would and other good birds could also be present… Thanks to the temptation of birds, we found ourselves driving to Punta Morales.
Although fairly birdless, the drive was easy and ended up being less than two hours. There might not have been many birds en route but there were more than enough wating at the salt ponds of Punta Morales. When you drive in to this site, as you bump along on the rocky dirt road, you might see some other birds on the way, birds of dry forest and edge habitats. It's good, the morning birding can be wonderful but when shorebirds are your goal you have just one hope, that of arriving at the salt ponds and seeing the berms covered with dozens of bird shapes. If not, the trip is almost in vain. Yeah, there will be several yipping Black-necked Stilts and another bird or two but it's nothing compared to high tide birding that can bring in hundreds of sandpipers, plovers, terns, and other birds.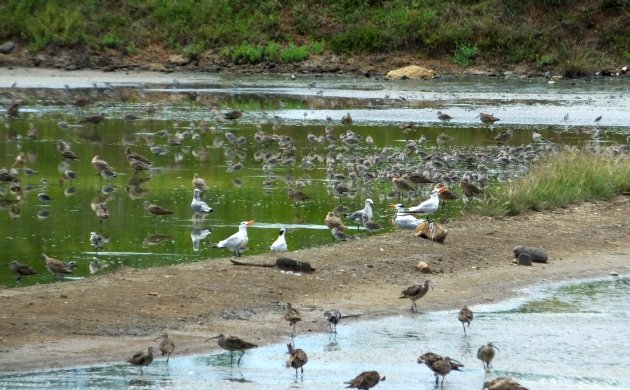 On Sunday, we were in luck. As expected, there were a good number of birds on the berms, maybe not as many as the best of occasions but still enough to make it interesting. Several Black Skimmers rested their over-sized candy corn beaks on the ground, and more than a hundred Black-bellied Plovers were molting into that striking pied Arctic breeding finery. Wilson's Plovers sputtered and Semipalmated Plovers sulked. More birds loafed and fed and off to our left, we saw a promising group of local birders staring into cameras and scopes.
Did they have it? No…not yet…maybe an American Golden-Plover. We searched for the godwit anyways, at one point, almost convincing myself that I had IT until I was forced to admit that harsh lighting conditions were playing tricks with expectations. I also looked for the golden-plover, almost thought I had that one too..but then the bird turned its head and revealed this big old Black-bellied lover beak. Lighting strikes again! Nothing to do but keep on scanning, keep on searching and enjoy the shorebird views while eagerly awaiting each tiny bit of breeze (it was bloody hot).
The local birders bravely walked to the other side of the ponds for better views while we stayed alive in the shade. When some gulls flew in, exclamations of excitement and victory told us something good had arrived (!). I scanned the Marbled Godwits again but there wasn't anything new. Quickly scanning the gull flock, we found ourselves staring at a one that stood out from the usual Laughers. Pale gray hood, pale eye and red bill, it was a Gray-hooded Gull!
In all likelihood, it was THE Gray-hooded Gull, the same adult bird we and other birders had seen at this site on previous occasions. It was a fantastic bird to see in Costa Rica, and an excellent year bird. Even better, shortly after, friends and fellow birders Robert Dean and Peter Stevick arrived and asked what was being seen. I said, "Well, not the godwit, nor the golden-plover, but there's a Gray-hooded Gull in the scope." That was fine with Robert as the gull was one of the few species he had not seen in Costa Rica and the main bird he was after.
At some point, we had to accept that the godwit wasn't going to show. In unsurprising Hudsonian Godwit fashion, it likely took to the skies on the very day it was seen and was probably flying over Guatemala while we were waiting for it at Morales. Taking the power flight ways of the Hudwit into account, we knew it was going to be a long shot for that regal bird to stick around. No Hudwit but we were still pleased with our visit. A rare gull and several year birds were sweet compensation. Not to mention, there's still a chance another Hudsonian Godwit could make a quick stop in Costa Rica. If so, we would probably go for that bird, even if we didn't see it, there would always be other good birding to be had. In Costa Rica, there always is.
Edit- On May 21st, the same or another Hudsonian Godwit was seen in the salt ponds at Punta Morales. My partner Marilen and had the fortune of seeing it the following morning.