After my first post on arrival in Busan I had a new friend to go birding with when Grant is at work! Jason contacted me to see if I would like to explore beyond the city of Busan as another Birds Korea member had found a great spot for Eurasian Nuthatches by chance. He had gone there to investigate whilst his wife had a work commitment nearby and it was on a promise of a Brown Dipper that we both jumped at the chance! Jason is a young American teaching English in Busan and Mike is a retired teacher originally from Ireland and we were soon talking all things birds as we drove into the countryside from Jinju, which was a 2 hour bus trip after a 45 minute train trip from the port area of Busan….so we are really leaving the city! We had originally planned to go across a bridge to see an area where Mike had seen Black-naped Orioles in the past, but there was a problem when we got there…the bridge was gone!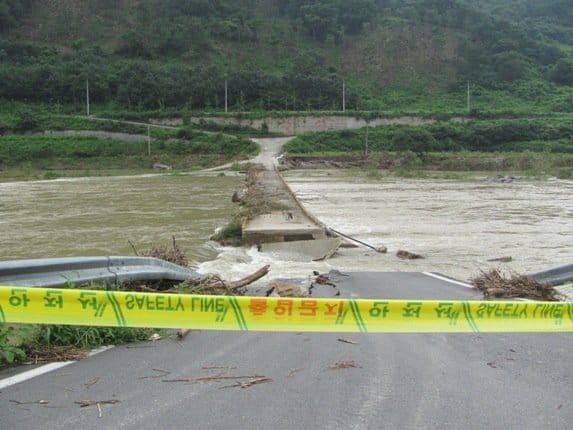 The bridge that no longer gets you across the river!
We then went around the river to get to the spot and the birds were tricky…they talked and acknowledged our existence, but wouldn't be seen. We were getting stiff necks and then finally had 4 of them, but in very poor light flying overhead. I can say I saw them, but it would have been nice to see them a lot better and we were all a bit disappointed to not get perfect views….such is the life of a birder!
As we first entered Hoemunsan Recreational Forest Mike told us of a bridge that he called Dipper Bridge, as on the two previous occasions that he had been there he had seen a Brown Dipper there. Now, it's a pretty big call to tell fellow birders that they will see a bird in a particular spot….especially someone who "dipped" on a Dipper in the United Kingdom and had thought they wouldn't see a Dipper in the near future. Anyway, we walked onto the bridge and waited and Jason saw the Brown Dipper first and I then saw it and it was gone……ha…I saw it, but I wanted to see it again! I don't care if I don't get a photo, I want to SEE it again! I went around and sat patiently and it did appear again and I did get my camera ready and call Jason over….too late it was gone. Never mind, Mike has a photo and I SAW it!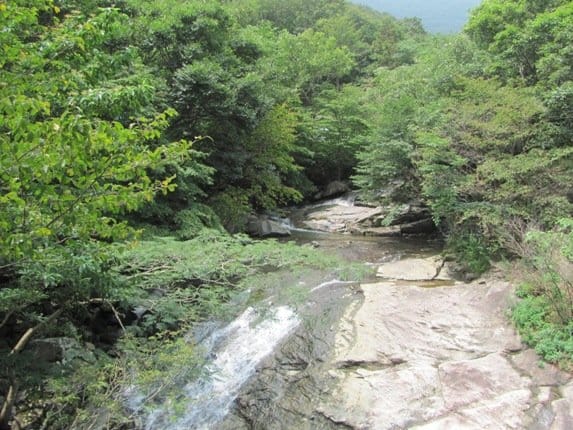 View from Dipper Bridge….maybe it is in the photo?!
Hoemunsan Recreational Forest is rather popular with campers and hikers and despite the miserable wet weather there were some people in rather wet tents….been there…..done that! We changed where we were originally going to park, because there was a butterfly in the way! The butterflies here are amazing and I had not known about them at all. Mike is a keen photographer and loves butterflies. They have tricked me on occasion as I have seen the large movement and thought it is a bird, but then it isn't!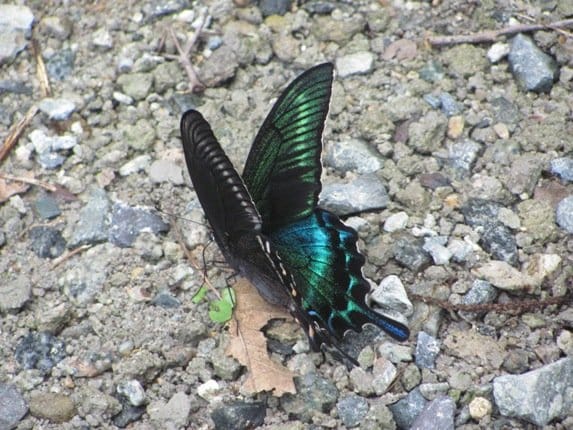 Butterfly we didn't park on!
 We then walked onto the first track and you would not believe it, but there were the Eurasian Nuthatches in a plastic tree that had been placed on a power pole! Mike was keen to get a photo or two of the Nuthatches, but NOT in the plastic tree branches…what were they thinking?! We had drizzly rain to contend with and it did prevent some photography, but we had a great time in the forest and had areas of Eurasian Nuthatches, Eastern Great Tits, Varied and Coal Tits amongst the Japanese Pygmy Woodpeckers. I was rather keen to see a Blue and White Flycatcher, as I had never seen one outside of Australia and that was rather special, as it was a "first for Australia". Well, we saw three…can't complain about that! Poor Grant stuck at his desk missing out….another time he may get a chance.
On the way back from the forest we explored along the rice paddies to see if we could add anything else to the list for the day. There was a river and a weir and I could see some debris near where the water ran over. I suggested we stop and scan from a distance and see if there was anything hiding….I would do that anywhere else, so why not here! Not a bad suggestion of mine actually……..see the Green Sandpiper (life tick), Common Sandpiper, Common Kingfisher and Striated Heron….that impressed Jason and Mike! What a day!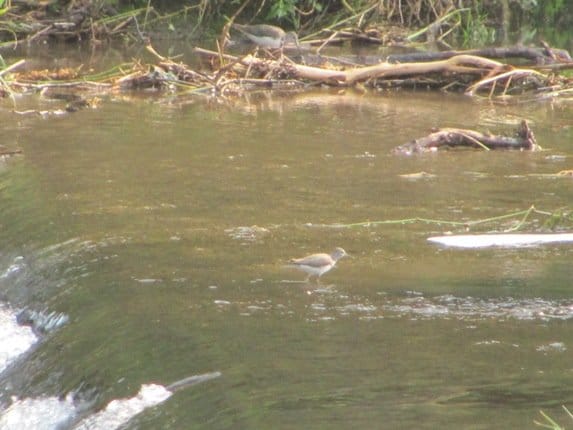 Green and Common Sandpiper
We had been on the road from 5.30am until 10.30pm and seen a lot of countryside that I had never thought I would get to see….thank you Mike for driving us from Jinju on our birding adventure! So, you are wondering where the Brown Dipper photo is, well it is over to Mike for that and you can check out what Jason had to say on the Birds Korea Blog about our trip!