About two weeks ago word went out on the New York listservs that a Bullock's Oriole was frequenting feeders on Tremper Road in the tiny town of Phoenicia, NY, a mere twenty-five minutes from my hometown. Bullock's Oriole is the western version of the Baltimore Oriole and the two are so similar that they were briefly lumped together as a single, unimaginatively-named species, the Northern Oriole.
Because I was planning on visiting my grandmother and parents yesterday anyway I figured I might as well drive the extra distance to see such a beautiful bird (and tick it off my New York State checklist). And I would invite my nieces along (at least, the two that are old enough to hold binoculars up). Unfortunately, Raven had basketball practice but her older sister Jessica was more than willing to accompany me on my avian adventure.
We got to Phoenicia at about ten to one in the afternoon and quickly realized that finding the oriole would not be an easy task. Tremper Road is only one block long but it seemed like every house had a feeder! Pigeons and starlings cooed and whistled while Blue Jays screamed and American Goldfinches called "potato chip, potato chip" as they flew overhead. We spotted a couple of binocular-toting birders (ah, the field-glass fraternity) who told us they had already seen the oriole and it was last seen flying through backyards towards the east with a flock of chickadees as escorts. We despaired but kept searching despite the cold wind that picked up out of nowhere and the flurries that started to fall.
We reacted to every bit of motion; any bird sound was scrutinized. When Jessica started to turn a bit blue (she had refused gloves and hat) I insisted over her objections that we return to the car to warm up and get a sandwich. As we walked to the car though, the sun came back out, the wind died down, and the flurries stopped. As Jessica got her sandwich I watched a streak of orange and black fly into a backyard and land on a feeder where it magically morphed into the Bullock's Oriole. "There it is," I shouted, "The Bullock's Oriole."
Jessica, ever the cool tween, replied, "You know, I'm standing right next to you."
Nonetheless, I could see the excitement in her as she peered at the gorgeous male oriole. How many twelve-year-olds have seen a Bullock's Oriole in New York? At least one…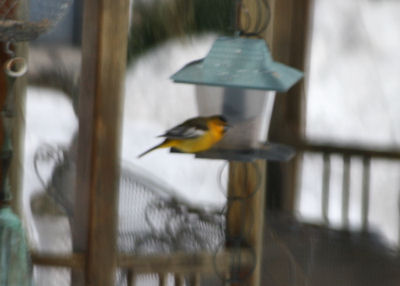 We watched it feed for a full five minutes until it flew off and then we went home.