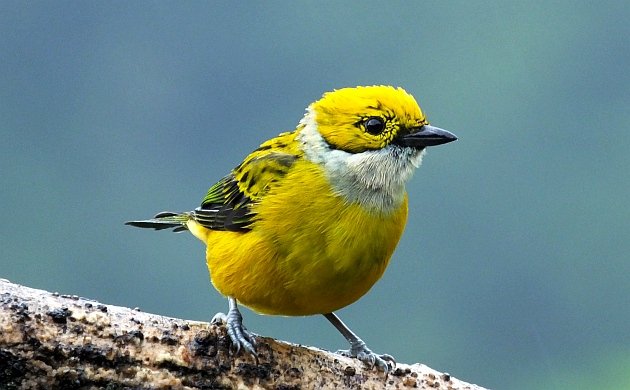 Watching birds, birding, is inexorably tied to autonomous motivation. Maybe that's why birders just might be obsessive about it or at least, very much into the hobby, the birding way of life. No one is forcing us to get up in the cold eye-tired dawn to drive to the sewage ponds, to scope a stormy sea, to stretch the limits of alert behavior during 20 solid hours of Big Day ridiculousness. Nor are there any birding authorities requiring folks to identify, count and document the nuthatches, titmice and Downy Woodpeckers that come to their backyard feeders. We get serious about quality optics and spend hours studying field guides about birds because we really really want to. We wander through a local park with or without other birders because we get a visceral kick out of it. We say that we watch birds for any number of reasons but the truth of the matter is that we wield the bins to check out the feathered kind because we just deeply enjoy it.
This is also why so many of the birding tribe travel to watch birds, a good number of which eventually make it to Costa Rica. Travel to Tiquicia for birding is high on the list of most birders because it's not too far from Canada or the USA, there is good tourism infrastructure, and most of all, it's pretty easy to see hundreds of eye-catching bird species.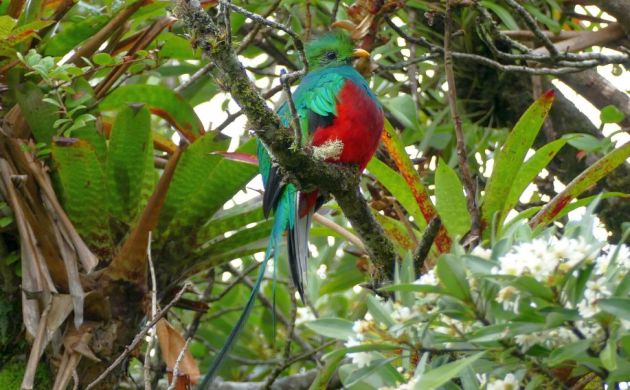 Like Resplendent Quetzals…
A good number of birders who make it to Costa Rica visit a small, roadside diner located in the middle elevations of the Caribbean slope. Known as the "Colibri Cafe", the "Soda Mirador Catarata San Fernando", or other names, the birds that frequent the vegetation  behind this little restaurant have delighted birders for more than 12 years. This special place has also garnered attention for other reasons, not the least of which includes being rebuilt after having been destroyed by a hefty 6 plus earthquake in 2009.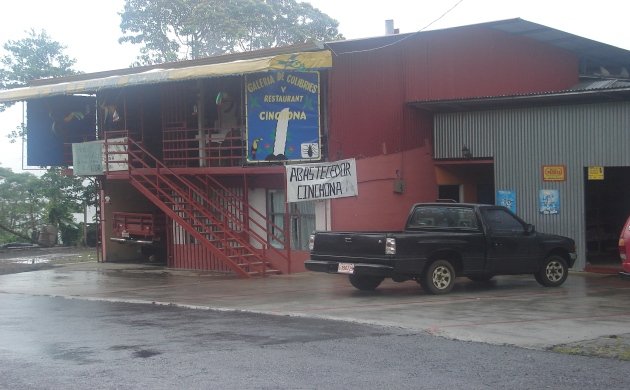 Before the earthquake.
The bird viewing area years after the earthquake.
Whether a birder travels or not, since birding is autonomously motivated, rules for birding are negligible. This just means that folks can watch birds any way they want. Nevertheless, techniques, recommendations, and ethical behavior are often suggested, these are some ideas on how to watch birds at the Colibri Cafe:
Claim a seat out back, in the outdoor part of the cafe
Since this is the closest spot to the bird action, this is of course where we all want to be. But, other people like sitting out there too, even groups of photographers, so claim that seat and make sure to sit right in it or someone might just sit there instead, perhaps even an entire family even if you do have gear set out to supposedly claim the table (this nearly happened to me on a recent visit!). However, if you can't get a seat out back, no worries, just sit inside while enjoying home-cooked country fare. The upside is being able to actually eat lunch instead of forgetting food on account of being birding mind-blown over and over by sudden appearances of Violet Sabrewings and Purple-throated Mountain-Gems.
The sabrewing.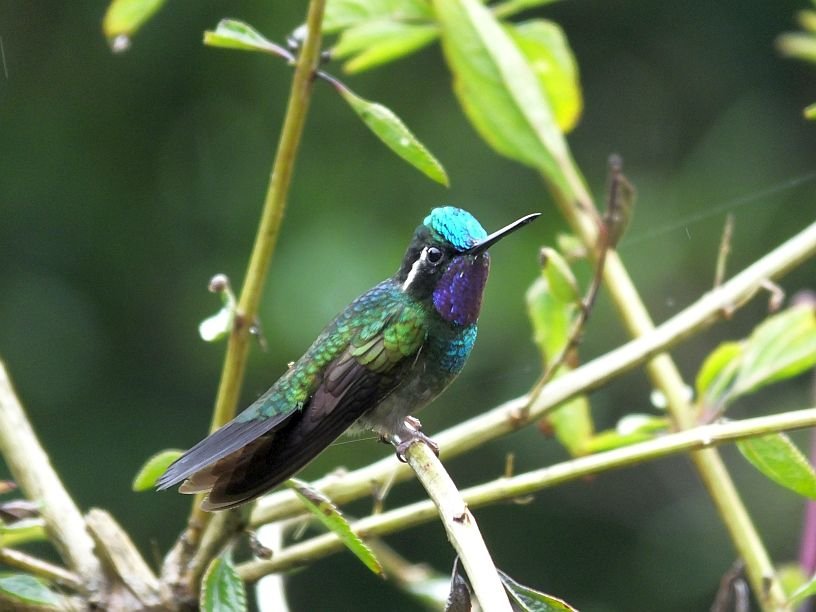 The mountain-gem.
Order food and/or coffee
This is a cafe after all and the cuisine in this authentic joint is as country Tico delicious as you can get. There's a big wood-fired cooking set-up. Coffee is made the old fashioned way; by pouring hot water over fresh grounds through a cloth sieve that could almost double as a sock. Tortillas are patted into shape by hand and cooked fresh on the grill. The menu doesn't give prices and your server won't speak English but pointing still acts as a valid form of communication. "Pinto" is rice and beans and comes with your choice of eggs, breaded Tilapia, chicken or other options. A "casado" is a full lunch plate and works for when you want to eat a lot. A "gallo" is a side dish, two might be enough for a light meal. I'm not sure if there are desserts but "pan casero" (a biscuit-like bread) goes well with coffee, and they do sell not so traditional candy bars.
Watch the birds
Well yes, of course! But, what I mean by that is checking out the birds before reaching for the camera. See what's there first before taking pictures. I know, the instinct is to get the photo first but do that and you run the risk of missing lifers. One solution to this fun catch-22 is having a good, local guide. If that is the case, make sure to look at what the guide is pointing out because that might be the only time one of those very local White-bellied Mountain-Gems make an appearance.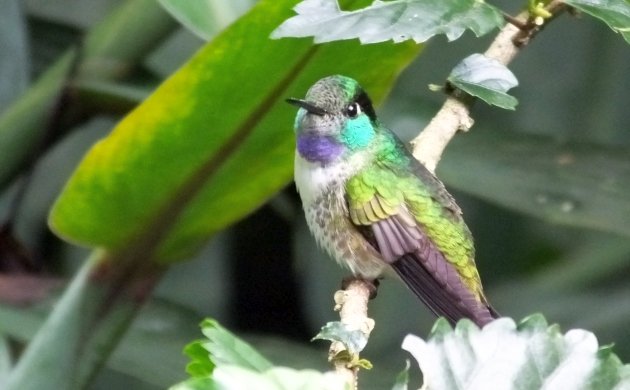 Watch that one and keep an eye on the others because all sorts of species can show at any time.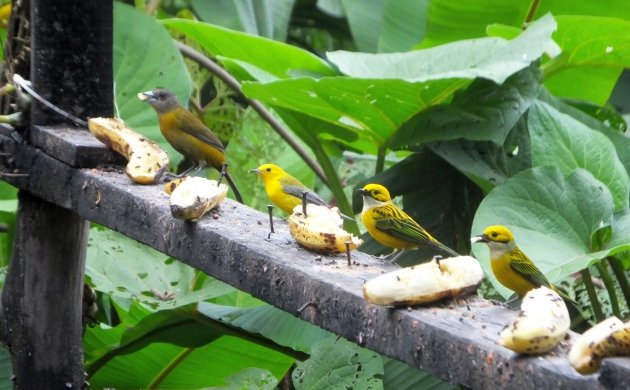 Yes, that is a Prothonotary Warbler flanked by a Silver-throated Tanager and a female Scarlet-rumped Tanager.
Check out the toucanets
Not that any birder wouldn't but just a reminder to take in those point blank looks when you can because these will probably be the best looks you will ever have at this species!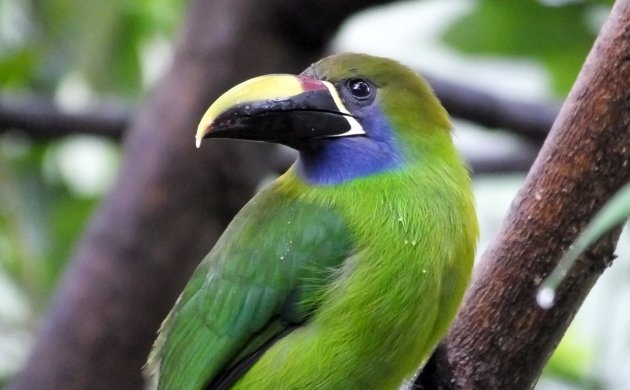 Northern Emerald Toucanet
Best time of day to visit
Since this spot typically acts as a stop between other sites, visiting times are naturally limited to when one happens to be passing through. But, if you can, as with most birding, get there early morning, the cafe opens at six. Also, there's nothing like enjoying a delicious big traditional Tico breakfast while various tanagers, Northern Emerald Toucanets, barbets, and other species enjoy their morning fare at close range.
Quail-doves anyone?
These beautiful little doves are typically challenging but one or two Buff-fronted Quail-Doves can show at Cinchona. Your best chances of seeing them are by watching for any movement on the ground and by walking down the stairs to the lower platform (it may or may not be open).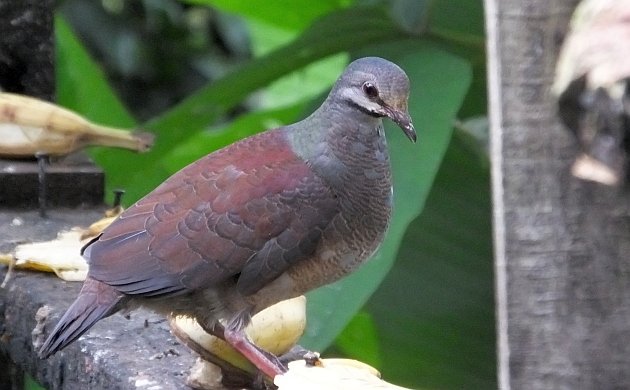 Rarely, an abnormally brave quail-dove has leaped onto the feeder. This one is a juvenile.
No flash, leave a donation!
With so many folks taking pictures, the less flash photography, the better. Whether there is a sign prohibiting this or not, please keep the flash off for photos at Cinchona. If you do use flash, don't be surprised if a local guide asks you not to. As for donations, there isn't any prohibition there. Whether you eat at the cafe or not, please also leave a donation because the folks that own and rebuilt the Cafe Colibri after even losing family members in an earthquake aren't exactly a multinational corporation or even a national chain. They are local folks who love birds, love watching them, appreciate birders, and invest a fair amount of time and money to make their humble restaurant as bird and birder friendly as possible.
As with every site in Costa Rica, the best way to bird this wonderful spot is to get there in the first place. From Alajuela, take Route 126, drive past the Peace Waterfall, and watch for the cafe on the eastern side of the road about 10 or 15 minutes later. Watch birds however you please….but seriously, you gotta experience the Cafe Colibri! I hope to see you there.