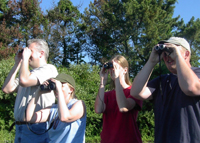 The Core Team visited Jamaica Bay Wildlife Refuge today, accompanied by Seth and Christine, as well our good friend, Mike. This is the second time we've visited Jamaica Bay and, just like last time, we were impressed by both the number and diversity of birds here. This refuge deserves its reputation as one of the best birding sites in the U.S.
One problem with visiting a world famous birding site is the flocks of experienced birders with their state-of-the-art spotting scopes. Don't get me wrong; we love to see as many people engaged in this activity as possible. It's just that we're intimidated. It is a little bit embarrassing to struggle with the field guide trying to identify some common species when the people around you are comparing this month's migration to one ten years ago. And let's not even talk about the puny optics we fielded today, as indicated by the picture to the right.
Fortunately, the pros kept their snickering to a minimum.
Jamaica Bay is the perfect place for a spotting scope. But even with our motley array of binoculars, we saw plenty of ducks, herons, egrets, terns, and the like. Familiar favorites included Glossy Ibis, Cedar Waxwing, and Osprey. The life birds from today's trek were the American Oystercatcher, Lesser Yellowlegs, and a very animated Brown Creeper.